Kantaji Temple, also known as the Kantanagar Temple, is located in the graceful heart of gorgeous countryside of Dinajpur. This is a stunning block of religious artwork, and is surely one of the most impressive Hindu monuments in Bangladesh.
Built in 1704-1752 A.D. by Pran Nath, a renowned maharaja from Dinajpur, and his adopted son Ram Nath, it is the country's finest example of brick and terracotta style. Its most remarkable feature, typical of late Mughal-era temples, is its superb surface decoration, with infinite panels of sculpted terracotta plaques.
This 15-sq-meter, three-story edifice was originally crowned with nine ornamental two-story towers, which collapsed during the great earthquake of 1897 and were never replaced. The temple is built on a high platform. This is a Nava-ratna temple. The roof of the ground floor and first floor each contains four sikharas or ratnas at their corners while the roof of second floor in its middle contains the ruins of the central sikhara.
The entire outer surface of the temple is exquisitely established with terracotta plaques which depict flora and fauna, geometric motifs, mythological scenes from the Ramayana and the Mahabharata, and the contemporary social scenes and favorite pastime. The idol of Kantaji is kept in the garvagriha of the temple in its ground floor.
The department of Archaeology has been performing the necessary conservation and restoration works of Kantaji Temple since it was declared a protected monument by the Government in 1960.
Ever visited Kantaji Temple? Share your experience with us here in comments!
Further reading on Kantaji Temple
Interested in visiting Kantaji Temple? Take a
Haritage Tour
with us!
Share with friends
Let the world know about this amazing post you've found!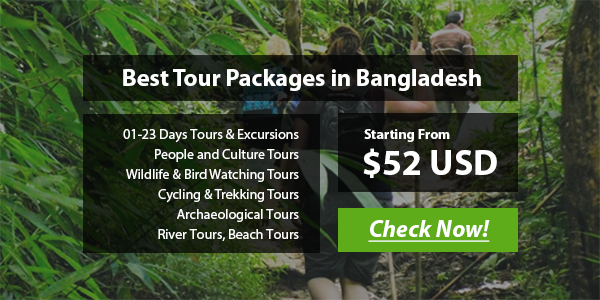 The following two tabs change content below.
Raw Hasan (র. হাসান) is the Founder and CEO of Nijhoom Tours - an award winning tour operator in Bangladesh specializing in organizing inbound tours for foreigners, specially the western tourists. While not traveling or busy with the desk works, he loves to write about traveling beautiful Bangladesh. Connect with him in
Facebook
and
Twitter
for updates and help about visiting Bangladesh.
Latest posts by Raw Hasan ( র. হাসান ) (see all)