Tajhat Palace is one of the finest architectural site in Bangladesh. It is located at 3 km south-east of Rangpur city. It is one of the most popular tourist attractions in northern Bangladesh.
Tajhat Palace was built in the beginning of 20th century by Maharaja Kumar Gopal Lal Roy. He was a descendant of Hindu royal family of Punjab. He was emigrated from Punjab to the Indian subcontinent. He was a jeweler by profession.The mysterious name of the place 'Tajhat' perhaps came from his profession. 'Taj' means 'crown', and 'hat' means 'local market'.
Although Gopal Roy was a zamindar (landlord) from British region, he had very good relations with his tenants. For the huge request from his tenants, he started to make a Royal palace. Gopal appointed 2,000 workers to complete the work of his royal palace. He invested 1.5 million dollars at that time to make the palace.
The Whole Tajhat palace surrounds with natural beauty, fantastic beseem, and flower gardens. It also has Kamini (Murraya Paniculata), Mehagani, Mango, and Jack-fruit trees in the north-south side of the palace. The palace is similar to Ahsan Manjil (Pink Palace) of Dhaka. The palace is  'U' shaped. It looks gorgeous for its elements like white stones, marble stones, lime stones, and red bricks. The palace has a big blank space about 76 meters in front. The three part of the palace is west faced. It is also crowned by a ribbed conical dome in its roof.
The four storied palace contains a lot of royal rooms, guest rooms, and bathrooms. In the 2nd and 3rd floor of the building, there are private materials of Maharaja Gopal. There are a large collection of fine examples of Sanskrit and Arabic manuscripts, including copies of the Mahabharat, Ramayan, and a Quran whose provenance is attributed to none other than the Mughal emperor Aurangzeb. The back rooms have several splendid examples of black stone Hindu carvings, mainly of the deity Vishnu.
In 2005 the government of Bangladesh declared the palace as museum. Everyday Thousands of visitors pay a visit to the palace. Photography is not permitted inside the museum. The palace has become a pride of the country.
Ever visited Tajhat Palace? Share your experience with others here in comments!

Share with friends
Let the world know about this amazing post you've found!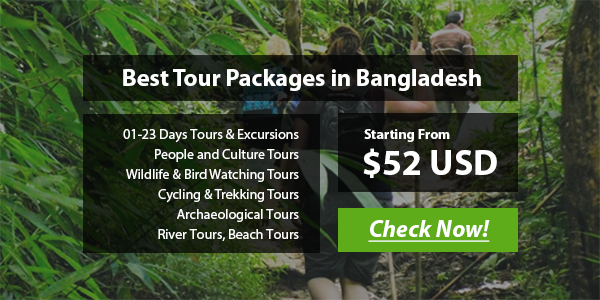 Popular Holiday Packages in Bangladesh:
The following two tabs change content below.
Raw Hasan (র. হাসান) is the Founder and CEO of Nijhoom Tours - an award winning tour operator in Bangladesh specializing in organizing inbound tours for foreigners, specially the western tourists. While not traveling or busy with the desk works, he loves to write about traveling beautiful Bangladesh. Connect with him in
Facebook
and
Twitter
for updates and help about visiting Bangladesh.
Latest posts by Raw Hasan ( র. হাসান ) (see all)