Tour Duration:
03 Days, 02 Nights
Location:
Rangpur, Dinajpur, Paharpur, and Bogra
Tour Attractions:
Impressive archaeological sites of North-Bengal
Best time to go:
October – March
Tour Available:
Round the year except Sunday
Next Scheduled Tour:
N/A
Kantajew Temple is the most beautiful Hindu temple in Bangladesh decorated with beautiful terracotta plaques. Tajhat Palce is the most beautiful palace of northern Bangladesh built in the colonial period. Somapura Mahavihara is among the best known Buddhist viharas in the Indian Subcontinent from 8th century, and is the most impressive archaeological sites in Bangladesh and a UNESCO world heritage site. Mahasthangarh is one of the earliest urban archaeological sites discovered in Bangladesh. It contains the remains of an ancient city which was called Pundranagara from 3rd century BC.
In the Heritage Tour, we'll take you to visit four impressive archaeological sites in Bangladesh – Kantajew Temple, Tajhat Palace, Somapura Mahavihara, and Mahasthangarh. You'll discover some of the hidden gems of Bangladesh which is located on a very remote place, and go back to the time starting from the colonial period up to several century before Christ to know about the ancient civilizations and heritage of the country.
Itinerary of Heritage Tour
Day-01: Dhaka – Rangpur by car
Pick-up from hotel/residence at 7.00 am, and drive to Rangpur (320 km, 7.5 hrs). Lunch on a highway restaurant.
Upon arrival, check into hotel, freshen-up, and go sight-seeing immediately.
Visit Tajhat Palace, the most beautiful palace in Northern part of Bangladesh built in colonial period. Also visit a beautiful Shiva temple.
Overnight at Rangpur (Hotel Parjatan/RDRS Guest House/North View Hotel)
Day-02: Kantajew Temple, and Somapura Mahavihara
After breakfast, drive to Dinajpur (75 km, 02 hrs) and visit Kantajew Temple, which is the most beautiful Hindu temple in Bangladesh, every inches of which is decorated with beautiful terracotta plaques describing epic Hindu stories.
Drive to Paharpur (130 km, 03 hrs) and visit Somapura Mahavihara, the largest Buddhist monastery south of Himalayas from 8th century, and an UNESCO world heritage site.
Drive to Bogra (75 km, 02 hrs).
Overnight at Bogra (Hotel Naz garden).
Day-03: Mahasthangarh – Dhaka by Car
After breakfast, drive to Mahasthangarh (22 km, 30 mins), the remaining of the oldest known civilization in Bangladesh from 3rd century B.C. You'll visit several well known sites in Mahasthangarh, e.g. the Citadel, Vasu Bihar, Gokul Medh, Bihar Dhap, and the Mahasthangarh museum.
Drive to Dhaka (240 km, 6.5 hrs), drop at hotel/residence.
End of the tour.
Price of Heritage Tour
Group Size
Classic Package

Comfort Package
Luxury Package
-
BDT
Per Person
USD
Per Person
BDT
Per Person
USD
Per Person
BDT
Per Person
USD
Per Person
02 Pax
31,000
$405
-
-
-
-
03 Pax
26,000
$340
-
-
-
-
04 Pax
22,500
$290
-
-
-
-
Inclusions and Exclusions
Tour includes:

Pick-up and drop from Dhaka North area only (Gulshan, Banani, Baridhara, Nikunja, and Uttara area).
02 Nights accommodation at Rangpur and Bogra on twin sharing basis, with complementary breakfast.
Air-conditioned car, driver, English speaking guide.
All site entrance tickets.
All tips except our guide and driver.

Does not includes:

Any food, drinks, beverage, or any personal item.
Pick-up and drop at Dhaka from the area other than mentioned above (Hotel 71, FARS Hotel, Hotel Pacicific, Hotel Ramna, Hotel Farmview, and the whole south Dhaka area).
Remarks on Heritage Tour
Minimum 02 person is required to book the tour. Single travelers can join any scheduled tour announced in the website.
Sometimes there could be unusual traffic in Dhaka-Rangpur highway. In case of unusual traffic, itinerary of the tour could be changed, or some sites even be skipped.
Wearing shorts for both men and women will not be any problem anywhere on this tour.
Best time to travel:

October – March: Weather is cool and comfortable, and less humid.

We'll require the full payment in advance to book this tour. Details of our online payment system could be found here: Online payment FAQs.
Share with friends
Let the world know about this amazing tour you've found!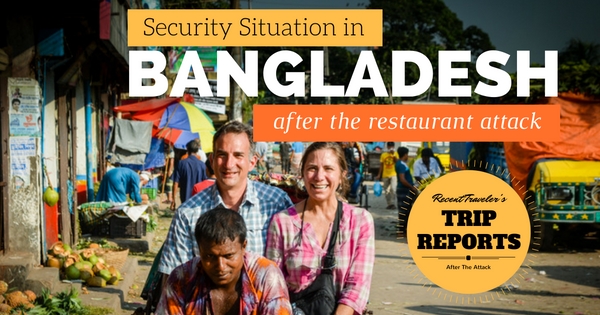 Reports from Western travelers after their recent visit to Bangladesh, about the security situation in Bangladesh since the restaurant attack in July, 2016.