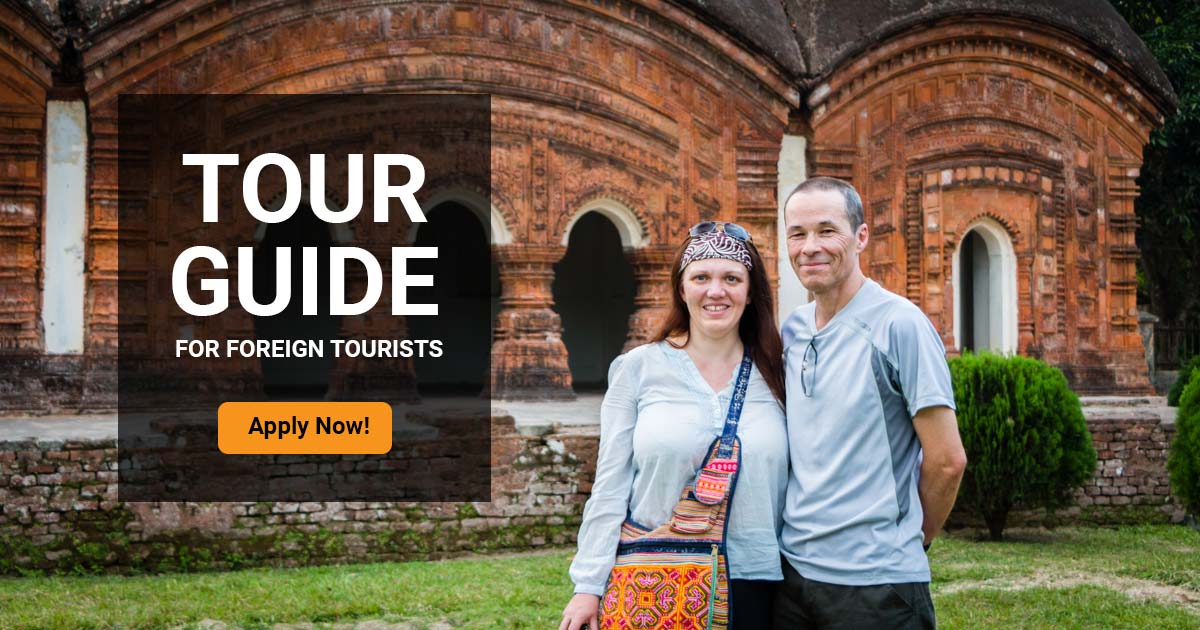 Who we are
Nijhoom Tours is a fast-growing tour operator working last 6 years at the tourism industry in Bangladesh. We organize tours ONLY inside Bangladesh and ONLY for the foreigners – to provide them the best experience of this beautiful country.
Within 6 years, we've been listed in the largest travel review website in the world – TripAdvisor.com, and currently ranking as #1 tour operator for Bangladesh based on the ratings from the customers we've served, and achieved the Certificate of Excellence award from them in 2015, 2016, and 2017 for the first time in the history of tourism industry in Bangladesh, which is the most prestigious award for tourism industry in the whole world.
We have an average of 5* user rating on 5 in TripAdvisor. From this you can understand about the quality of service we provide to our clients. You can check our website and Facebook page to know more about us here:
We are Hiring
Currently we are looking for some young and energetic people for the following positions, who are very good in English, have a passion for travel, and want to build career on the tourism industry in Bangladesh:
Tour Guide

Position Open: 03
Position Type: Full-time Permanent Job
Responsibility: Guiding on tours and doing desk work
Salary:

Provision period: 12,000 BDT (Six Months).
Afterwards: 15,000 BDT per months.
Gratuity: 500 BDT per month (Once permanent).

Additional Facilities:

Opportunity to be trained up to become one of the best tourism industry professionals in Bangladesh through practical work.
Opportunity to travel whole Bangladesh.
Possible additional earning from tips on the tours, if you can develop very good quality.
A prosperous career with Nijhoom Tours as it expands.
Qualification Required
Extremely polite. Always have to address as "Sir" to all of our guests and staffs.
Travel should be a passion. We are looking for some hardcore travelers for this position. Need experience of traveling major tourist sites in Bangladesh.
Graduation from any reputed university, preferably having background on tourism (Dimploma from Parjatan, or tourism graduates from any university).
Fluent in English. Very good skills on reading, writing, and speaking, preferably having a high score in IELTS. Ability to speak in an additional foreign language will also be a benefit.
Hard working, and physically strong. Need to have a habit of waking up very early in the morning, preferably regular to pray Fajar prayer, as reporting time during tour days will be 7.00 am in our office, and a single minute delay ever will not be accepted.
100% honest with his job. After recruiting, if any sign of dishonesty is found, will be fired on that very moment.
Willing to learn and improve every moment, as tour guides have to read and learn a lot about the sites and their history. This has to be a continuous process.
Directly working with foreigners in any industry, or having experience in living in a western English speaking country will be a priority.
Have mentality to build a career on tourism industry.
Procedure to Apply
Make a PDF version of your full and detailed CV including all of your travel experiences and skills, and what you are doing currently. Also let know your future plan about your career.
Include a recent color photo of you with the CV.
Write a cover letter with the CV describing in details why do you think you are fit for this job, and why should we recruit you. This is the most important part we'll look at.
Link of your travel stories and photos (if any).
Send all these to job.nijhoom@gmail.com
Write the name of the position you are applying for in the subject line of the email.
If everything is OK and you are in our short-list, you'll hear from us about an interview. No need to call us or follow-up. We will contact you ONLY if we think you are suitable for the job.
You'll be directly disqualified if you apply using the Apply Online button at the job details page on BDJobs website, instead of applying following the above mentioned procedure.