All credit should go to Habib bhai actually, because he convinced our big boss for this tour. It was quite monotonous visiting nearby places for office picnic. So, everybody burst into joy when the decision made to go to Srimongol Tea Resort combining picnic and workshop budget. It was specially joyous for me as I never visited that region. Though I crossed Sylhet two times while going to Jaflong and Meghalaya (India), but never had a chance to visit tourist attractions in Sylhet or Moulovibazar.
It was 26 May 2011. We started early in the morning. It was 1:30 pm when we reached Tea Resort rest house. We expected rain there, but found scorching sun with disgusting humidity although it rained heavily in last four days!! Eventually, it was not at all a suitable time for traveling there. But what else to do! Once there, we've to take the full enjoyment of it !!
Just after lunch, some of our extra enthusiastic colleagues jumped into the pool for playing water polo. But, due to hot weather condition and lack of sleep last night, I was not in a mood to play. Rather, I chose to act as a ball boy while other was doing too much fun!

Swimming in the pool at Tea Resort
Visiting a tea garden and tea making
We're set to visit a tea garden in the afternoon, the special thing Srimongol is blessed with! There is no one who is not attracted by the beauty of Tea garden! One of our colleague's brother-in-law who was working as the manager of Ispahani Jarin Tea garden. So, it became easy for us to visit the factory and to see the end to end process of how a green leaf becomes tea!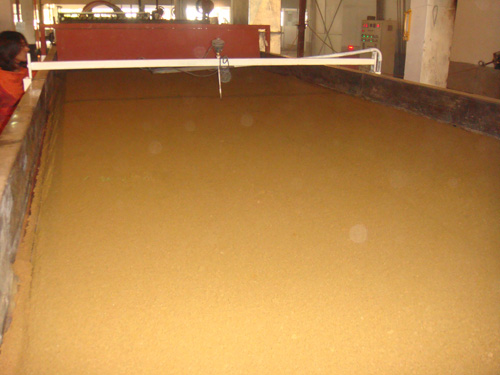 Process of making tea at Jerin Tea Garden in Srimongol
At first, the green tea leafs are dried in hot blowing air. Then the leaves are crashed in a machine. The produce is further crashed to make it fine and end product is produced through fermentation. The most important factor of fermentation is the maintain of temperature and humidity at certain level. Produced tea goes through further processes and finally separated in different grade teas with the help of a special machine. After packing, this tea goes directly to Chittagong, and further destination is decided there.
However, after factory visit we went out to enjoy the beauty of tea garden. The picturesque greenery of tea garden takes the mind away with soothing feelings. Tiny canal through the garden – felt like an fine art! We went up an up to see the sunset from top of hill. Photo session took place. Colleagues were enjoying the green, while the sun said good bye to us for that day.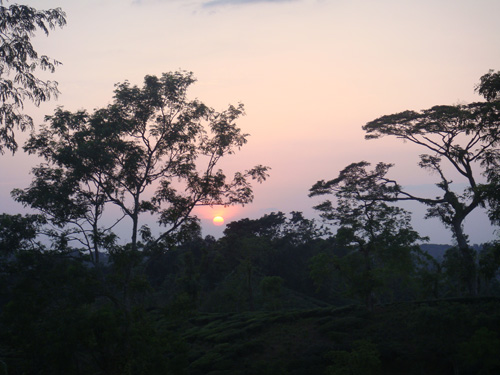 Sunset at Jerin Tea Garden in Srimongol
Bar-B-Q Night
We proceeded toward the manager's bungalow after sun set. The Bar-B-Q program was arranged at the courtyard of that bungalow. The bungalow was awesome – simply outstanding! It's a huge bungalow with lot of green trees around. The rooms were like playground! We sat on the soft grass of the yard. People started playing "Antakshari", a program inspired by Indian culture where a group will start singing with the last alphabet of the lyrics where the other group finished their song. It was a total fun. Chicken Bar-B-Q with Parata and soft drinks. I ate up to my limit! I felt, ah, if I could pass rest of life here in this heaven like place!!
In Lawachara National Park
Next day, seven in the morning we set out for Lawachara National Park. Before that, we walked around the places inside Tea Resort for some time. It is very green, like a deep forest. We discovered a good number of monkeys hopping in the branches of trees, eating jack fruits. Cute monkey kids with mother, it was so sweet. When we went close to them, they all rushed into the jungle.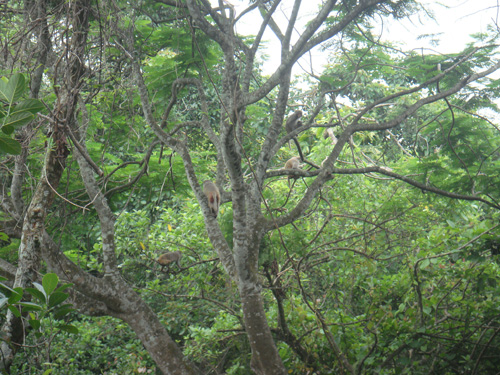 Monkeys at Lawachara National Park
After driving for about half an hour on semi hilly roads, we reached Lawachara National Park. Very tall trees are planted at both sides of the tiny walk-way from entrance. First time in my life, I saw jack-fruit tree, so tall and thin for the sake of life! One small jack-fruit was also hanging. A half an hour trekking map is placed inside the park. We chose to take that.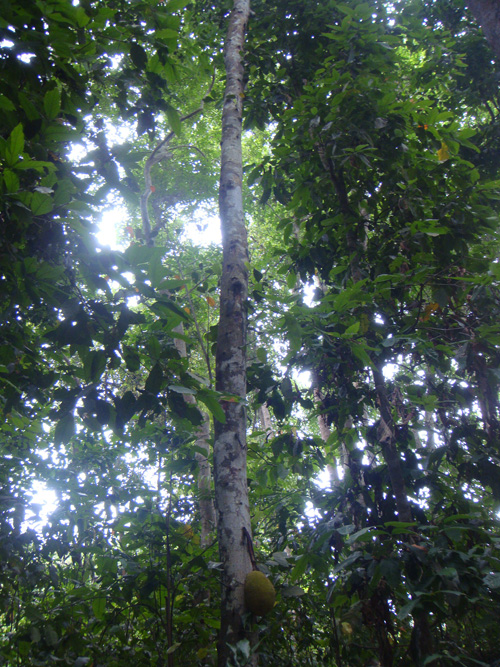 Jack-fruit tree at Lawachara National Park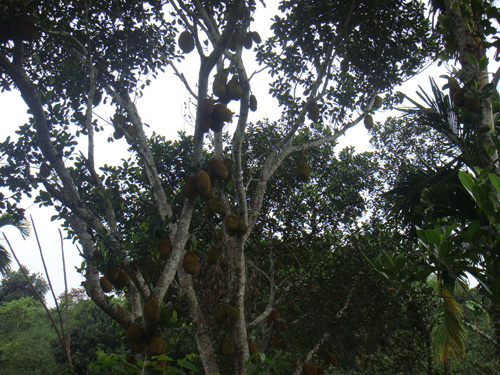 Lots of jack-fruits on the trees at Lawachara National Park
We're moving through green forest, it's a great feeling! Huge jack-fruit and lemon trees were planted. No one eats the jack fruits, probably they're for the inhabitants of the forest. We didn't see that many animals or birds as we expected. But, found a beautiful lizard which can change its color. It sat on a jack fruit, hence it took jack-fruit's color. Amazing, right? We lost our planned track. Hence, we trekked extra mile. On the way, we came across rubber garden, tribal village. We passed a great time, though our body became wet due to high humidity!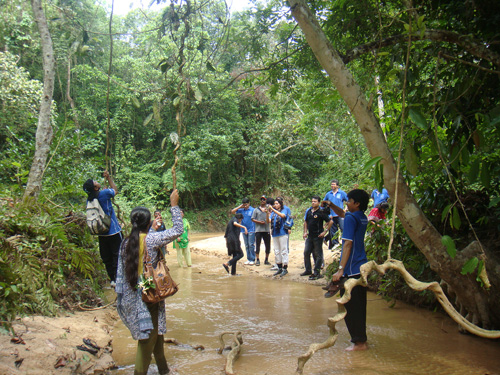 Crossing a Jhiri like Tarzan at Lawachara National Park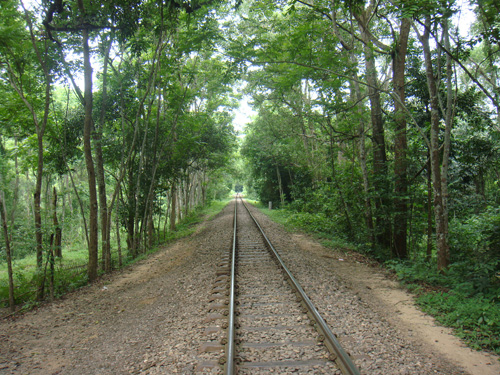 Rail-line inside Lawachara National Park
Madhabpur Lake
Back to the resort, we had our breakfast and checked out of the resort. Our next destination is Madhabpur Lake. We didn't take the usual route, rather chose a route through tea gardens that take almost an hour to reach the lake. It was so beautiful a lake, can't express in words!
We ate our lunch at Chinese Restaurant in Srimongol town. We then moved to experience famous 7 color tea of Srimongol. Truly speaking, I didn't find it anything special except the beauty of seven layer of tea! 32 of our 42 members team set out for Dhaka, while we 9 stayed in the resort for another night. The reason is to pay a visit to Madhabkunda Falls! This evening, we enjoyed a lot in the pool, it's so cool in the hot humid evening!
Madhabkunda Waterfalls
It's 11 am when we reached Madhabkunda. Too beautiful a fall, full of crowd as it was weekend. We heard, this fall is full of water round the year. Could not wait, just jumped into the water! It was heavenly, pleasantly cold weather in hot and humid weather, can't express the feelings in words! We're four in water, started playing water polo. We enjoyed a lot for almost two hours. Body and mind resisting me from getting out of the water, but cruel life didn't allow us to stay any longer. We had to return to Dhaka. We had to catch the office next day!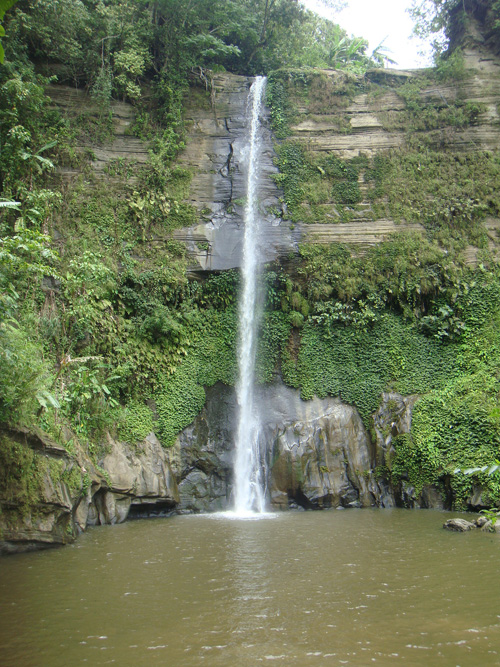 Beautiful Madhabkunda Water-falls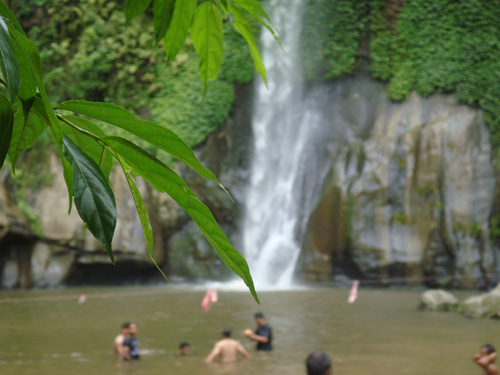 In cold water of Madhabkunda Water-falls
We had our lunch in Bangladesh Parjatan (Tourism) Hotel. Cooking was really delicious but amount of food was so limited that was insufficient to pacify our hunger.
Back to the old monotonous life, good memories are there in mind for good…everlasting!

Do you travel much? You can publish your travel stories here too! Just let us know! Like this story? Share your thoughts here in comments!

Share with friends
Let the world know about this amazing post you've found!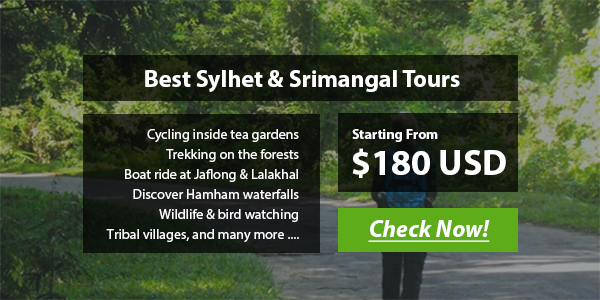 The following two tabs change content below.
Raw Hasan (র. হাসান) is the Founder and CEO of Nijhoom Tours - an award winning tour operator in Bangladesh specializing in organizing inbound tours for foreigners, specially the western tourists. While not traveling or busy with the desk works, he loves to write about traveling beautiful Bangladesh. Connect with him in
Facebook
and
Twitter
for updates and help about visiting Bangladesh.
Latest posts by Raw Hasan ( র. হাসান ) (see all)