Bangladesh is quite unfortunate to always attract bad press, years of which made it the least traveled destination in the world. Foreign office of most of the Western countries continuously advice against traveling Bangladesh, which makes the travelers even more confused.
Here are some reports from some Western travelers who have visited Bangladesh recently and sharing their experience about how they've found the security situation in the country during their visit. You can read their full trip report by clicking the link at the end of each report.
Felt like one of the safest countries I have traveled to
– Michael & Jacqueline Hulton, Surrey, UK
"It is probably fair to say that Bangladesh for various reasons isn't on many people's wish list of places to visit but ironically that is one of the main reasons we wanted to visit. It was extremely refreshing and rewarding to travel around a country, unspoiled by mass tourism and to have the opportunity of experiencing and observing the many facets of Bangladeshi life in such a natural and personal way.
Our tour was too long and varied to write a full account. Possibly the biggest highlight was the Bangladeshi people. Everywhere we went we were greeted with smiling, friendly faces eager to have their photos taken and to take ours. Our numerous visits to homes in towns and villages and the sharing of food or a chai gave us a chance to meet 'real' Bangladeshi people and a chance to begin to understand this relatively new nation.
A word on security. We decided to visit despite the July bombings in Dhaka, security concerns with visiting cricket teams, and foreign office warnings against visiting CHT. We were so glad we did.
At no time did we feel at all at risk or in danger. In fact, it felt like one of the safest countries I have traveled to. Our whereabouts were tracked by security personal whilst in Chittagong Hill tracts but our guide had a very good relationship with the police and at no time did this feel oppressive or uneasy. In fact, it was almost reassuring, we even got invited to the police station to meet to 'chief' We almost had the whole area to ourselves-what a treat, beautiful people and scenery which made our image of Bangladesh complete.
In summary, if you want to visit Bangladesh, go now!"
(Visited November 2016)
Read the full trip report here
Felt perfectly safe
– Richard Evans, Carmarthenshire, UK
"Bangladesh may not be top of everyone's holiday destination list but that's partly why we visited – and we are so glad we did. We spent a week in the country as part of a month's traveling in South East Asia and it was definitely up there as one of our favorite experiences.
We visited in November 2016 and although some people have been put off by worries about security, we felt perfectly safe particularly in the hands of Nijhoom Tours staff.
Bangladesh is a wonderful country, with wonderful people and we would highly recommend it."
(Visited November 2016)
Read the original review on TripAdvisor
Felt safe and comfortable everywhere I went
– Michael Kendall, Berkshire, UK
"Recent events have been unkind to Bangladesh and its people. I admit to being apprehensive myself but decided that I would still go ahead with my trip.
My tour started with a day around frenetic Dhaka. People would stop you frequently to ask how you are, where you are from and frequent requests for photographs, they were also happy to have their photographs taken.
The Rocket Steamer trip belonged in a different era, truly wonderful. A day around the UNESCO World heritage sites of Bagerhat with its many domed mosques followed, this also provided lots of opportunities to interact with Bangladeshis visiting the area themselves.
The trip culminated with 3 days meandering the mangrove waterways of the Sundarbans in search of the elusive Tiger. No luck on this occasion but there are lots of other mammals and birds to see.
The tour went smoothly and I felt safe and comfortable everywhere I went. The food is good and the standard of the hotels was better than I expected."
(Visited November 2016)
Read the full trip report here
Security risks seem pretty low
– Charles Woodrow, Merseyside, UK
"I had a memorable day being guided around Old Dhaka. Everyone I came across on the tour (and in the rest of the time I was in Dhaka) was polite and friendly. There are official concerns about security in Dhaka (following the July attack 2016). All I can say is that having visited and/or worked in Brazil, Kenya, Ghana, and Indonesia the security risks of visiting Bangladesh seem pretty low. The biggest issue you face in all these locations will be road safety on larger highways – not terrorism."
(Visited November 2016)
Read the full trip report here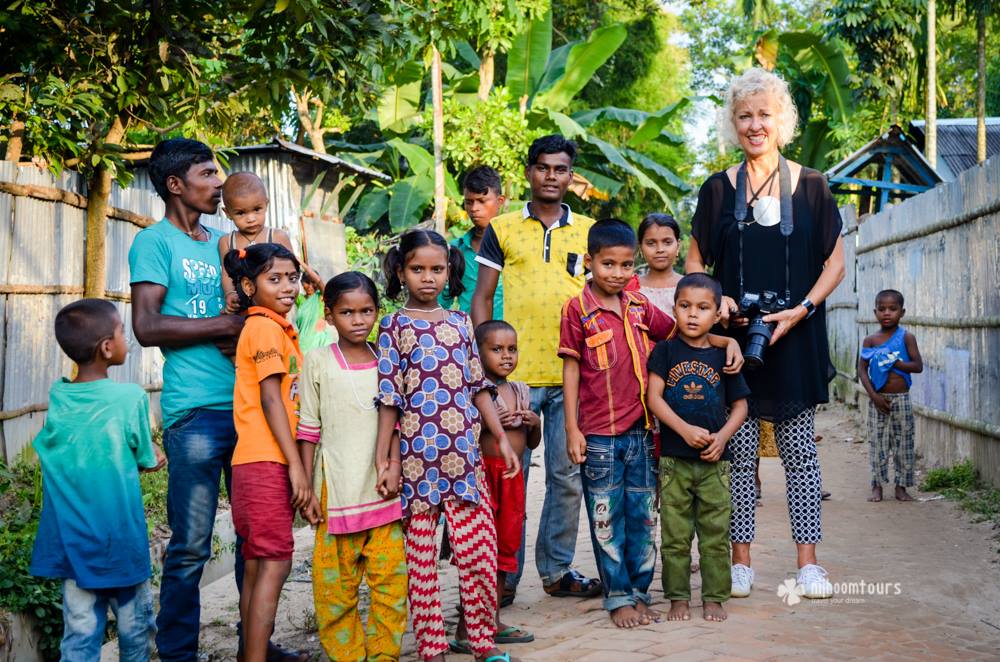 Felt very safe and well looked after
– Ilonca Raymond, Cambridge, New Zealand
"We had 7 nights in Bangladesh and it was so amazing!! Bangladesh would be one of the only countries in the world where the local people do not mind having their photos taken! The people are not used to having lots of tourists visiting their country, they are inquisitive and super friendly.
We did a mixture of tours – 3-day tours in Dhaka then we headed out to the tea plantation area. We felt very safe and well looked after whilst on the tour.
Since being home, I have been putting all my wonderful photos into photo books – they truly are great images of the people of Bangladesh. I haven't stopped 'raving' about the country."
(Visited October 2016)
Read the full trip report here
Not felt safer in any other country
– Tony Eales, Kent, UK
"As for the Bangladesh people I can again only say wonderful and more wonderful!! The beauty of Bangladesh is that it has not become a tourist haven just yet.
I can honestly say that I have not felt safer in any other country. The people are happy and full of smiles and are still very inquisitive about someone from a different culture. Out of all the thousands of traders, I came across over my two days I could probably count on one or two hands the number of people that tried to sell me something (unlike India)."
(Visited November 2016)
Read the full trip report here
Never felt even slightly unsafe
– John Skovron, Washington, USA
"As part of a longer trip to the area, we arranged in advance for a 5-day customized tour. Bangladesh is filled with friendly and open people. Especially away from the few key tourist spots, light-skinned people are a rarity. if people stare or ask to take a selfie with you, it is with warmth and curiosity. We were offered tea countless times. Despite poverty, begging was almost non-existent.
I know there are concerns about safety. There was an attack a few months before we visited. We were undeterred. There are crazy people all over the world, and apparently, there are some in Bangladesh too. That is not a reason to avoid an entire country. I never felt even slightly unsafe. Like everywhere else, the vast majority of people were friendly and peaceful. Each of the countless times I answered: "what country?" with "America" I got smiles. We visited a Hindu temple and neighborhood, and a mosque as well."
(Visited October 2016)
Read the full trip report here
Found all the places I visited to be safe and welcoming
– Stephanie Skinner, Virginia, USA
"During a work trip in Northern Bangladesh, I treated myself to a weekend tour of the Srimangal area. It was a wonderful experience that I would recommend to any one who would like to learn more about the beautiful country of Bangladesh.
Quick note for anyone who has safety concerns following the tragic attack in Dhaka this past summer: I found all the places I visited in Bangladesh to be safe and welcoming. The country takes security very seriously, and there was never a moment that I worried about my safety as a traveler."
(Visited October 2016)
Read the full trip report here
Felt completely safe
– Manolis Platakis, Athens, Greece
"I felt completely safe in Dhaka and my trips around it and I would like to encourage western tourists to not be afraid just because of one terrorist attack (there have been many more in Europe and people are not afraid visiting which is great – we shouldn't let terror win)."
(Visited October 2016)
Read the full trip report here
More Bangladesh Experiences
Have you visited Bangladesh recently? How have you found the security situation here during your visit? Share your experience with fellow travelers in the comments, so that they can have real insight about the security situation in Bangladesh, and more people get encouraged to visit the country.
Check out our 1-7 days Bangladesh tour packages and 8-28 days Bangladesh holiday packages to visit Bangladesh with comfort.