Bangladesh is one of the least traveled destinations in the world. People in the outside world know very little about Bangladesh. Even worse, they know all kinds of wrong things about Bangladesh. Here is a list of the top questions most of the first time visitors in Bangladesh ask, and their answers.
Man with orange beard in Bangladesh. ©Photo Credit: Raw Hasan
1. Why men color their beard in orange?
It is widespread for the older people in Bangladesh to color their white beards and hair in orange. They do it in a natural way with Hena. Although they show an excuse of the prophet Muhammad (peace be upon him) coloring his beard with Hena hence following him, they actually do it simply to look young (who wants to be old!).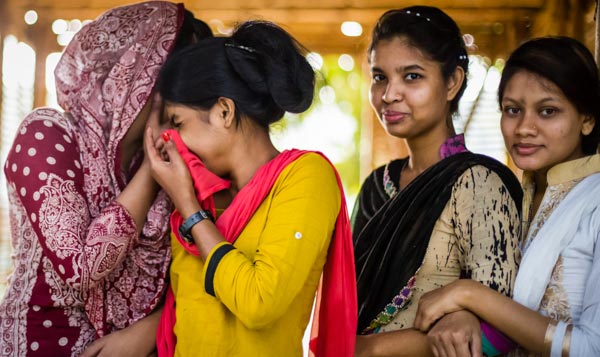 Young girls in Bangladesh. ©Photo Credit: Janice Friend
2. Does every one have four wives?
No. Having one wife is pain enough (I am married! – Just one by the way.)
While some people secretly have a second wife, they do it illegally and could end up in jail easily. To get a second wife legally, someone needs to take written permission from his first wife, which she will never provide as soon as she is alive (no one gives up the exclusive rights of their husband).
If someone gets a second wife without taking permission from the first wife, he will end up in jail straight away if the first wife goes to court. All the laws are in favor of the women in Bangladesh in that case.
Children in Bangladesh. ©Photo Credit: Janice Friend
3. Does every one have 10 children?
No, not anymore. It was the case 50 years ago.
Bangladesh has improved a lot on family planning. Everyone nowadays understands how important it is to educate their children, and how difficult it becomes when they have many children. Even the illiterate and poorest people try to send their children to school now (primary education is completely free in Bangladesh). No one is willing to take more than two children nowadays.
Bus full of scratches in Bangladesh. ©Photo Credit: Gary LeClair
4. Why there are so many scratches on the buses?
Every bus in Bangladesh, especially the city buses, is owned individually. They always compete with each other to take more passengers. Every bus ahead on the road will try to block the other buses behind him to get more passengers. So the buses behind push the bus in front and move anyway, making the scratches on their bodies. This is not the case for long-distance buses though.
People riding on the roof of a bus in Bangladesh. ©Photo Credit: Janice Friend
5. Why people ride on the roofs of buses and trains?
It is a very common scene in Bangladesh to see people traveling on the roofs of buses and trains. People do it because it costs them less money. Riding on the roof of the buses will normally cost about 10% of the actual fare while riding on the roofs of the trains will be completely free (no one goes to check tickets on the roofs of the trains).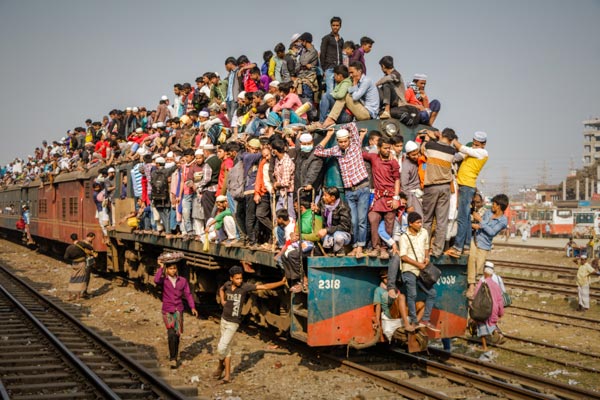 Train covered with people in Bangladesh. ©Photo Credit: Raw Hasan
6. Can I take photo of train-covered-with-people everyday?
No, you can not. The photos you see on the internet of the trains completely being covered with people happens only 3 times in the year – during two Eids and the Ijtema.
Eid is the major festival in Bangladesh, which happens twice a year, like any other Muslim country. During Eids, everyone all together try to get back to their villages where they come from, making each and every transport full for a few days.
And Ijtema is the second largest Muslim gathering in the world, which is organized in Bangladesh every year for three days. Muslim people from the whole world come to join this event. During the final day of Ijtema, everyone in Bangladesh tries to attend the final prayer. So after the prayer, they also try to get back altogether. Govt. provides some special trains on that time to bring people back to the city from the event ground along with the regular trains, all of which people make completely full – literally covering the trains.
You can take photos of the trains covered with people, only if you are in Bangladesh during one of those few days.
People reading newspapers on a wall. ©Photo Credit: Janice Friend
7. Why they put newspapers on the walls?
Many people in Bangladesh simply do not afford to subscribe to newspapers. So, many small newspaper companies put their newspapers in the walls beside the main streets, so that people can read them for free and they also can get some exposure. It is a common scene in Dhaka, seeing many people reading those newspapers on the walls.
A village in Bangladesh on the Ganges Delta. ©Photo Credit: Raw Hasan
8. Does Bangladesh go under flood-water every year during monsoon?
No, it does not.
Bangladesh is a small country with about 700 rivers. The heart of the Ganges Delta, which is the largest delta in the world, is located in Bangladesh. So flood is a common thing in Bangladesh. But it does not flood every year. The last couple of the country-wide floods in Bangladesh was happened in 1988 and in 1998.
Every year during the monsoon, the water level naturally increases on the rivers, drowning the low lands beside the rivers and wetlands. But these are not country-wide floods. International media sometimes report the capital city Dhaka going under floodwater, which is actually rainwater, which disappears just in few hours. It happens because of the poor drainage system of the city.
Trade on a floating market in Bangladesh during monsoon. ©Photo Credit: Raw Hasan
9. Does it rain continuously during monsoon?
No, it does not. Rain in Bangladesh just comes and goes away. It never downpours continuously.
Sometimes there might be depressions on the Bay of Bengal. In that case, the weather will be rainy for about three days at maximum. During that time, there might be heavy rains every couple of hours after big intervals. It might happen once a month during the monsoon. For the other times, the rain will just come and go away.
Monsoon in Bangladesh. ©Photo Credit: Raw Hasan
10. Is it possible to travel Bangladesh during monsoon?
Yes, definitely it is possible!
In fact, Bangladesh is the most beautiful during the monsoon while rivers will be full of water, nature will be in its greenest state. There will be dramatic clouds in the sky for the people who love photography. In fact, the monsoon is the best time to photograph Bangladesh.
But you need to be prepared to travel to Bangladesh during the monsoon. You'll require to have an umbrella, raincoats, water-resistant shoes, zip-lock bags, dry bags, etc. to protect you and your staff from the rainwater. It will be hot and humid during the monsoon, which cools down with the occasional monsoon rain.
Do you have a curious question about Bangladesh? Ask us here in the comments. We will answer.