Gauda, Gaur, or Gour, is a ruined city on the India-Bangladesh border. It is split between these two countries. Some of the sights are in India, some in Bangladesh. Largest number of historical mosques are located in Gaur than any other area in Bangladesh.
It was the capital of this region of Buddhist Pala Dynasty during 7th to 12th century, followed by the Hindu Sena Dynasty in 12th to 15th century, after which the Khiljis from Turkistan took control, followed by the Afghans and finally by the Mughals.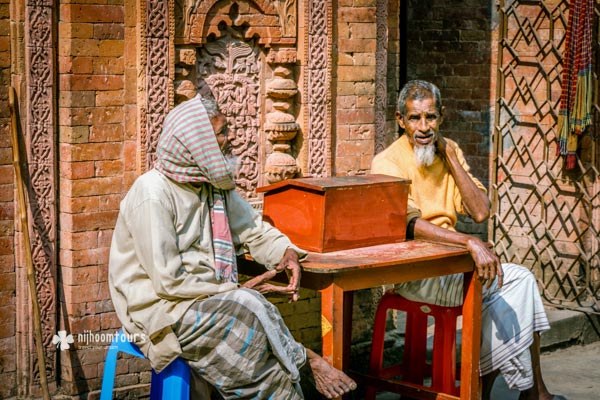 © Collecting donation on a mosque in Gaur. Photo Credit: Raw Hasan
This occupation was followed by an outbreak of the plague and course change of the Ganges, which completed the downfall of the city. Since then it has been little better than a heap of ruins, almost overgrown with jungle.
Under the Afghans, Gaur became a prosperous city, surrounded by fortified ramparts and a moat, and spread over 32 sq km. Replete with temples, mosques, and palaces, the city was divided by traders and merchants from all over Central Asia, Arabia, Persia and China.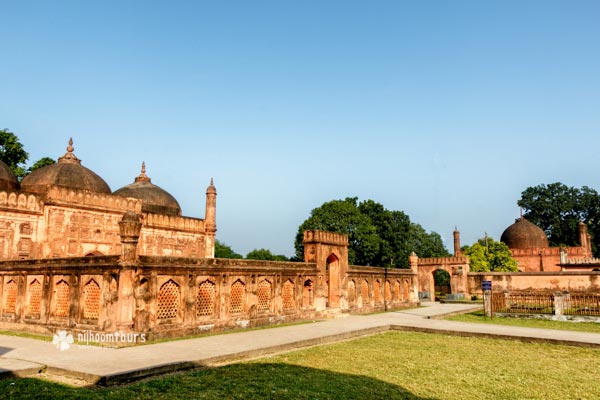 © The mosque and shrine inside Tahkhana Complex in Gaur. Photo Credit: Raw Hasan
A number of mosques are still standing today and some has been beautifully restored, although none of the buildings from the earlier Hindu Kingdoms remains. Following are the major sights in the Bangladesh part of Gaur which you can visit.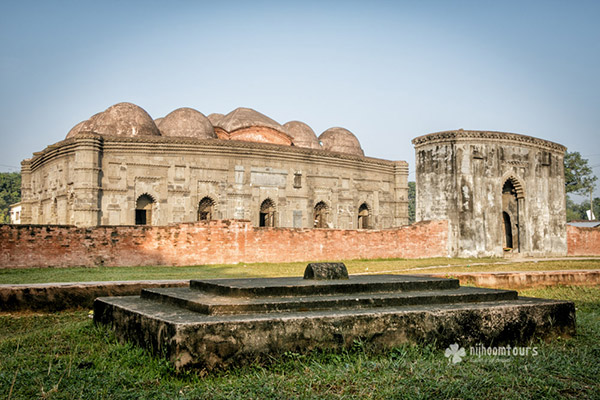 © Chhoto Sona Mosque in Gaur. Photo Credit: Raw Hasan
Chhoto Sona Mosque
Chhoto Sona Masjid or the Small Golden Mosque although much smaller in proportion, is better preserved than the Large Golden Mosque across the border in West Bengal. It is another remarkably fine specimen of its period.
Built by a certain Wali Muhammad during the reign of Sultan Hossain Shah (1494 – 1519), it was originally roofed over with fifteen gilded domes including three chou-chala domes in the middle row. It derives its name from the fact that the domes were once gilded.
Chhoto Sona Mosque is one of the two mosques in Bangladesh wrapped with stones brought through waterways from the hills of Rajmahal. This elegant mosque has a gently curved cornice characteristic of the period. There is an ornate "Ladies Gallery" or badshah-ka-takht in the north-west corner of the mosque which is carried on finely carved slender stone columns.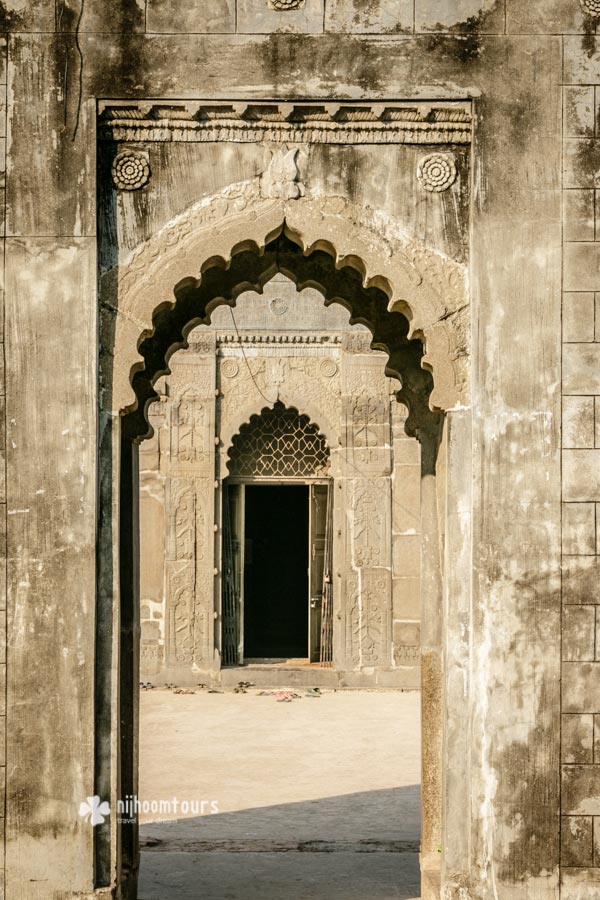 © The entrance of Chhoto Sona Mosque in Gaur. Photo Credit: Raw Hasan
The chief attraction of this monument is its superb decoration. Carved in shallow relief on both the inner and outer surface of all walls, the ornate stonework seems like a faithful reproduction of the highly developed traditional terracotta art of Bangladesh and it closely resembles the quality found in its wood-curving or filigree work.
The floor of the sanctuary was originally covered with beautiful glazes tiles with floral patterns. On the western side of the mosque there is a stone gateway with pointed arches.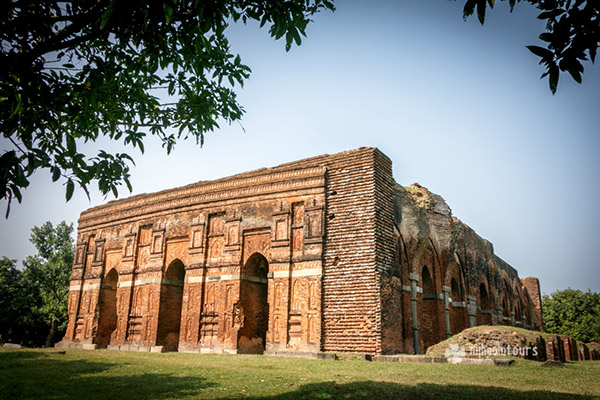 © Darasbari Mosque in Gaur. Photo Credit: Raw Hasan
Darasbari Mosque
The Darasbari Mosque in Gaur is a fine example of the mature architecture of the Ilyas Shahi period, probably built in 1470 by Sultan Yusuf Shah. Its name Darasbari indicates that a madrasah or religious institution, might have been originally attached to this highly dilapidated mosque.
The Mosque consists of two sections: an oblong prayer hall with an attached verandah on the east. All the walls are 6′-0″ thick. The prayer hall must at one time have been roofed over with a series of domes, including a set of chau-chala or Bengali domes in the central row, but all of these have now collapsed.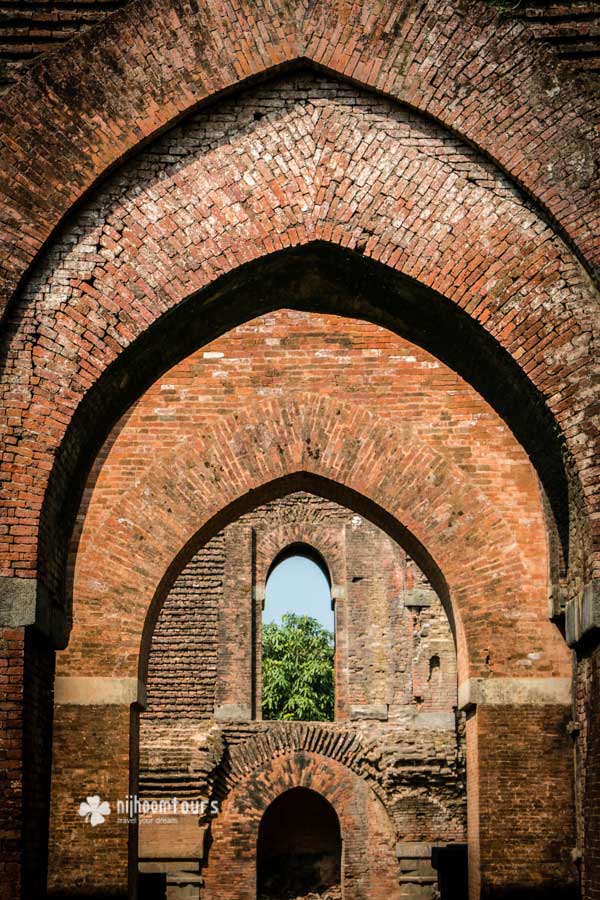 © The interior of Darasbari Mosque in Gaur. Photo Credit: Raw Hasan
In the north-west corner, there was probably a "Ladies Gallery" built as an upper story, which was accessible up a flight of steps from outside. The interior western wall of the prayer hall is relieved with nine mihrabs which depict some superb terracotta ornamentation of various floral and geometric patterns in bold relief.
© Khaniadighi Mosque in Gaur. Photo Credit: Raw Hasan
Khania Dighi or Rajbibi Mosque
This single-domed square mosque has an attached verandah roofed with three smaller squat domes. Its wall surface is richly embellished with terracotta floral designs and it is also sparsely relieved with stone carvings.
The dome of the sanctuary is carried on a number of black basalt pillars. Three highly ornate black stone mihrabs decorate the western wall of the prayer chamber.
Architecturally it may be dated to the 15th Century and an Arabic inscription with Quranic verses is still in site. The identity of Rajbibi is not clear, but it seems that she was an influential lady of the royal harem.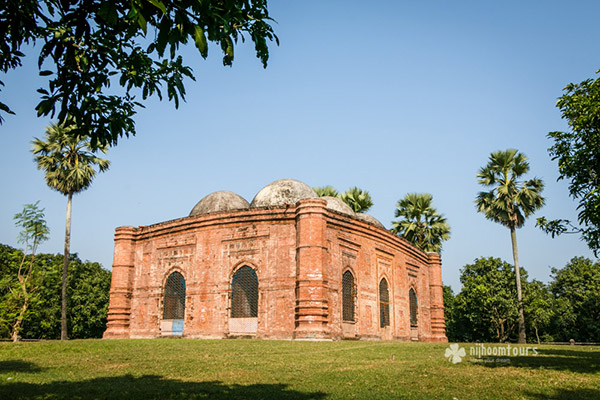 © Dhunichak Mosque in Gaur. Photo Credit: Raw Hasan
Dhunichak Mosque
This mosque with a rectangular sanctuary with 5′-6″ walls, stylistically dates to the later Ilyas Shahi (1352–1358) period. There are three richly ornamented mihrabs on the western wall, the central one being the largest. The roof of this mosques has been fallen, which has later been beautifully restored by the archeological department of Bangladesh.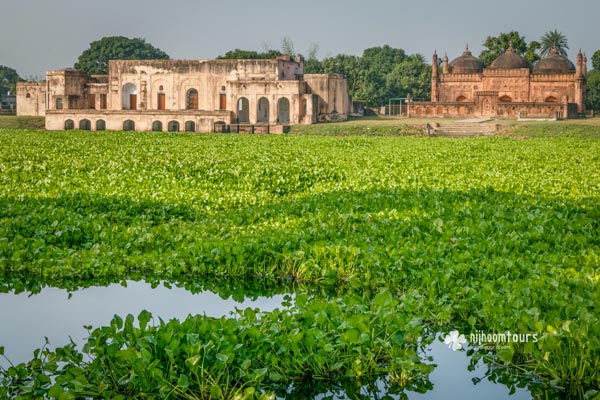 © Tahkhana Complex in Gaur. Photo Credit: Raw Hasan
Tahkhana Complex
This interesting large two storied brick building, erroneously known as the Tahkhana or underground chambers of the saint Shah Niamatullah Wali of Karnaul near Delhi, stands close to his three-domed mosque and his single-domed shrine further to the north.
The building, which recently has been extensively repaired, is extremely interesting as it is the only monument of the Mughal period in Gaur. The edifice originally must have been built by Shah Shuja as his luxurious temporary residence in Gaur whilst visiting his Pir, Shah Niamatullah.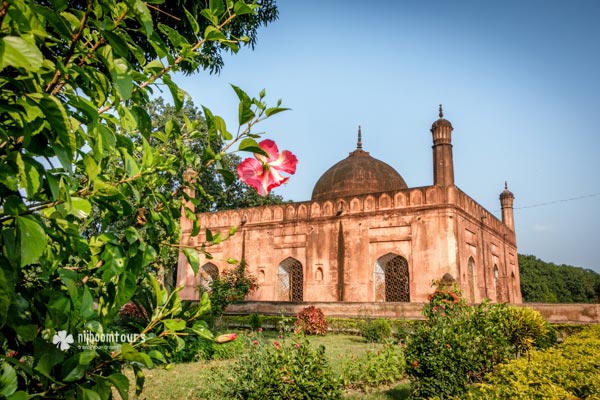 © The shrine of Shah Niamatullah at Tahkhana Complex in Gaur. Photo Credit: Raw Hasan
Shah Niamatullah is reputed to be the spiritual guide of Prince Shah Shuja, who was a guest at the court of the Prince in Rajmahal, prior to coming to Gaur where he eventually settled. He died in 1664 and was buried there.
The so called Tahkhana is an oblong building, located on the western bank of an expansive tank, now choked with weed. The ground floor of the building, accommodating an unspecified number of cells, was built into a part of the leveled embankment of the tank, at water level, whereas the upper floor is level with the surrounding ground of the tomb and the mosque.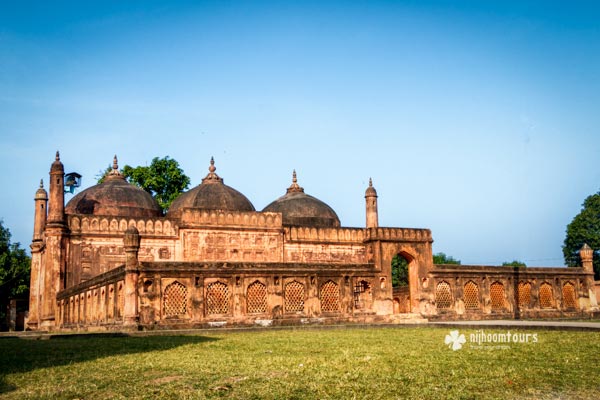 © The mosque of Shah Niamatullah at Tahkhana Complex in Gaur. Photo Credit: Raw Hasan
There are seventeen apartments on the upper floor, including the two octagonal chambers in the north-east and south-east corners. A domed hammam complex is located on the south and there is a staircase in the south-east corner which leads down to the water's edge.
The main apartments in the central block lead into a verandah, with five arched openings on the west, while on its eastern side there is an extremely dilapidated open terrace, partly overlaying the flat roof of the ground floor.
Reference:
Discover the Monuments of Bangladesh, by Dr. Nazimuddin Ahmed
Have you visited the lost historic city Gaur in Bangladesh? How fascinating have you found it? Which one is your favorite sight in Gaur and why? Have I missed something here? Share your thoughts and experience with us in comments.
Book our Exploring Rajshahi Tour, Rajshahi Archaeological Tour, Exploring Bangladesh Tour, or Discover Bangladesh Tour to visit the lost historic city of Gaur.
Check out our 01-07 days tours and excursions in Bangladesh and 08-27 days holiday packages in Bangladesh to travel Bangladesh with comfort.
Share with friends
Let the world know about this amazing article you've found!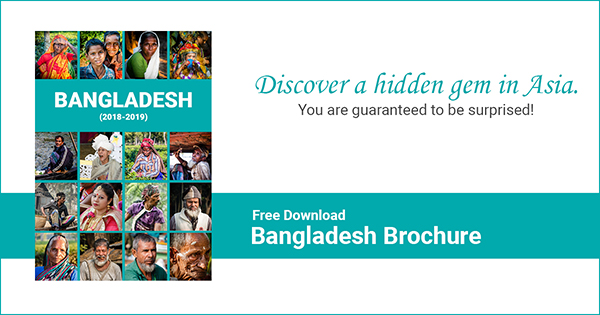 Free download our Bangladesh brochure for 2018-2019, and discover a hidden gem in Asia. You are guaranteed to be surprised! Download now!
Popular Holiday Packages in Bangladesh:
08 DAYS   $785 USD*
---
10-17 Sep, 01-08 Oct, 2018
---
16-23 Nov, 10-17 Dec, 2018
---
07-14 Jan, 11-18 Feb, 2019
---
11-18 Mar, 22-29 Apr, 2019
---
06-13 May, 02-09 Sep, 2019
---
11 DAYS   $1,070 USD*
---
08-18 Sep, 16-26 Oct, 2017
---
01-11 Jan, 09-19 Apr, 2018
---
17-27 Sep, 2018
---
21-31 Jan, 08-18 Apr, 2019
---
16-26 Sep, 2019
---
14 DAYS   $1,495 USD*
---
06-19 Oct, 15-28 Dec, 2017
---
05-18 Mar, 16-29 Oct, 2018
---
18-31 Dec, 2018
---
18-31 Mar, 15-28 Oct, 2019
---
17-30 Dec, 2019
---
18 DAYS   $2,080 USD*
---
10-27 Nov, 2017
---
06-23 Feb, 06-23 Nov, 2018
---
05-22 Feb, 05-22 Nov, 2019
---
23 DAYS   $2,615 USD*
---
02-24 Mar, 2018
---
04-26 Mar, 03-25 Dec, 2019
---
27 DAYS   $3,100 USD*
---
03-29 Jan, 03-29 Oct, 2018
---
02-28 Jan, 02-28 Oct, 2019
---
The following two tabs change content below.
Raw Hasan ( র. হাসান )
Founder & CEO
at
Nijhoom Tours
I am the Founder and CEO of Nijhoom Tours, an
award winning tour operator in Bangladesh
specialized in organizing inbound tours for the foreigners, specially the western tourists. While not traveling or busy with the desk work, I love to write about traveling Bangladesh, one of the least traveled destinations in the world about which not much correct information is available anywhere. Connect with me in Facebook, Twitter, or LinkedIn for updates and help about visiting Bangladesh.
Latest posts by Raw Hasan ( র. হাসান ) (see all)