A front view of Tajhat Palace (Jamidar Bari) in Rangpur. © Photo Credit: Raw Hasan
The founder of Tajhat Palace
Tajhat palace was built by a Hindu merchant named Kumar Gopal Lal Roy (1887-1955), a jeweler by profession who managed to make his fortune in Rangpur. He was an immigrant from the Panjab. The mysterious name of the place 'Tajhat' perhaps came from his profession. 'Taj' means 'crown', and 'hat' means 'local market'. He became the zamindar of Tajhat estate as a minor after the death of his father.
Gopal Roy introduced 'Bau Mela' (fair to wives) for women along with kite flying festival for Children in the Tajhat palace every year on the first two days of 'Pahela Baishakh' (Bengali New Year). The last day of Baishakh and the first month of Bangla calendar was also celebrated there with grandeur and funfair.
Front view of Tajhat Palace. ©Photo Credit: Raw Hasan
The making of Tajhat Palace
Although Gopal Roy was a zamindar, he had very good relations with his tenants. For the huge request from his tenants, he started making a Royal palace at the beginning of the 20th century. He appointed 2,000 workers to complete the work of his royal palace. He invested 1.5 million dollars at that time to make the palace.
Tajhat Palace is 'U' shaped in design. It looks gorgeous for its elements like white stones, marble stones, limestones, and red bricks.
The palace has a big blank space about 76 meters in front and features an imposing central staircase made of imported white marble. The balustrade originally featured marble sculptures of classical Roman figures, but these have long since disappeared.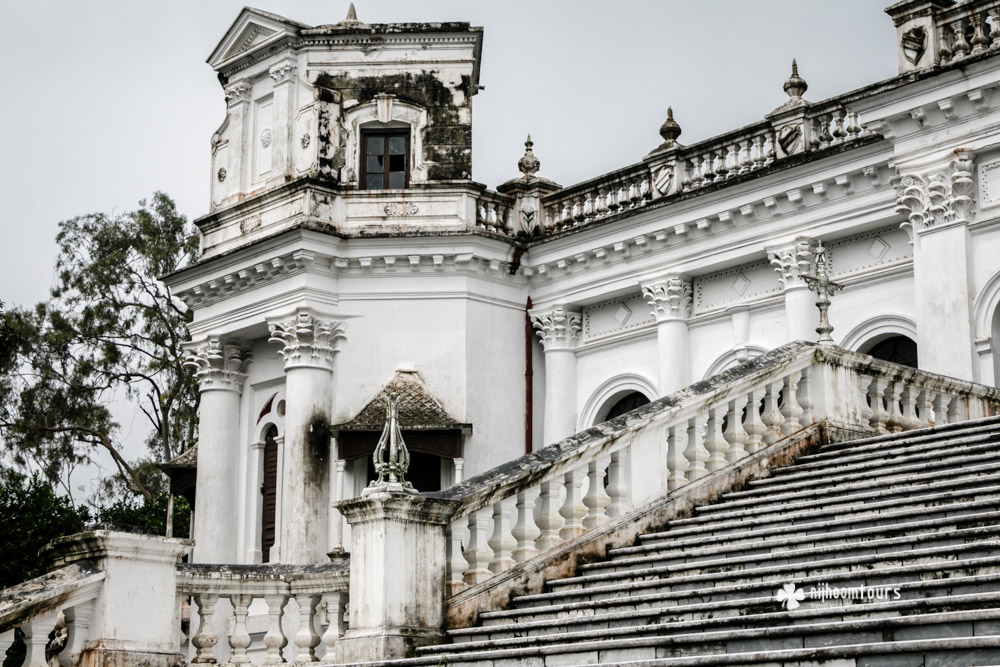 Stairs of Tajhat Palace. ©Photo Credit: Raw Hasan
The three-part of the palace is west faced. It is also crowned by a ribbed conical dome in its roof similar to Ahsan Manzil. The four-storied palace contains a lot of royal rooms, guest rooms, and bathrooms.
The whole palace surrounds with natural beauty, fantastic beseem, and flower gardens. It also has Kamini (Murraya Paniculata), Mehagani, Mango, and Jack-fruit trees in the north-south side of the palace. Local villagers believe, there is a treasure hidden in the walls of Tajhat Palace.
Doors at Tajhat Palace. ©Photo Credit: Raw Hasan
The museum inside Tajhat Palace
From 1984 to 1991 the palace was used as a Rangpur High Court Branch of the Supreme Court of Bangladesh. In 1995 the palace was declared as a protected monument by the Department of Archaeology.
Recognizing its outstanding architectural value, the Government of Bangladesh shifted the Rangpur Museum to the second floor of Tajhat Palace in 2005. The main room at the top of the marble stairs has a number of display cases that show 10th-11th-century terracotta artifacts. In the 2nd and 3rd floor of the building, there are private materials of Maharaja Gopal.
There are a number of fine examples of Sanskrit and Arabic manuscripts, including copies of the Mahabharat, Ramayan, and a Quran whose provenance is attributed to none other than the Mughal Aurangzeb. The back rooms have several examples of black stone Hindu carvings in its back rooms, mainly of the deity Vishnu. Photography is not permitted in the museum itself.
Traveling Tajhat Palace
Visiting hours of Tajhat Palace
Tajhat Palace is open for the visitors 7 days a week from 10.00 am to 06.00 pm. However, the museum located on the 1st floor of the palace will be open according to the following time-table. On Sunday, the museum will remain closed, however, the palace will remain open alright.
Summer Season (April – September)
Tuesday – Saturday: 10.00 AM – 01.00 PM, 01.30 PM – 06.00 PM
Friday: 10.00 AM – 12.30 PM, 02.30 PM – 06.00 PM
Sunday: Weekly Holiday
Monday: 02.30 PM – 06.00 PM
Winter Season (October – March)
Tuesday – Saturday: 09.00 AM – 01.00 PM, 01.30 PM – 05.00 PM
Friday: 09.00 AM – 12.30 PM, 02.00 PM – 05.00 PM
Sunday: Weekly Holiday
Monday: 01.30 PM – 05.00 PM
Eid Holidays
Tajhat Palace will remain closed for visitors during Eid day and the previous day of Eid. It will remain open as usual from the next day of Eid day.
Govt. Holidays
Tajhat Palace will remain closed during any govt. holiday.
Ramadan Timing
Tajhat Palace will be closed at 04.00 PM during the holy month of Ramadan.
Entry fees of Tajhat Palace
Local Tourists: 20 TK
Foreigners: 200 TK
How to go Tajhat Palace
Take a train and bus from anywhere to Rangpur city, and jump on an auto-rickshaw to go to Tajhat Palace. It is located just 3 km outside the city.
Have you ever visited Tajhat Palace? How amazing have you found it? Share your thoughts and experience with us in the comments.
Check out our 1-7 days Bangladesh tour packages and 8-28 days Bangladesh holiday packages to visit Bangladesh with comfort.