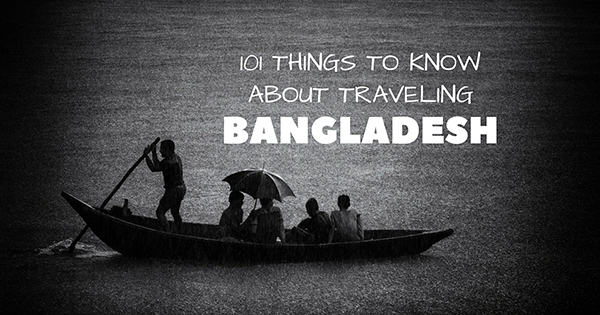 Where is Bangladesh?
Bangladesh is a South Asian country located beside India. It is bordered in 3 sides by India, and one side by the Bay of Bengal.
In colonial period, Bangladesh, India, and Pakistan was the same country. In 1947 when British left the sub-continent, it was divided in two countries based on religion – India and Pakistan. Bangladesh was then a part of Pakistan as a Muslim major area. In 1971 Bangladesh was liberated from Pakistan after 9 months of war, in which 3 million Bangladeshi people died.
How is the people of this country?
Bangladesh is one of the most densely populated country in the world. About 160 million people live in this country. People of this country are most hospitable and friendly toward foreigners. If you go to a home, they will invite you and offer food and drinks without any expectations from you. Unlike other countries, they won't ask for any money if you want to take photograph of them.
What language people speak in Bangladesh?
Bengali or Bangla is the language in Bangladesh. The country name Bangladesh actually means "Country of Bangla". Everyone in this country speak Bangla, except some tribal people in the hill-tract area.
Is English understood by people here?
English is the second language of Bangladesh. Children learn English in school from Grade-1. You'll always find people around you who can speak English, and willing to help.
What is the religion of Bangladeshis?
Bangladesh is a Muslim country. More than 85% of the people here are Muslims. Rest of them are Hindus, Buddhists, and Christians. Although it is a Muslim country, there is no Muslim extremists here. Unlike Pakistan and Afganistan, this is a moderate Muslim country. No one will tell you anything if you do not cover your head while you are here. You can dress as you wish, do whatever you like.
What are the major cities of Bangladesh?
The capital of Bangladesh is Dhaka. More than 15 million people live in this mega city. This is the most densely populated city in the world. Chittagong is the commercial city of Bangladesh. Largest port of the country is located here. Other major cities are – Sylhet, Khulna, Barishal, Rangpur, and Rajshahi.
What are the key tourist attractions of Bangladesh?
Bangladesh is a very beautiful country. It has the largest mangrove swamp in the world – Sundarbans, which is an UNESCO World Heritage Site. It has the largest unbroken sandy beach in the world – Cox's Bazar. Archaeological sites of Buddhist, Hindus, and Muslims are spread through the whole country many dated back to 3rd century B.C. Century old peddle steam boats roams through it's beautiful rivers which could be a memorable journey of a life time. It has many forests, tea plantations, rickshaws, and most of all it's open hearted people who will welcome you everywhere you go.
What is the best time to visit Bangladesh?
September to March is the best time to visit Bangladesh. Weather is cool, sky is clear, and no rain.
Is this country safe for women?
"I traveled solo there and I must say it's one of the safest places to travel solo…people are so nice. It's way safer than India." – Quoted from a western lady in a travel forum
Just wear something modest, and do not go some places at night. This advice is for both men and women.
Here you can read experience of many solo female travelers in Bangladesh: https://nijhoom.com/bangladesh-security-situation/
How costly is Bangladesh to visit?
Bangladesh is a heaven for budget travelers. If you are on a really tight budget, you can get a room for only 300 BDT ($4 USD), get breakfast for 40 BDT, get a big meal for 150 BDT. If you want luxury, there are 5 star hotels, and higher standard restaurants in big cities. It's up to you how you want to travel.
Who to ask for organizing a tour for us?
You can contact Nijhoom Tours. It is an award winning tour operator in Bangladesh with very good reputation. You'll find our tour packages here:
What could be the best gifts to take from Bangladesh?

Traditional Naksi Kantha – Sheet to wear on cold fully decorated by hand weaving with colorful designs. You'll find it at Aarong Craft Shops
Replica of Rickshaw, Boats, and many other things available at Aarong Craft Shop
Rickshaw Atrs – 2ft x 1ft picture (not heavy), a rickshaw painting would be a fairly unique gift! These are hand-painted on tin to be mounted on the back of the thousands of cycle rickshaws that you see in Dhaka.

Visa and entry

Is it difficult to get a Bangladeshi visa?

It is actually very easy to get a Bangladeshi visa. Citizens of Europe, USA, Russia, Australia, Canada, New Zealand, and many Asian countries are eligible to get a visa on arrival. In the airport, there is a separate counter for this which is open 24/7. Fees are around $51 USD for a 4 weeks visa. Note that you can get VOA on Dhaka, Chittagong, and Sylhet airport only. VOA is now also issued on Benapole/Petrapole land border.

If you overstay after expiration of your visa, there will be a 200 BDT fine for 1st 15 days, and 500 BDT fine after that. Immigration officers normally ignore it if you overstay 5-10 days here, specially in the land borders.

Here you can find details of Bangladesh visa on arrival.

Is there any route change permission still required?

There was such a law previously, but not effective any more. You can enter by air and exit by land borders. You do not need any permission to take from anywhere for this.

Can we use inland borders to get in and out?

Yes, you can. There are many inland borders of Bangladesh with India. You can enter and leave through those border posts in Bangladesh. Visa on arrival is available on the Benapole/Petrapole border.

Is it possible to get a Bangladeshi visa in Kathmandu?

Quite easy. Visit the embassy in the morning and submit the following documentation:

Duly filled form (you can download the form from the embassy website)
Photocopy of passoport info page
Passport of Nepali visa
01 Photograph

You will undergo a very short interview and will be asked to wait. A few minutes later you will be given a couple of forms to made a deposit on the embassy's account at the bank just across the road. An EU passport had to pay 51 USD + 6 USD = 57 USD for single entry tourist visa reported at 25 July, 2013.

Once you paid you go back to the embassy and you will be asked to come back in the evening at 5:30 to collect your visa. Make sure you specify how you want the entry-exit point, as those are specified in the visa itself (Land or Air). No invitation letter is required for the procedure.

Transportation

What kind of transportation available in Bangladesh?

There is a train network connecting most of the cities in Bangladesh. Luxurious buses runs between both big and small cities and towns. Ferries run between Dhaka and south-western part of the country – Barisal division. Domestic flights run between Dhaka and some other big cities – Chittagong, Cox's Bazar, Jessore, Barisal, Sylhet, and Syedpur.

Also available car rental companies from which you can rent car to travel in the whole country. You can check out here for a good car rental service in Bangladesh.

How many domestic flights operates per day?

Each day, 4-5 flights operates between Dhaka Chittagong. Rest of the cities, normally 1 flight per day each way from each airlines. You can check out the schedule and fare in the airlines websites:

What kind of transportation available between Bangladesh and India?

Bus and train operates between Bangladesh and Kolkata. Train operates 04 days a week from both side. Buses of private and govt. run BRTC operates everyday. There are regular flights between Dhaka, Kolkata, and New Delhi.

Infrastructure

What kind of telecommunication facilities available in Bangladesh?

You'll find mobile phone network almost everywhere in the country. There are 6 mobile phone operators in Bangladesh. Call rates are very cheap. 4G service started in Bangladesh from February, 2018. All the cities will be under 4G coverage very soon. 3G Service will be available in rest of the places. Among the 06 operators, GrameenPhone has the widest network in the country.

How difficult it is to get a SIM Card?

Very easy. Go to a customer care center of any mobile phone operator, give a copy of your passport and a photo, fill-up the form, and pay for the SIM Card. It will be delivered to you instantly.

What is the price of a SIM Card?

150 BDT on everage, as of July, 2017.

Is Micro-SIM Card available for iPhone or iPad?

Yes. They'll cut it for you.

What kind of internet facilities available in Bangladesh?

Because there is mobile phone network in the whole country, you can use internet anywhere in the country with your mobile phone or tablet pc. 3G Internet is available in almost every city. 4G just started from February, 2018. High-speed wired internet connection is available in most of the big cities. Most of the standard hotels have free Wi-Fi connections, so is on good restaurants.

What is the working hour here?

Working hour of Govt. offices and banks are from 10.00 am to 04.00/05.00 pm. Friday and Saturday is govt. holiday. Shopping mall are open from 10.00 am to 08.00 pm. There is weekly holiday for shopping malls, which depends on the area the mall is located at.

Money

What is the name of Bangladeshi currency?

The name of Bangladeshi currency is BDT – Bangladeshi Taka. People simply call it Taka. Exchange rate of Taka is about 80 against 1 USD as of July, 2017.

Is money changers available everywhere?

You can exchange your foreign currencies in the foreign exchange branches of banks, and money exchange companies. You can find money exchange companies in any big cities, although rates could be differ in the remote places. You'll get a good rate if you exchange in Dhaka or Chittagong.

Is ATM Machines available everywhere?

You'll find ATM machines which support international credit cards in every major city of Bangladesh. International Visa and MasterCards are accepted in the Standard Chartered and HSBC bank's ATMs.

Is there any ATM in the airport?

Yes, there is. Once you are through passport control in the International Terminal, you will see ATMs.

Have any other question about traveling Bangladesh? Ask us in comments. We'd love to answer as early as possible.

Check out our 1-7 day tours and excursions in Bangladesh and 8-28 day holiday packages in Bangladesh to travel Bangladesh with comfort.

The following two tabs change content below.

Raw Hasan ( র. হাসান )

Founder & CEO

at

Nijhoom Tours

I am the Founder and CEO of Nijhoom Tours, an

award winning tour operator in Bangladesh

specialized in organizing inbound tours for the foreigners, specially the western tourists. While not traveling or busy with the desk work, I love to write about traveling Bangladesh, one of the least traveled destinations in the world about which not much correct information is available anywhere. Connect with me in Facebook, Twitter, or LinkedIn for updates and help about visiting Bangladesh.

Latest posts by Raw Hasan ( র. হাসান ) (see all)