I traveled Bangladesh with my husband and Nijhoom Tours for 30 days in January 2018. Following is my honest and sometimes glowing report of the trip.
It's a tolerant Muslim country that subsidizes other religious structures and institutions. Hindus and Muslims and Buddhists live peacefully together. They were very curious about us and I always gathered a crowd if I stopped.
Though a vast majority of its citizens live in extreme poverty, they are generally cheerful with each other and toward us. They were friendly, never inappropriate or felt threatening and if I stopped long enough, their sense of humor which is delightful came out and played. It was such a joy to have people want their picture taken and smiled readily.
A Bangladeshi family on holiday in colorful outfits. ©Photo Credit: Janice Friend
Bangladesh has the worst traffic of any country in the world, bar none. We sat at a light for 2 hours one time. Despite the impossible traffic, our driver and guide never once became impatient.
The roads are so impassable due to everything and everyone being on the roads at the same time with no demarcation for the different modes of transportation: Rickshaws both motorized and bicycle; CNG (compressed natural gas) overstuffed with passengers; private motorcycles; cars; public and private buses; pedestrians (no sidewalk); trucks, all honking their horns at once. It is a colorful noisy circus with traffic cops interspersed every now and then.
People traveling on the roof of a bus in Bangladesh. ©Photo Credit: Janice Friend
Bangladesh has its feet in different centuries: Mostly modern cities where everyone eats with their hand, no matter social standing or educational level. Everyone has a cellphone, even those in the countryside.
Arranged marriage is the norm. There are NO pollution regulations for water or air or noise. There is open burning in most of the cities. Trash is piled and strewn everywhere. The noise level is very difficult for anyone not a citizen of Bangladesh. Yet, the 4 and 5-star hotels are well insulated and quiet inside.
Women at a Santal tribal village in Bangladesh. ©Photo Credit: Janice Friend
Sundarban (pronounced Shundarban) Mangrove Forest Preserve is the world's largest remaining continuous Mangrove forest. 50 species of mangrove trees in the world and 20 of those exist in the Sundarban. It is well worth the trip to spend time in the Sundarban as it is utterly magical. Though the boat is primitive in its living conditions, we were spoiled with wonderful food and plenty of staff to meet our every need.
Our small wooden boat rides on the many small rivers were exciting. We saw wildlife, learned a great deal, and just sat in the quiet of the forest preserve. Where in the world can you go and experience quiet anymore? It is worth the trip just for that alone.
Axis deer in the Sundarbans Mangrove Forest. ©Photo Credit: Gary LeClair
The countryside where 75% of the population lives in agrarian or devoted to brick or lumber making. Agriculture is not part of the GDP but a way to feed their people. This country has an abundance and diversity of produce, far in excess of what the USA produces.
The produce markets are a sight to behold with many different types of eggplant, bananas, etc. Everything is done by hand in this country, everything. They move heavy objects on their heads, loaded there by a helper. Everything is carried on their heads. It is amazing to watch, and painful.
People carrying ducks on the head in Bangladesh. ©Photo Credit: Gary LeClair
There are mosques dating back to the 15th C. just as Islam was becoming established here. There are Hindu Temples from the 12th C., and a World Heritage Site Buddhist enclave, campus really, built in the 8th C. with original terracotta still intact and gorgeous. We visited too many sites to mention individually, and it was so interesting and inspiring to hear the history from our guide.
Our guide was always forthcoming with answers about any political or social or current events questions we had. We are curious travelers who want to know how the rest of the world lives and thinks and prays and eats, etc. We were never disappointed by reticence.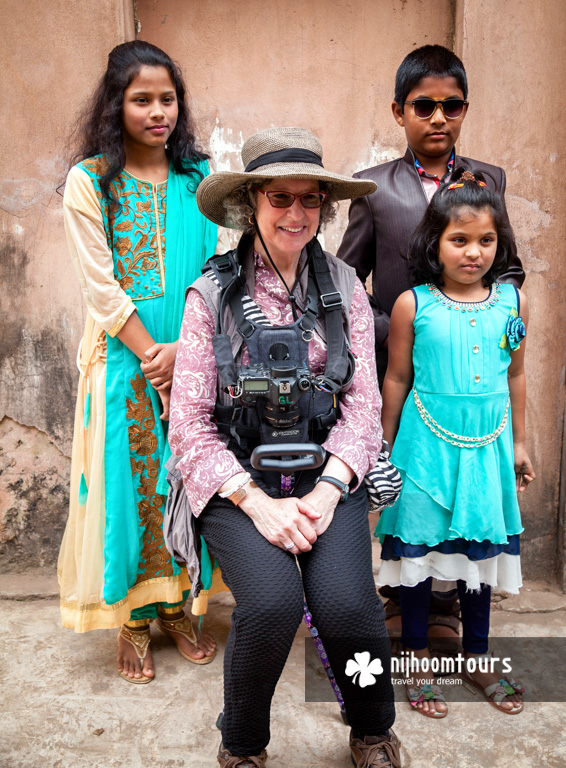 Taking photo with children in Bangladesh. ©Photo Credit: Arafat Rasul
I would highly recommend traveling in Bangladesh IF you don't mind roughing it from time to time. It does not have modern hotels in about 50% of the places we visited: Think hard mattresses and partially hot/cold shower, sometimes no air conditioning and certainly no heat. Don't blame Nijhoom for unrealistic expectations on your part. Go and have a most amazing time that will certainly change your life in many ways.
More Bangladesh Experiences
Have you ever visited Bangladesh? How fascinating have you found the country? Share your experience with the fellow travelers in comments, so that they can have real insight about the country, and more people get encouraged to visit Bangladesh, one of the least traveled destinations in the world.
Check out our 1-7 days Bangladesh tour packages and 8-28 days Bangladesh holiday packages to visit Bangladesh with comfort.