These are some of the reviews on TripAdvisor from the clients of Nijhoom Tours, who have taken a 06 days Rocket and Sundarbans tour with us. The link of the original reviews could be found after each review. Read and be surprised!
Most amazing experience!
– Lisa Baker, New Zealand
"My brother and I have just returned from an eight-day trip to Bangladesh with Nijhoom Tours and it was fantastic! We explored Dhaka with our guide Arafat on our first day then spent a night on the famous Rocket Steamer. It was the most amazing experience and we had a fabulous time with the wonderful crew and other passengers.
We spent a night in Mongla then boarded our boat for a three-day two-night tour of the Sunbardans. We saw amazing birds and wildlife and the Captain and crew were awesome. We had the most amazing meals on board. The ship's cook is an expert and we had the best food I've ever had on holiday. I actually gained a couple of kilos!
We then had a night in Khulna and Arafat showed us the sights that evening. We caught the train back to Dhaka and then because I had accidentally booked my flights a day later Arafat volunteered to show us around the markets etc. We rode on local buses and rickshaw and had a truly wonderful day.
We felt super safe the whole trip and everyone was so friendly, asking where we were from and talking about cricket. I can fully recommend Nijhoom Tours and Bangladesh as a wonderful destination."
(Visited December 2017)
Read the original review on TripAdvisor
Enjoyed the trip throughout
– Gan Hui Hoon, Malaysia
"My friend and I (two females) took 1-day Old Capital Tour and 6-days Rocket & Sundarbans Tour with Nijhoom Tours.
Before the trip, many friends asked: Why Bangladesh? I replied: Why not?! After the trip, many friends asked: Would you go back again? I replied the same: Why not?!
I will be back for their incredible friendliness, beautiful nature, wonderful riverine life experience, and the perfect itinerary of Nijhoom Tours. Hasan understands the interests and needs of traveller very well, all of his tour itineraries look attractive for me.
Truly appreciate the perfect arrangement and accompany of Hasan, we both felt safe and enjoyed the trip throughout. Sad that this beautiful country always been overshadowed by the negative news of unstable politics, terrorist attacks and etc.
Glad that I was not affected by all these rumors and have the opportunity to discover the country's true beauty at Old Dhaka (rickshaw ride experience in small lanes), Sonargaon (Old Capital), an unforgettable overnight cruise on the 100-year-old Rocket Paddle Steamer, Bagerhat (UNESCO World Heritage Sites), Sundarbans (the largest mangrove forest in the world) and Khulna (departure city of the wonderful train journey back to Dhaka).
If you are struggling to go or not to go Bangladesh, please take some time to look at photos taken during my trip, I hope you will get a "Why not?!" answer as I did."
(Visited November 2017)
Read the original review on TripAdvisor
6 day tour to Bangladesh with Nijhoom Tours
– Thomas Rickert, Georgia, USA
"I recently returned from a wonderful 6-day tour to Bangladesh with Nijhoom Tours. My tour, 'Sundarbans Excursion with Rocket', far exceeded my expectations. Spent 3 days in Sundarbans on a very adequate boat with a friendly and caring crew. Saw a great variety of colorful birds, dolphins, and various animals here, the world's largest mangrove forest.
Went on a fun 80-year-old paddle steamer boat through the extensive river system in the southern part of the country. Visited teeming Old Dhaka and historic Bagerhat, a UNESCO world heritage site. Even rode on a Bangladesh train in a comfortable first-class. The whole experience was so unique, varied, and exciting! I thoroughly recommend a trip to Bangladesh with Nijhoom Tours."
(Visited March 2017)
Read the original review on TripAdvisor
A week in Bangladesh with Nijoom Tours
– Richard Evans, Carmarthenshire, UK
"Bangladesh may not be top of everyone's holiday destination list but that's partly why we visited – and we are so glad we did. We spent a week in the country as part of a month's traveling in South East Asia and it was definitely up there as one of our favorite experiences. We visited in November 2016 and although some people have been put off by worries about security, we felt perfectly safe particularly in the hands of Nijhoom Tours staff.
Firstly a big thank you to the company owner Hasan. He really couldn't have been more helpful, always responding promptly to the various queries we had in the planning of the trip. Our guide for the week was Masbah – a terrific guide. With excellent English, he proved to be resourceful, knowledgeable, punctual, and a great all-round traveling companion.
We began our week with a tour of old and new Dhaka visiting many sights of cultural and historical significance. We loved making our way around Old Dhaka's narrow and colorful streets by rickshaw. We had hoped to travel downriver overnight to the Sundarbans by the old steamer, The Rocket, but unfortunately, weather prevented any boats traveling that night. Hasan and Masbah were pretty determined that we would make the trip somehow and we eventually managed to get to Mongla by train and car.
We spent the next few days on our own boat called the Seagull. It was much larger than we had imagined with a small crew including a captain, chef, wildlife guide, and armed guard. Everyone was so courteous and helpful. Special thanks to Ali our wildlife guide. The Sundarbans is a remarkable treasure, and we hope it will remain so. We saw saltwater crocs, hundreds of birds, monkeys, wild boar, deer, and otter. Although we weren't lucky enough to see a tiger we did see fresh footprints so it is clear they are there.
On our return from the Sundarbans, we spent a whole day trip to Sonargaon- and that was fascinating too. Much more to it than a visit to what was the old capital. A really excellent day which included a number of stops, a boat trip, and visits to three villages on an island to really see local agricultural life.
Bangladesh is a wonderful country, with wonderful people and we would highly recommend it."
(Visited November 2016)
Read the original review on TripAdvisor
Wonderful country, wonderful people
– Michael Kendall, Berkshire, UK
"Recent events have been unkind to Bangladesh and its people. I admit to being apprehensive myself but decided that I would still go ahead with my trip. I used the services of Nijhoom Tours. My emails were responded to quickly and efficiently, an itinerary was put together and the payment process was easy.
I decided to use a tour company because I wanted to go on the Rocket Steamer overnight boat and a boat tour of the Sundarbans National Park. These can be difficult and time-consuming to arrange independently when you arrive 3 days minimum is advised to secure a berth on the steamer.
My tour started with a day around frenetic Dhaka. People would stop you frequently to ask how you are, where you are from and frequent requests for photographs, they were also happy to have their photographs taken.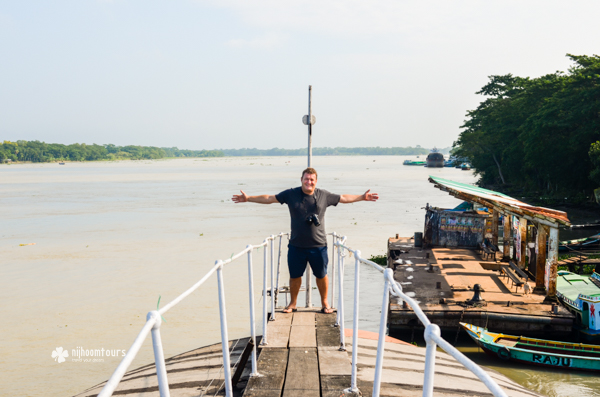 The Rocket Steamer trip belonged in a different era, truly wonderful. A day around the UNESCO World heritage sites of Bagerhat with its many domed mosques followed, this also provided lots of opportunities to interact with Bangladeshis visiting the area themselves.
The trip culminated with 3 days meandering the mangrove waterways of the Sundarbans in search of the elusive Tiger. No luck on this occasion but there are lots of other mammals and birds to see.
The tour went smoothly and I felt safe and comfortable everywhere I went. The food is good and the standard of the hotels was better than I expected.
Full marks Nijhoom."
(Visited November 2016)
Read the original review on TripAdvisor
Six days tour in the Sundurbans
– Eva Rohland, Bonn, Germany
"An in its whole diversity beautiful tour which allowed insights into wonderful Bangladesh. The day in Dhaka was very revealing and we surely would not have been able to see all of it on our own. The rocket was just an adventure and Bagerhat is thrilling in its historicity, all the people we met were very kind.
Everyone was very considerate of our needs and we felt very safe and looked after on the tree boat trip to the Sundarbans. You see some beautiful wildlife there (crocodiles, monkeys, water monitors, deer, lots of birds, and we were lucky to spot a baby tiger for half a minute from the boat).
The cook was excellent – he offered us a variety of vegetarian dishes and fresh fruits as all the people working on the boat contributed to an atmosphere of hospitality."
(Visited October 2016)
Read the original review on TripAdvisor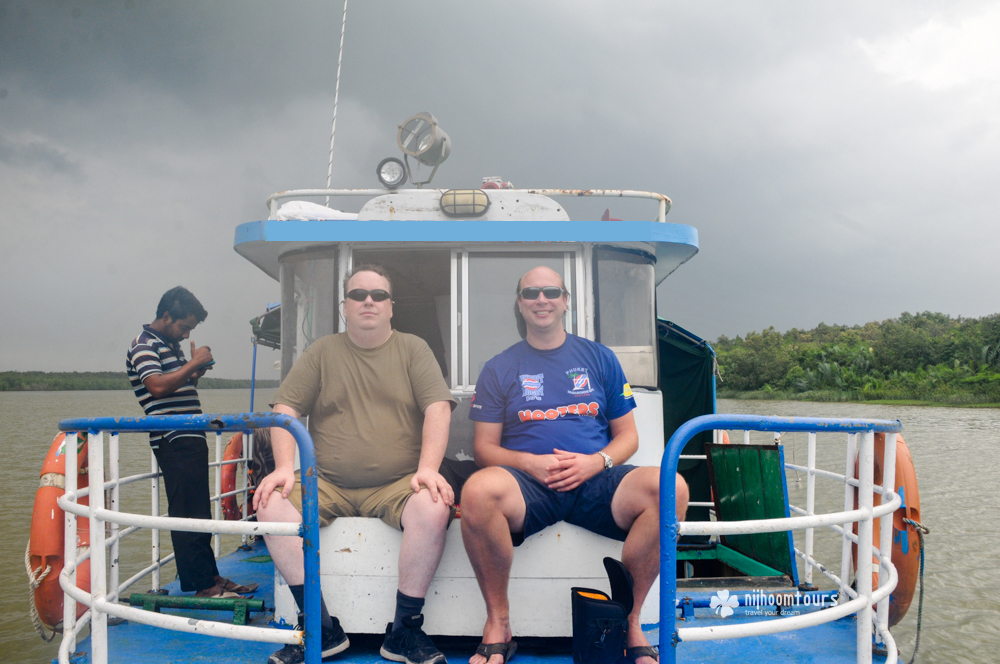 Best tour agency of Bangladesh!
– Simon Lok, Amsterdam, The Netherlands
"My buddy and I went on a 6 day trip to Old Dhaka and the Sunderbans. Nijhoom took very good care of us!
The owner Hassan wants to maintain the highest quality standards and we could truly feel that. A proper welcome at the airport, good English speaking, very friendly and knowledgeable tour guides, and good accommodation.
Don't try to do it by yourself, book with Nijhoom and relax!"
(Visited June 2015)
Read the original review on TripAdvisor
Six day tour of Bangladesh
– Adam Hugill, UK
"We enjoyed an excellent six-day tour of Bangladesh including a day tour of Dhaka, The Rocket paddle steamer, visiting mosques in Bagerhat, and three days in the Sundarbans. We were accompanied by very friendly guides speaking excellent English and everything was taken care of for us.
The highlight was our three-day two-night cruise in the Sundarbans National Park. Our wildlife guide was fantastic – very knowledgeable and friendly. We saw dozens of Ganges River Dolphins, Wild Boar, Spotted Deer, several species of Kingfisher, very large Water Monitors, Mudskippers, Fiddler Crabs, wonderfully coloured Bee Eaters, macaques, Serpentine Eagles, Storks…
Everyone really wants to see a Bengal Tiger and we were not one of the lucky few but we did see lots of tiger prints and a recent tiger kill. We also found leopard prints.
Paddling silently along the narrow canals of the mangroves seeing tiger prints a few feet away on the shore and knowing that one could appear at any second is really very exhilarating.
The food onboard our houseboat was phenomenal. Freshly prepared authentic Bengali cuisine prepared by a fantastic cook."
(Visited April 2015)
Read the original review on TripAdvisor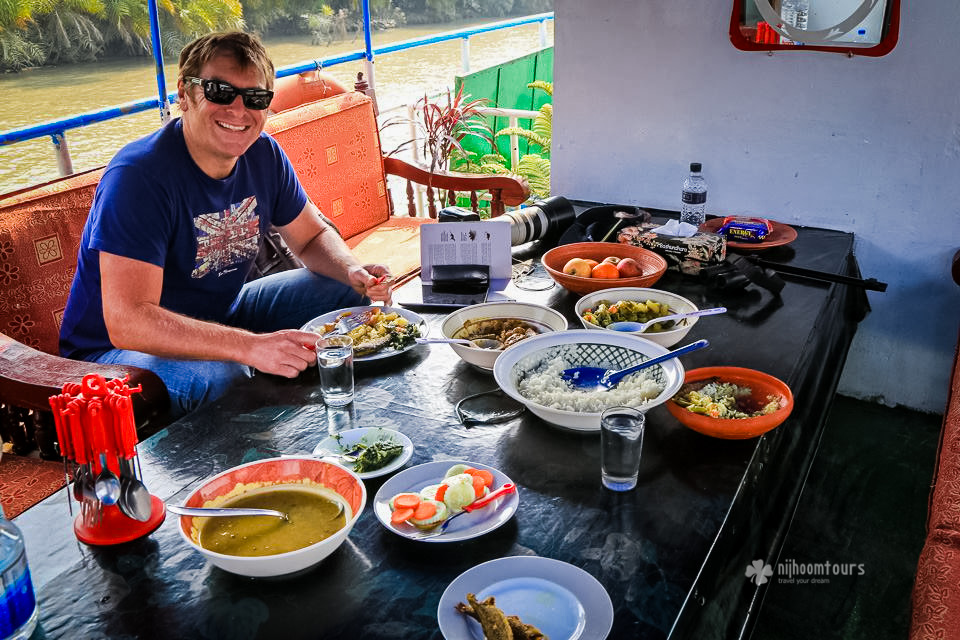 Flying Visit to Bangladesh
– Sheyne Walsh, Australia
"Having traveled in many Asian countries over the past decade, logistics at times can be challenging. To add to this complexity my trip to Bangladesh was further complicated by having only six days to visit and wanting to achieve a great deal in that time.
Hasan excelled at the task and exceeded my expectations in terms of care and thinking outside the square. When other tour operators couldn't or wouldn't assist me in getting a boat to the Sunderands based on my limited timing, Hasan managed it. Not only that he managed a fantastic 3-day tour on a great boat with a fantastic crew.
When the "Rocket" which I was so keen to catch unexpectedly broke down in the early hours of the morning he arranged for a guide to collect me and ensured my tour stayed on track. When I couldn't find a way to get tickets from Dhaka to Kolkata he cut through the red tape for me.
At every turn, he had the experience and the contacts to make my trip an outstanding success.
Highly recommended."
(Visited January 2014)
Read the original review on TripAdvisor
More Bangladesh Experiences
Have you ever visited Bangladesh? How fascinating have you found the country? Share your experience with fellow travelers in the comments, so that they can have real insight about the country, and more people get encouraged to visit the least traveled destination in the world.
Check out our 1-7 days Bangladesh tour packages and 8-28 days Bangladesh holiday packages to visit Bangladesh with comfort.