A couple of weeks ago I returned from Bangladesh. I spent there 11 days.
It was a long-awaited trip for me. At first, several years ago I chanced to read a book written by Dr. Muhammad Yunus which had been just translated into Russian. Then I bought a book in English about Bangladesh's history. I hadn't found a contemporary edition of a history book in Russian and ordered this one in some USA online shop.
Generally speaking, 30-40 years ago we had a lot of books published in Russian about Bangladesh, including Bengali language textbooks and other numerous works. And I hope the number of books translated into Russian will increase.
Besides reading, I love traveling. And to that time I had already been at least twice in every country bordering Bangladesh: India, Myanmar, Nepal, and Bhutan. And every time traveling to South Asia, I was planning to visit Bangladesh "next time". I imagined how nice it would be to find a way to visit Bangladesh sooner or later.
Books in Russian that inspired me to travel to Bangladesh. ©Photo Credit: Svetlana Suslova
This year I've decided that neither the absence of direct flights from Moscow to Dhaka nor the small number of reviews from travelers would be a significant obstacle for me. Also, it was great that I found a good travel company from Dhaka – Nijhoom Tours, who had an excellent website and were attentive to my numerous questions and replied very quickly and professionally.
It was a well-organized and informative trip. Bangladesh is not an easy country for traveling independently but with the help of the local travel agency, it becomes a really attractive and easy trip.
Visiting the Dhakeshwari Temple in Dhaka. ©Photo Credit: Masbah Mazumdar
Capital City Dhaka
In Dhaka, you find yourself in the heart of one of the most densely populated countries. There are too many people everywhere. It's a very lively and active city. And as we were in the country with a very rich heritage, we chanced to see many interesting places, including National Assembly Building, Lalbagh Fort, Dhakeshwari Temple, Khan Mohammad Mridha Mosque, Armenian Church, Star Mosque, and Ahsan Manzil.
Most of all I liked the National Parliament House (one of the largest legislative complexes in the world, 200 acres) and Ahsan Manzil. Ahsan Manzil is a national museum nowadays and it was built as a palace (its construction was started in 1859 and was completed in 1872). After sight-seeing, we had a boat ride at river Buriganga and enjoyed sunset on a wooden row-boat.
As for accommodation, most hotels here are rather simple. But people are very hospitable and friendly everywhere and we felt like very dear guests in every hotel on the route. Anyway, in Dhaka I stayed for a night in a very nice place.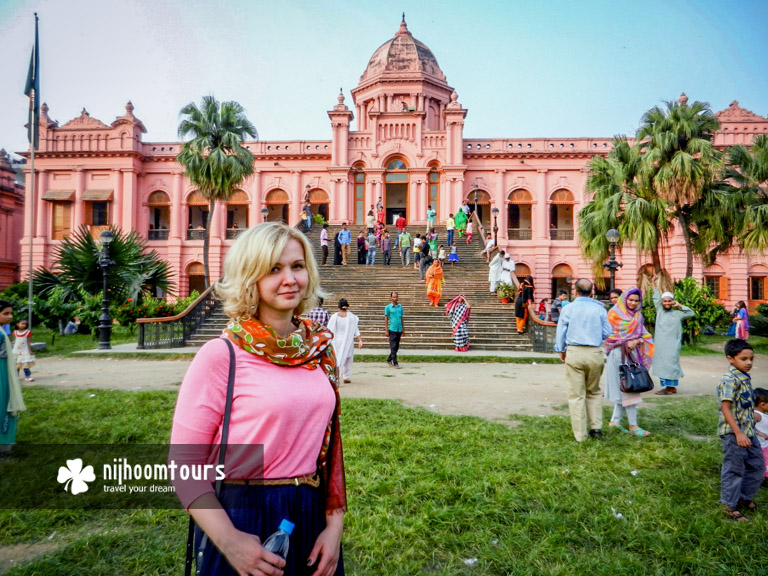 Visiting the Ahsan Manzil (Pink Palace) in Dhaka. ©Photo Credit: Masbah Mazumdar
Sunset in Sundarbans, the largest mangrove forest on earth. ©Photo Credit: Svetlana Suslova
Sundarbans Mangrove Forest
Then we had a night on Paddle Steamer called Rocket and arrived Hularhat station in the morning. Our goal was visiting Bagerhat. There are many magnificent and ancient Mosques here. This is a very unique and beautiful place.
We stayed for a night in a hotel in Mongla.
And then we went to the boat which forwarded us to Sundarbans forest. Sundarbans is one of the most beautiful places in the world if not the most beautiful! It is the world's largest mangrove forest and covers a territory of 6,000 sq km.
Rivers in the Sundarbans are meeting places of saltwater and freshwater. It is a mix of the freshwater of the rivers originating from the Ganges and the salt water of the Bay of Bengal.
Axix Deer roaming in Sundarbans Mangrove Forest. ©Photo Credit: Svetlana Suslova
We spent 3 days on the boat. It was a very relaxing time. We explored creeks and canals on a wooden boat in the forest. We visited Jamtola beach on the edge of the Bay of Bengal. We saw many colorful birds, many deer, and other wildlife.
And there were nearly no other people at all. I'm not a good photographer (and my smartphone is not a good tool for this) but I guess my companion made a thousand photos. It's a heaven for those who love photography. And there were fantastic sunsets too! And dolphins…we saw many dolphins.
Taking photo with the locals in Srimangal. ©Photo Credit: Arafat Rasul
Srimangal
After Sundarbans, we had a long way to Srimangol where we visited tea plantations and tribal villages. We tasted its famous 7 layers tea. We also did a trekking in the Lawachhara National Park and spent here several hours watching giant spiders and listening to gibbon cries. It was a nice experience.
Waiting for the train at a train station in Bangladesh. ©Photo Credit: Arafat Rasul
I wish to come back!
So our program was interesting, intense, but not exhausting or tiring. All the hotels during the trip were comfortable: Wi-Fi (in one hotel it was available at the lobby only and in the others – in the rooms too), hot water, good food, and drinking water…everything was OK.
In conclusion, I must say that I have never met so many sincere, smiling, and helpful people as in Bangladesh. They are glad to meet you, do a selfie with you on the streets, help you with your luggage on the train; they invite you to join their family events!
We've heard from the news that Bangladesh (as many other Asian countries) was continuing to face numerous economic, social, and environmental challenges, including poverty, over-population, and global warming.
And recently there have been added alarming reports concerning possible terrorist activities in the region. The issue of security is very important and I was in doubt whether it's a safe place for coming or not.
But while being in Bangladesh, it became clear to me that my anxiety and doubts had been groundless, and the hype in the Western press was too exaggerated. The security situation here is like in any other tourist destination around.
So I have many precious memories from my journey. This is a very friendly country, it was a fantastic time and I wish to come back!
More Bangladesh Experiences
Have you ever visited Bangladesh? How fascinating have you found the country? Share your experience with fellow travelers in comments, so that they can have real insight about the country, and more people get encouraged to visit the least traveled destination in the world.
Check out our 1-7 days Bangladesh tour packages and 8-28 days Bangladesh holiday packages to visit Bangladesh with comfort.