Tour Duration:
03 Days, 02 Nights
Location:
Mongla, Bangladesh
Tour Attractions:
Wildlife tour to the Sundarbans Mangrove Forest
Best time to go:
October – March
Tour Available:
Round the year
Next Scheduled Tour:
N/A
Explore Sundarbans, the largest mangrove forest in the world and one of the wildest and least known environments in all of the southern Asia. Sundarbans Tour will take you deep into the forest to explore wildlife. You get a chance to see Royal Bengal Tigers, spotted deer, claw-less otters, salt-water crocodiles, many species of birds, and many other wildlife.
Because your best chance to spot wildlife on a Sundarbans tour is when you go on a private tour with very small group. This will increase your chance to spot wildlife many times. People often go on Sundarbans tour in cheaper packages with big groups, ending up seeing very little or no wildlife at all. We organize only small group tours to give you the best experience of Sundarbans tour for your time and money.

60% of Sundarbans is in Bangladesh part which is more diverse with it's wildlife, floral, and fauna.
You visit an wild forest in Bangladesh, not a national park. Everything you see in Bangladesh part of Sundarbans is wild.
You spend full 03 days inside the forest while doing the Sundarbans tour with us in Bangladesh. You can spend just 01 day inside the forest while doing Sundarbans tour from India.
On a Sundarbans tour in India, you stay at a hut on a village outside the forest. In Bangladesh, you stay on our comfortable house boat with western style toilet deep inside the forest anchoring in different places each day. There will be armed forest guards on board for security.
In India, you visit the forest with an engine boat starting from the village. In Bangladesh, we'll take you to explore the creeks and canals deep inside the forest with a noiseless wooden row boat. You float on the canals quietly in the tranquilizing environment, and get the best chance to spot wildlife while they do not flee hearing disturbing noise of the engine.
Sundarbans tour in Bangladesh with us offers more activities, e.g. walking deep inside the forest, spending time on a beautiful sandy beach at Bay of Bengal inside the forest while you hardly see any people, watching wildlife from an watch tower in a dense raw forest, explore creeks and canals with noiseless row boat to increase your chance to spot wildlife, visit wildlife sanctuaries, etc.
Because you reach the forest within 10 minutes of starting from Mongla. If you start from Khulna, half of your day is wasted just to reach the forest, and another half day to come back.

Tour Highlights
Spend full 03 days deep inside Sundarbans on a house boat anchoring in different places.
Visit wildlife sanctuaries in Sundarbans.
Explore creeks and canals inside Sundarbans on a wooden boat to spot wildlife early morning.
Walk on a trail inside the forest accompanied with armed forest guards.
Spot wildlife from watch tower overlooking a field where they come to eat grass and drink.
Itinerary of Sundarbans Tour
Our guide will meet you on the lobby of Parjatan Hotel Posur at 06.00 H, transfer to our waiting boat in the jetty, and head immediately toward Sundarbans. Stop on a forest station on the way to complete formalities, and continue toward Kochikhali Wildlife Sanctuary.
We'll go through many small canals and rivers with our small boat where big boats can not go because of their size and the cannals being shallow. Taking you through these rewarding narrow canals is the main point of this private tour on a small boat, where is your best chance to spot a tiger and many wildlife. We've spotted a tiger on such a canal on 26th September, 2014, which was crossing the river just 200 miters ahead of us in broad day light. We were the only lucky tour operator to spot an wild Bengal tiger in last few years on a tour in Sundarbans.
We'll reach Kochikhali in the evening, and explore a small canal on a small row boat in search of wild-life. They come to drink water in the evening and morning on the creeks and canals. You'll seat on the boat quietly and float by on a breath-taking environment listening to many birds singing, and the calls of many animals.
Stay overnight on the boat in a sleeping cabin, anchoring in the middle of the river in front of Kochikhali forest station.
Have breakfast at 07.00 H, and start hiking on the forest from Kochikhali forest station toward the Jamtola Beach (00 km, 00 hrs). Spend an hour on the beach (oo km walk) which is the quietest, nicest, and cleanest beach in Bangladesh, and hike toward Kotka forest station through the forest (00 km, 00 hrs). The total hiking will be about 00 hours. Reach Kotka station and transfer to our waiting boat which already arrived here from Kochikhali through an inside canal.
Lunch on the boat and have couple of hours rest.
Go to the watch tower at Kotka and seat there rest of the evening. This is a feeding ground of animals. Lots of deers and other wild animals come here in the evening to eat grass and drink water. You never know what surprises can be waiting for you here!
Stay overnight on the boat in a sleeping cabin, anchoring in the middle of the river in front of Kotka forest station.
Go for a boat ride on the small row boat at 06.00 H and explore a canal near Kotka Wildlife Sanctuary. Return to the main boat at 07.30 and have breakfast. We'll start our return journey toward Mongla from here through other small rivers and canals.
Reach Mongla in the afternoon, and disembark from the boat. End of the tour.
Price of Sundarbans Tour
Inclusions and exclusions of Sundarbans Tour
Sundarbans tour includes:

Accommodation on the boat in a sleeping cabin on twin sharing basis.
5,500 BDT forest permission fee.
All meals starting from the breakfast on day-01, drinking water, tea, and coffee.
English speaking guide.
All tips other than our guide and boat crew.

Does not include drinks, 1,200 BDT fee for any video camera, transport to and from Mongla, or any personal item.
Important notes on Sundarbans Tour
Itinerary of this tour is just a general outline, and not fixed. It could be changed depending on the season, moon phase, tide, day light hours, and fog. But we'll try to include all the places and activities mentioned in the itinerary as much as possible.
This boat is a very basic boat without air-conditioning, electricity, and running hot water (we will supply them on bucket). It has accommodation facilities for 08 person in max, and one English toilet. But we have a larger boat too to arrange tour for bigger groups.
The cabins are lit by small lights running on battery. We'll run the generator in the evening for couple of hours everyday to charge your devices.
You'll get mobile phone signal of GrameenPhone on the first half of day-01. In Kotka, a new mobile phone tower of Teletalk opened recently, so you'll get full network coverage of only Teletalk in Kotka with 2G internet facilities which is very slow. No other SIM card will work inside other parts of the forest.
For hiking in the forest on day-02, the land is flat and we will not go through very dense forest, so it will be easy for most of the people, as long as you can walk about 10 kilometers. The trail is dry, not muddy. Bring covered shoes which is suitable for hiking and can protect you from small grass and trees with spikes.
If you do not want to hike, you can remain on the boat which will be still enjoyable, as it will go from Kochikhali to Kotka through small canals, which will be a ride of about 03 hours.
It is better to book this tour as early as possible. At least 02 months ahead is a good time to book the tour.
It is possible and very convenient to include Rocket Steamer Tour, Barisal Backwater Tour, and Jessore Home-stay Tour with this one. You can include one or all of them with this tour if you like.
Also available on
Sundarbans Tour is included in most of our holiday packages. You can book one of these packages too to visit Sundarbans:
Share with friends
Let the world know about this amazing tour you've found!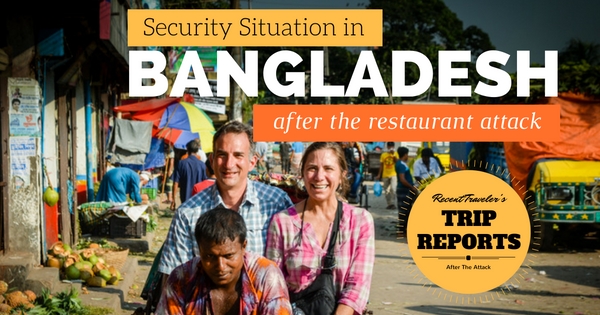 Reports from Western travelers after their recent visit to Bangladesh, about the security situation in Bangladesh since the restaurant attack in July, 2016.
Similar Tour Packages: