We loved our trip. My friend and I are well-traveled (she has been to 99 countries, and I've been to 91), and we both agreed that this was one of our best trips ever. We took the Six-Day Rocket & Sunderbans Tour, the 'comfort' option, and highly recommend it.
It was a wonderful mix of sights and experiences: big, bustling, often chaotic, but always fascinating old Dhaka; the historic mosques and temples in Bagherat; and a serene boat journey through the unique Sunderbans.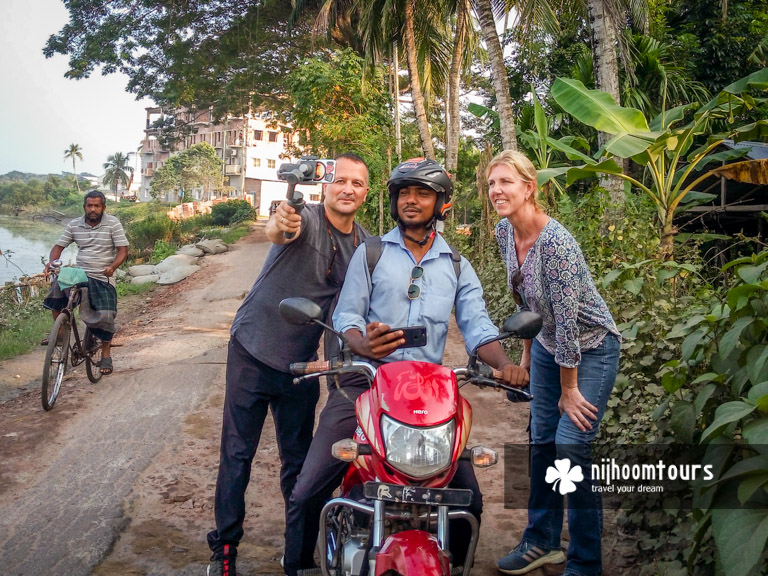 Photo with a local in Bangladesh. ©Photo Credit: Shohidul Islam Naeem
The day tour of old Dhaka was terrific – we were the only tourists in the entire city, it seemed. People were amazingly friendly and would stop us and ask us if they could take our pictures with them. The markets (Kawran Bazar, Chawk Bazar, Showarighat, Islampur Rd), were all fascinating. (Make sure you see the banana market, both floors).
We'll never forget our rickshaw rides – the best way to get around old Dhaka. If you want to see the inside of the Louis Kahn-designed parliament building, you need to request permission at least a week in advance and fill out a form, etc. – and it's best done on a separate day. (In Dhaka, we stayed at the Intercontinental, which was terrific.)
The old rocket steamer wasn't available (it was running only two days a week), so we took the overnight ferry, which was fine. The cabins with two twin beds are small, so you may want to ask for the "VIP" or 'business class' cabins, which are larger and have a private bathroom, and not that much more money.
More photo with the locals in Bangladesh. ©Photo Credit: Shohidul Islam Naeem
Bagerhat was worthwhile, and while the mosques and temples there are truly historic, you will find more impressive structures in other parts of the world. On the drive to Bagerhat, ask to stop at the small 'factory' where they strip the husks from coconuts to make coir.
We had the boat in the Sunderbans to ourselves, and I think it's worth paying the extra to have it to yourself. Each and every one of the seven (!) member boat crew (captain, boatman, cook, tracker, forest ranger, etc.) was wonderful. We loved them all.
And the food was outstanding – each meal had several dishes, all delicious. While we didn't see a Bengal tiger, we did see one day old Bengal tiger tracks (so one was nearby!), and wild boars, deers, monkeys, lizards, and many, many beautiful birds. We also enjoyed the hikes, one was along the beach, another inland.
At the Sundarbans Mangrove Forest in Bangladesh. ©Photo Credit: Shohidul Islam Naeem
But most of all, we loved our guide, Naeem, who was with us the entire trip. He was warm, funny, and gave us valuable insights into the history and culture of his country.
And we felt safe each and every moment of our journey. Again, the people are wonderful. It's rare that you find a place as wonderful as Bangladesh that is so refreshingly un-touristed. Don't hesitate – go!