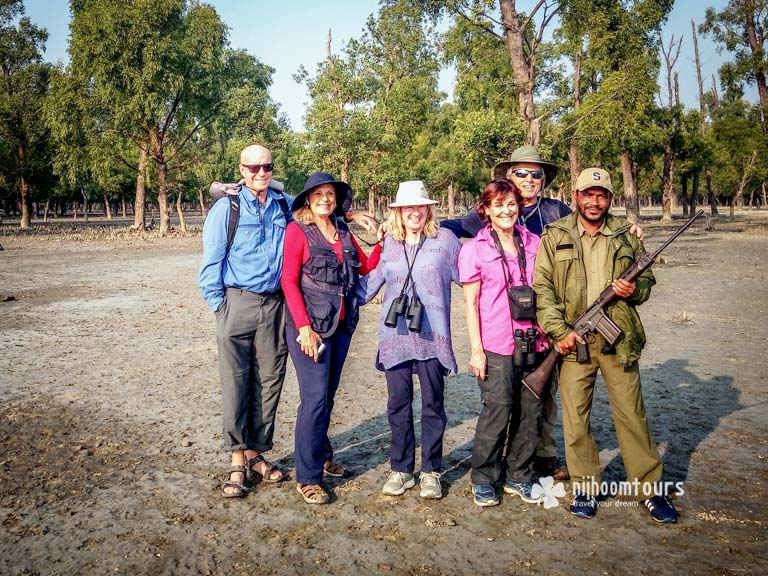 Visiting a wildlife sacntuary in Sundarbans. ©Photo Credit: Shohidul Islam Naeem
Our group of 5 friends explored Bangladesh with a 6-day custom tour perfectly crafted by Nijhoom Tours. Bangladesh has some of the friendliest people on the planet. We had hundreds of requests for selfies, especially with families. It's very safe. No one got sick, not at all. It was the ideal way to see Bangladesh.
Raw Hasan is the person primarily responsible for bringing Western tourism to Bangladesh. That means he has the expertise and contacts to handle special requests – such as 3 days on our own boat in the Sundarbans, followed by a border crossing at Benapole. He understood all my requests and organized an exceptional trip.
Taking photo with the locals in Bagerhat. ©Photo Credit: Shohidul Islam Naeem
Our 3 days in the Sundarbans were the highlight. We had this unique eco-system to ourselves. It was tranquil until the search began for birds and barking deer and king cobras. The boat and crew took exceptionally good care of us. The wildlife guide, Mr. Ali was a wonderful resource during our time on the boat. The food was fabulous. Thank you chef Taileb.
Put Bangladesh on your "must-see" list and be sure to have Nijhoom Tours organize your trip.
On a beach inside Sundarbans. ©Photo Credit: Shohidul Islam Naeem