Tour Duration:
27 Days / 26 Nights
Location:
Barisal, Sundarbans, Rajshahi, Srimangal, CHT, Cox's Bazar
Tour Attractions:
Best attractions of Bangladesh with offbeat paths
Best time to go:
October – March
Tour Available:
Round the year starting with Sat, Sun, Wed, and Thu
Next Scheduled Tour:
02-28 Jan, 02-29 Oct, 2019
Bangladesh travel package to cover the best places and attractions in Bangladesh recommended by popular travel guides like BRADT and Lonely Planet, and beyond their recommendations. Focusing mostly on the people and culture of Bangladesh, this package takes you to explore more offbeat destinations outside the capabilities of the guide books, and ends with couple of days of beach leisure before returning home. If you would like to discover the hidden gems of Bangladesh beyond the reach of regular tourists, this is the perfect package for you.
Starting with visiting Dhaka, you will experience the life on the Ganges Delta in Barisal. From there take the century old Rocket Paddle Steamer, and spend three days inside Sundarbans Mangrove forest, visiting the amazing Mosque City of Bagerhat en route. Next few days you'll explore the rich archaeological sites in Rajshahi and Rangpur division – beautiful Hindu temples, Jaminder palaces, Buddhist monasteries from ancient time, and historic mosques from medieval period, before returning to Dhaka.
After that you'll visit the tea region of Bangladesh – Srimangal and Sylhet to visit it's numerous tea gardens, national parks, tribal villages, and enjoy boat ride on beautiful rivers and canals. From there you go to Chittagong Hill-Tracts area, home of many tribal groups of Bangladesh. Starting with full day boat ride at beautiful Kaptai Lake, you'll explore the beautiful hills of Bandarban and experience lifestyle of it's many tribes. Later relax for couple of days on the beaches of Cox's Bazar and discover some of its hidden gems before heading towards home.
Tour Highlights
Visit all 3 UNESCO world Heritage sites in Bangladesh.
Experience life and culture on Ganges Delta.
Visit floating markets, bazaars, schools, brick factories, and explore numerous rivers and canals by boat in Barisal.
Explore the largest mangrove forest on earth – Sundarbans, for full 3 days.
Journey on a century old paddle wheel steamer called Rocket.
Visit historical sites at Bagerhat, a UNESCO world heritage city from 15th century, including 60 Dome Mosque.
Visit Sompur Mahabihara, a Buddhist monastery from 8th century, and another UNESCO World Heritage site.
Visit beautiful mosques of the rich historic city Gaur, the ancient capital of the whole Bengal from medieval period.
Visit beautiful temples, palaces, and historic mosques of Rajshahi and Rangpur.
Visit a Santal tribal village and experience their lifestyle.
Visit Kantaji Temple – the most beautiful temple in Bangladesh, every inches ornamented with terracotta plaques.
Spend three days at Srimangal, the tea capital of Bangladesh, in the middle of endless tea plantations.
Trek inside Lawachhara National Park and visit tribal villages.
Walk through the trails inside tea gardens.
Bird watching on Baikka Beal, a wetland and sanctuary for the migratory birds, paradise for the bird lovers.
Experience the stone collection activities in Jaflong, which is highly photogenic.
Full day tour of Old Dhaka including rickshaw ride on narrow streets and boat ride on Dhaka's busy Buriganga river.
Experience simple life of farmers on the islands of Meghna and Jamuna river.
Ride 2 Bangladeshi train – a unique experience.
Visit beautiful hills and tribal villages in Chittagong Hill-Tracts area.
Boat ride on beautiful Kaptai Lake at Rangamati.
Visit a fishing port in Cox's Bazar – a place full of activities providing great photo opportunity.
Leisure on the longest unbroken sandy beach in the world – Cox's Bazar.
Itinerary of Discover Bangladesh
A guide of us will meet you inside the airport upon arrival, and transfer you to your hotel.
Overnight at Dhaka (Richmond Hotel & Suites)
Check-out from hotel and start at 08.00 H. Visit key tourist attractions in New and Old Dhaka the whole day, including Dhakeshwari Temple, Lalbagh Fort, Khan Mohammad Mridha Mosque, Armenian Church, Star Mosque, Ahsan Manjil, and Sadarghat River Station.
Ride rickshaw on the narrow streets of Old Dhaka where cars can't reach. Pass through interesting Bazaars.
Enjoy a short boat ride at river Buriganga in the evening on a wooden boat to feel the rhythm of the live and vibrant river and enjoy sunset.
Embark a traditional ferry at Sadarghat River Station at 18.00 H for an overnight journey to Barisal.
Overnight at Ferry (Sleeping Cabin)
Disembark at Barisal in the early morning around 5.30 am, and transfer to your hotel.
After check-in, and freshen up quickly, drive to a remote place in Barisal on a Tuk-Tuk (01 hour). Upon arrival you'll embark at our waiting motorized country boat, and start cruising immediately toward a floating market or other interesting place depending on the day of the week. These floating markets starts around 7.00 am and finish within 8.30 am. That is the reason for us to start the days early in this tour.
Breakfast will be served on the boat bought from a local market. Being a very remote place where no descent restaurant is available, this will mainly be bread and some fruits.
You'll cruise whole day in the rivers and small canals in Barisal and visit a floating market where they bring everything to sell by boat which is full of activities and perfect for photography. Goods on these markets are mainly sold on wholesale from farmers to vendors.
We'll buy some seasonal local fruits from a local market for lunch e.g. jack-fruit, watermelon, lichee, mango, coconut, and continue cruising.
You'll also visit bazaars on land, stop on villages and have tea while meeting it's people and exchange culture with them, and visit a factory yard where they make fiber from coconut which is used as a raw material to make carpet and rope.
Return to our starting place around 3.00 pm, transfer to Barisal by tuk-tuk, and retire for the day. In the evening, we'll take you to a descent restaurant at Barisal for dinner.
Overnight at Barisal (Hotel Arena)
Breakfast on a restaurant at Barisal at 7.00 am, and transfer to a remote place in Barisal by Tuk-Tuk (01 hour). Embark our waiting boat upon arrival, and start cruising immediately.
Today we'll take you some other places to visit through the narrow canals and rivers. You'll float through the backyards of people's house and see their lifestyle while they welcome you and greet you from the land, visit numerous guava gardens where 80% of Bangladesh's guavas are grown, see a floating guava market, visit kids and teachers on a school where you can talk with them and exchange culture.
Locally bought fruits will be served for lunch on boat as yesterday.
Continue cruising through the narrow canals and rivers. Next attraction for today will be visiting a timber market which is the largest market of this type in the southern part of the country. You'll see logs dumped beside the river spread in miles long places, carried away on the river very slowly with the help of a boat, loading and unloading them manually with the help of tide. Also we'll take you ashore to visit numerous saw mills where they saw the logs according to the needs of the customers without taking the least safety measure.
Return to our starting place around 3.00 pm, transfer to Barisal by Tuk-Tuk (01 hour).
Overnight at Barisal (Hotel Arena)
Transfer to Barisal River Station and catch Rocket Paddle Steamer at 5.30 am.
Enjoy the riverine beauty of Bangladesh from Rocket Steamer in the morning. Disembark from Rocket at Hularhat around 09.00 am.
Drive towards Bagerhat (01 hr) in an air-conditioned car and visit the Mosque City of Bagerhat, a 15th century Muslim city once called Khalifatabad, which is the present day Bagerhat and is an UNESCO protected world heritage site.
You'll visit most of the remaining mosques from the 15th century city Khalifatabad the whole day, including the 60 Dome Mosque, 09 Dome Mosque, Rono Bijoypur Mosque, and Singair Mosque. Also we'll take you to visit the shrine of Khan Jahan Ali, the saint general from the Turkish origin who came to spread Islam in this region and founded this great city; and Kodla Moth – a very beautiful Hindu temple from 17th century. Drive toward Mongla (01 hr).
Overnight at Mongla (Parjatan Hotel Pasur)
Transfer to our waiting boat at 7.00 H, and head toward Sundarbans immediately. Breakfast will be served on the boat. You'll be inside the forest within 15 minutes of starting the journey. Stop on a forest station on the way to complete formalities, and continue toward Kochikhali.
We'll go through many small canals and rivers with our small boat where big boats can not go because of their size and the canals being shallow. Taking you through these rewarding narrow canals is the main point of this private tour on a small boat, where is your best chance to spot a tiger and many wildlife.
Stop at Harbaria Eco Park and walk on it's 30 mins trail for the first experience of Sundarbans. People on day tours at Sundarbans end up visiting up to this point, doing which we never recommend.
Before sunset, explore a small canal on a noiseless wooden row boat in search of wildlife. They come to drink water in the evening and morning on the creeks and canals. You'll seat on the boat quietly and float by on a breath-taking environment listening to many birds singing, and the calls of many animals. We'll reach Kochikhali in the evening and stop for the night hold.
Stay overnight on the boat in a sleeping cabin, anchoring in the middle of the river in front of Kochikhali forest station.
Today is going to be your busiest day at Sundarbans.
Ride a noiseless wooden row boat on a canal in the morning in search of wildlife.
Back to the main boat, and have breakfast at 07.30 H. Start walking toward Jamtola beach, which is the quietest, nicest, and the cleanest beach in Bangladesh. Enjoy the beach for an hour, and walk toward Jamtola tourist spot. Total trail will be about 10 km. Transfer to our waiting boat which already arrived here from Kochikhali through an inside canal.
Lunch on the boat and have an hour of rest.
Visit Kotka Wildlife Sanctuary, and if high tide, have a rewarding boat ride on a canal near the sanctuary.
Go to the watch tower at Kotka before the sunset and seat quietly for half an hour. This is a feeding ground of animals. Lots of deer and other wild animals come here in the evening to eat grass and drink water. You never know what surprises can be waiting for you here!
After sunset, start the boat for our onward location to another suitable forest station for the night hold, based on the tide.
Stay overnight on the boat in a sleeping cabin, anchoring in the middle of the river in front of the forest station.
Go for a boat ride on the noiseless wooden row boat at 06.00 H and explore a canal near the forest station. Return to the main boat at 07.30 H and have breakfast. We'll start our return journey toward Mongla from here through other small rivers and canals.
Visit a fishing village and Koromjal Crocodile Breeding Center on the way, reach Mongla in the late afternoon, and drive to Khulna (1.5 hrs).
Overnight at Khulna (Hotel City Inn)
Transfer to Khulna Railway Station, and depart for Rajshahi at 06.30 H on 715 Kapotaksha Express. Arrive Rajshahi around 12.20 H, transfer to hotel.
After check-in, freshen up, and lunch, visit Varendra Research Museum, which is the oldest museum in the country rich in it's collection of archaeological artifacts.
Boat ride at river Padma in the evening if time permits.
Overnight at Rajshahi (Hotel Nice).
Drive to Sona Masjid (90 km, 03 hrs) and visit some of the remaining archaeological sights of Gauda, which was the ancient capital of greater Bengal in the medieval period with a rich history. This once rich city is located in Bangladesh-India border and split between two countries. You will visit it's beautiful mosques, palace, and shrine the whole day. Return to Rajshahi in the evening.
Overnight at Rajshahi (Hotel Nice)
After breakfast, drive to Bagha (42 km, 1.5 hrs) and visit Bagha Mosque. This magnificent mosque was built in 1523 A.D. by the Sultan of Bengal Nasiruddin Nasrat Shah. Ornamented with beautiful terracotta, Bagha Mosque is one of the most beautiful mosques in current day's Bangladesh.
Drive to Puthia (21 km, 45 mins) and visit its beautiful temples and palaces. Largest number of historical temples of Bangladesh are located in Puthia most of which were built in the 19th century.
Drive to Natore (20 km,30 mins) and visit the palace of Rani Bhabani which was built in the colonial period. The whole Rajshahi division and part of current day West Bengal was once ruled from here, and the queen was called 'the lady of half of the whole greater Bengal'.
Drive back to Rajshahi (43 km, 01 hr) in the evening.
Overnight at Rajshahi (Hotel Nice).
After breakfast, drive to Kusumba (50 km, 1.5 hrs). Visit Kusumba Mosque, a beautiful stone-built mosque from medieval period. This is one of the six remaining stone-built mosques from the Sultanate period in Bengal, which is very well preserved.
Drive to Paharpur (60 km, 1.5 hrs) and visit Somapura Mahavihara, a Buddhist monastery from 8th century and a UNESCO world heritage site. This is the most impressive archaeological site in Bangladesh.
Drive to Bogra (70 km, 02 hrs). Visit a Santal tribal village en route to experience their lifestyle; also visit a local bazaar.
Overnight at Bogra (Hotel Naz Garden)
After breakfast, drive to Sariakandi (42 km, 01 hr). Visit some chars (river islands) of river Jamuna and see how people live on those small islands struggling with the natural disasters. If you need some free time, you can skip visiting this Char, as you will visit another Char at Day-20.
Drive to Rangpur (124 km, 4 hrs) and Visit Tajhat Palace, the most beautiful palace in Northern part of Bangladesh built in the colonial period. Also visit a nearby Kali temple.
Overnight at Rangpur (Hotel North View / RDRS Guest House / Parjatan Hotel).
Start late at 10.00 am, drive to Dinajpur (72 km, 02 hrs) and visit Kantajew Temple, which is the most beautiful Hindu temple in Bangladesh. Every inches of the temple is decorated with beautiful terracotta plaques describing epic Hindu stories.
Also visit Nayabad Mosque built by the Muslim workers who came to build the temple.
Drive to Saidpur Airport (32 km, 01 hr), and fly to Dhaka at 17.10 H flight. Arrive Dhaka around 18.10 H, and transfer to hotel.
Overnight at Dhaka (Richmond Hotel & Suites)
Pick up from hotel at 06.30 H, transfer to Airport Railway Station. Depart for Srimangal at 07.00 H on 709 Parabat Express. Arrive Srimangal around 11.00 H, transfer to the resort.
In the afternoon, walk through the trails inside tea gardens, visit some pineapple gardens and lemon orchards. Also show you the tea deposit activities on a tea garden before sunset (if available) when female workers gather to deposit their tea leaves which they collected during the whole day, which is photogenic.
Visit a colony of tea workers if time permits.
After dinner, we'll take you to Nilkontho Tea cabin to taste the famous 7 layer tea of Srimangal.
Overnight at Srimangal (Nisorgo Eco Resort)
Early morning, go for a rewarding wildlife trekking through the Lawachara National Park. We'll take the 03 hours trail for the maximum opportunity to see wildlife, specially the Hollock Gibbons for which this forest is famous for.
Afternoon and evening is free to do anything you like on your own.
Overnight at Srimangal (Nisorgo Eco Resort)
Early morning visit Baikka Beal, an wetland sanctuary for the migratory birds and paradise for the bird lovers.
Return to the resort late morning and check-out. Drive to Sylhet after lunch (02 hrs).
After check-in, freshen up, and lunch, we'll give you an walking tour of Sylhet city. We'll take you to visit the century old Kin Bridge built on colonial period which is one of the main entrance to the city, Surma river, and the shrine of Shah Jalal where you'll see many interesting people.
Overnight at Sylhet (Noorjahan Grand Hotel)
Pick-up at 9.00 H from hotel, and a scenic drive toward Jaflong (58 km, 02 hrs). Here you'll pass your time idly enjoying the beauty of Jaflong. You'll get an opportunity to photograph the stone collection activities on the river where they collect stones manually and take into crushers, which is highly photogenic. We will take you to the river on a local boat to photograph the stone collecting activities.
Lunch on a decent restaurant run by Nazimgarh Resort overlooking the river.
Visit the village of Khashia tribe and see their lifestyle. You can visit their gardens and see how they grow betel leaves. Return to Sylhet in the evening.
Overnight at Sylhet (Noorjahan Grand Hotel)
Check-out from hotel and start at 8.00 H, drive to Sarighat (37 km, 01 hr). Upon arrival, transfer to the boat.
Enjoy boat ride on the blue-water canal Lalakhal. We'll take you to the end of the canal close to Indian border and back, which will be about 2.5 hrs ride in total. We'll use a motorized local wooden boat for the journey.
Back to Sylhet, have lunch, and transfer to airport.
Depart for Dhaka on 14.00 H flight. Arrive Dhaka Airport around 14.40 H, and transfer you to your hotel.
Overnight at Dhaka (Richmond Hotel & Suites)
After breakfast, drive to Sonargon (37 km, 2 hrs), the old capital of the Bengal region.
Visit Folk-arts and Crafts Museum, medieval period Goaldi Mosque, a school fully made of bamboo for disadvantaged children of the neglected Hindu society, and abandoned merchant city Panam Nagar. Also you'll visit a char (small river island) of river Meghna, to experience the traditional lifestyle of the farmers.
Overnight at Dhaka (Richmond Hotel & Suites)
Transfer to airport, and fly to Chittagong at 7.15 H. Arrive Chittagong at 8.10 H, drive to Rangamati (102 km, 3.5 Hrs).
Enjoy boat ride at Kaptai Lake rest of the day, and visit a Buddhist temple before sunset. Visit some tribal handicraft markets in the evening.
Overnight at Rangamati (Parjatan Hotel)
Drive to Bandarban after breakfast (82 km, 3.5 Hrs). Visit a small tribal museum on the way.
Visit Golden Temple, Nilachal, and other popular tourist sites in Bandarban rest of the day. To reach Golden Temple, you need to climb a 60m / 200ft hill through paved stairs.
Overnight at Bandarban (Hillside Resort)
Visit villages of different tribes in the morning to see their lifestyle. You'll be able to see how they hand-make their own cloths, and also will be able to buy some if you like from small outlets directly run by the tribal people, which will be a big support for them.
Boat ride at beautiful Sangu river in the evening, which is the most naturally beautiful river in Bangladesh.
Overnight at Bandarban (Hillside Resort)
Morning is free to enjoy nature from the resort. Drive to Cox's Bazar (121 km, 03 hrs) around 10.00 am, check into hotel.
Leisure on the longest unbroken sandy beach in the world rest of the day.
Overnight at Cox's Bazar (Long Beach Hotel)
Visit the fishing port of Cox's Bazar in the morning, which is an exclusive place full of activities. You'll find a great opportunity for photography here.
After lunch, go to visit a fishing village and experience the lifestyle of the fishing community of Cox's Bazar. Also visit a dry fishing center where they make and sell dry fishes in large scale.
Leisure on the beach of Cox's Bazar rest of the day. You can also do parasailing on a beach outside the city if you like.
Return to hotel in the evening. Your guide will say you good bye from here.
Overnight at Cox's Bazar (Long Beach Hotel)
Morning is free to do anything you like on your own.
Transfer to airport, and fly to Dhaka on 11.30 H flight. Arrive Dhaka around 12.35 H, transfer to hotel.
Overnight at Dhaka (Richmond Hotel & Suites)
Transfer to airport in the morning according to your flight, say good bye.
End of the tour.
Price of Discover Bangladesh
Group Size
Classic Package

-
BDT
Per Person
USD
Per Person
02 Pax
296,500
$3,850
03 Pax
271,500
$3,525
04 Pax
239,000
$3,100
Single Supplement
29,500
$385
Inclusions and Exclusions
Tour includes:
All airport transfers in Dhaka, Saidpur, Sylhet, and Cox's Bazar.
26 Nights accommodation in hotels and boat cabins as mentioned in the itinerary with complementary breakfast on twin sharing basis.
Lunch with locally purchased fruits on the boat at Barisal on Day-03 and Day-04.
All meals, drinking water, tea, and coffee while on the boat at Sundarbans for three days on Day-06, 07, and 08.
1st class cabin on the passenger ferry to Barisal on twin sharing basis.
Sylhet-Dhaka, Saidpur-Dhaka, Dhaka-Chittagong, and Cox's Bazar-Dhaka flight tickets.
All train and boat rides.
All site entrance tickets.
Air-conditioned car, driver, and English speaking guide.
5,500 BDT per person forest permission fee for Sundarbans.
All tips except our guide, driver, and boat crew.
Does not include:
Any food or drinks other than mentioned above.
1,200 BDT fee for video camera in Sundarbans (if any).
Parasailing in Cox's Bazar.
Any personal item.
Pin these images to share this tour package. Hover mouse for the Pinterest button.
Important Notes on Discover Bangladesh
Minimum 02 people is required to book this tour outside the scheduled tours. Solo travelers can only join the scheduled tours.
This tour is available to start on any Saturday, Sunday, Wednesday, and Thursday – round the year.
Booking this tour at least 03 weeks in advance is advised.
On Day-01 upon arriving at Dhaka airport, after finishing with the immigration and collecting luggage when you come outside using the Green Channel Exit, you'll find hotel stuffs and visitors waiting. Look for your guide there. He will be waiting there with a sign in your name, or with a placard with Nijhoom Tours logo.
Sometimes the authority restrict visitors inside the airport temporarily. On that case, the guide will be waiting outside on Terminal-2 (come using Exit-2).
For the domestic flights, our guide/driver will be waiting at the domestic terminal exit.
Hotels used on this tour are tourist standard hotels of mostly 2* and 3* standard, with standard facilities for the foreigners e.g. clean room, air-conditioning, hot water, western style toilet, and complementary breakfast. Only Naz Garden Hotel in Bogra is 4* and Long Beach Hotel in Cox' Bazar is 5*.
Govt. run Parjatan Hotels have all the standard facilities, but the hotels are poorly maintained. These are the best hotels on those areas, so we are sticking with them until better hotels develop there.
Cottages at Nisorgo Eco Resort in Srimangal are very basic without air-conditioning. They have fans on the rooms. They also have 2 rooms on the brick cottages with air-conditioning. Let us know in advance if you want to stay on one of these rooms. We'll book them for you if available. You can also book Grand Sultan Tea Resort at Srimangal on your own, which is 5* and close from Nisorgo. We'll deduct the price for Nisorgo on that case. You need to confirm this with us in the time of booking.
Cottages at Hillside Resort in Bandarban are also very basic, and they are located on a hilly area. You need to climb up some stairs to reach these rooms. Most of the cottages here have air-conditioning. There is no alternative hotel here to book though.
Richmond Hotel & Suites in Dhaka is located beside the main street. We use this hotel because it is located very close to the airport and the railway station, so that we can enter and exit the city without facing the hectic city traffic. Although their rooms are sound proofed with double pane windows, it might still feel noisy if you have sensitivity issue. Bring ear plugs on that case.
Bangladesh is full of mosquito. You may find some on your hotels too. Hotels will normally spray aerosol at your room to keep them away. But if they don't, give a call to the reception instead of spending a sleepless night. They will come and spray as many times as you need. You can also bring a mosquito spray or buy one upon arrival on the beginning of your trip, which will cost less then $5 USD and will cover your whole trip.
Hotels in Bangladesh try to provide their best possible service to the foreigners. If there is any issue with your room on any of the hotels, simply let them know while you are there. They will try their best to resolve the issue.
You can book your hotels in Dhaka online to more upscale ones if you like. On that case you need to arrange the transfers to and from the airport and railway station with your hotel. We'll deduct the price for Richmond on that case from the tour price. Please confirm during the time of booking, if you opt-in for this option.
Nijhoom Tours reserves the rights to change any hotel listed in the itinerary to a similar standard one, if the actual hotel is not available to book.
On Day-01, check-in time at Richmond is 14.00 H. If you have an early morning flight, we can arrange early check-in for an additional half-day charge depending on availability.
We have set-aside Day-01 of the itinerary as an 'arrival day'. For this reason and because tour participants are likely to be arriving at different times, and often from different countries, guided sightseeing or other activities are not included. If you are arriving early or before the start date of the tour and would like to organize some extra arrangements on a private basis, please contact us.
Check-out time on the last day at Richmond is 12.00 H. If you have a late flight, we can arrange late check-out for an additional half day charge within 18.00 H, based on availability.
Itinerary for Barisal is a general outline and not fixed. The activities will very depending on season and day of the week.
The places we'll explore in Barisal is very remote, and there will be no decent restaurant there. We'll arrange breakfast and lunch on our boat with bread, egg, jam, tea/coffee, and locally purchased seasonal fruits. You'll find decent restaurants for dinner upon returning at Barisal city in the evening.
1st class tickets of Rocket depends on availability. You might have to travel on the 2nd class if 1st class is not available. Only difference between 1st and 2nd class on the Rocket is, 2nd class is located in the back side, and have no air-conditioning. Other facilities are same. Passengers of 2nd class can use all the facilities of 1st class, e.g. dining area, toilets, and the sitting area on the front side.
On Monday and Thursday, a traditional ferry comes in service instead of the paddle steamers. If you book for these days, you have to travel on the traditional ferry instead of a paddle wheel steamer.
If for some unexpected reason Rocket ticket is not available at all, we'll take you up to Barisal by a traditional ferry (overnight part), and from Barisal to Hularhat on the Rocket (daytime journey part) or by car.
Even on the first class cabins of Rocket, sometimes air-conditioning might be broken. We will try to move you in a cabin with working air-conditioning if available. If that is not possible, Nijhoom Tours will not have any responsibility regarding this, as this boat is not owned by us.
There is no shower on the Rocket paddle steamers.
First class train tickets depends on availability. Sometimes they mysteriously disappear even before coming to the counter. We will try our best to get first class for you. But if that is not possible, second class tickets will be provided, which is without air-conditioning. Killing the guide or blaming Nijhoom Tours taking all of your money and not providing first class tickets will not resolve the issue.
In case of traveling on the 2nd class of train, you'll have a reserved seat.
While traveling from Khulna to Rajshahi and Dhaka to Srimangal on train, it will be very early for your hotel to provide breakfast that morning. We'll buy breakfast for you on the train, which is a package of slices of bread and jam, a peace of fried chicken, couple of pieces of cutlet, a bottle of water, and tea.
It is common for the trains in Bangladesh to be 01-02 hours late. But no matter when they arrive, our drivers will always be waiting for you at the station to take you to your hotel.
We use car only while it is not possible to avoid, e.g. no train, boat, or flight. Roads in Bangladesh are broken and with heavy traffic. Be patient while traveling on car.
Distance mentioned in the itinerary is taken from Google Maps.
Travel time mentioned in the itinerary is our best judgement. It could be delayed or earlier depending on traffic and road conditions.
While traveling on the hilly areas at Chittagong Hilltracts region, we sometimes need to turn off the air-conditioning temporarily to minimize the load on the car engine. Be patient with this.
Local transportation for Barisal, Srimangal, and Chittagong Hill-Tracts area will be by Tuk-Tuk. Trips in Srimangal and Chittagong Hill-Tracts area are short distance. Trips in Barisal would be one hour each, two trips a day.
Itinerary of Sundarbans Tour is just a general outline, and not fixed. It could be changed depending on the season, moon phase, tide, day light hours, and fog. But we'll try to include all the activities mentioned in the itinerary as much as possible.
The boat for Sundarbans is a very basic boat without air-conditioning, electricity, and running hot water (we will supply them on bucket). It has accommodation facilities for 08 people in max, and one western style toilet. But we have a larger boat too to arrange tour for bigger groups.
The cabins in the boat at Sundarbans are lit by small lights running on battery. We'll run the generator in the evening for couple of hours everyday to charge your devices.
You'll get mobile phone signal of GrameenPhone on the first half of day-06. In Kotka, a new mobile phone tower of Teletalk opened recently, so you'll get full network coverage of only Teletalk in Kotka with 2G internet facilities which is very slow. No other SIM card will work inside other parts of the forest.
For trekking in the forest on day-07, the land is flat and we will not go through very dense forest, so it will be easy for most of the people, as long as you can walk about 10 km. The trail is dry, not muddy. Bring covered shoes which is suitable for trekking and can protect you from small grass and trees with spikes.
If you do not want to walk, you can remain on the boat which will be still enjoyable, as it will go from Kochikhali to Kotka through small canals, which will be a ride of about 03 hours.
No binocular will be provided at Sundarbans. Bring your own.
Single supplement is applicable for the hotels only. You might not be provided separate cabins on Rocket and on the boat at Sundarbans, even if you pay for the single supplement, based on the availability.
Citizens of EU, USA, Australia, New Zealand, Canada, Russia, Japan, Singapore, and some other Asian countries can get Visa on Arrival in Bangladesh, which is a pretty straight-forward process. Although there is a rule to take visa beforehand if you have a Bangladesh mission on the country where you are coming from, this rule is completely overlooked. They never check where you are coming from. They only check if you are a national of a country which are eligible for VOA, and directly issue the visa.
Unless there is a long Que for VOA, it will take just 10 minutes of your time to get VOA. Fee for most of the countries is $51 USD. You'll not require any previous application or anything else to get the visa. However, they will ask you for your hotel reservation and a phone no of the hotel. We'll send you the hotel booking confirmation before your arrival. Show them this along with our detailed itinerary which we will send you once you confirm your booking, where all the hotel information will be written. They will be happy enough to give you a VOA of maximum 30 days.
Check here for more information on visa on arrival for Bangladesh.
ATM Availability: Although Bangladesh has many ATMs, some of these do not accept foreign cards – your guide can give advice on which ATM's to use but we do not advise relying on ATM's alone for money.
Credit and Debit Card Acceptance: Cards are generally only accepted in the more expensive shops and restaurants.
Local Currency: Taka.
Recommended Currency for Exchange: US Dollar.
Where to Exchange: There are a number of exchange houses in larger towns and cities. You can also exchange at Dhaka airport upon arrival, who provide good rates.
All the breakfasts, 05 lunches, and 02 dinners are included on the trip. You need to pay for rest of the lunches and dinners during your trip. A meal on a decent local restaurant will cost about $2-$5 USD.
Options for vegetarian food on the local restaurants are very limited. You need to go to a more expensive Western restaurant to find good vegetarian food.
Options for food on the trains are very limited. Vegetarian food are non-existent. Bring your own food for the train if you are vegetarian.
Vegetarian food will not be any issue on our boat at Sundarbans.
Tea and soft drinks are very cheap. Mineral water is widely available.
While traveling on the Rajshahi region, there will be no descent restaurants for lunch on the way. Buy some dry food the previous day to bring with you for lunch.
Bangladesh is a secular Muslim country, and whilst the people are very liberal and friendly, alcohol is not widely available. There are only a couple of hotels on the trip which have a bar, and even at these establishments you cannot usually drink in the restaurant. Local beer, when available, costs approx. $3 USD for a 300ml can, and a measure of spirits is similarly priced. Wine is not available. It may sometimes be possible to purchase alcohol outside the hotels, but it is prohibited to consume in public places. There is a duty free shop on arrival in Dhaka airport (before immigration) and you are permitted to buy two bottles of spirits per person.
In Dhaka, there are some wire houses from where you can buy alcohol showing your foreign passport. But they only sell whole cartons of usually 24 bottles/cans.
Your luggage should not exceed 20kgs (44lbs). One large suitcase/rucksack, and one small hand luggage/rucksack is acceptable.
You should bear in mind that Bangladesh tends to have a conservative attitude towards dress. Women, and also to a certain extent men, will find that the way they dress will often determine the degree of respect they receive from both men and women.
Mosques, temples, churches and synagogue are places of worship and visitors should be modestly dressed. Admission might be denied to men and women wearing short pants/skirts, sleeveless t-shirts/blouses. Bare shoulders and midriffs are not permitted and should be covered with shawls. You also need to remove shoes while entering one of these places.
It will not be appropriate in Bangladesh for women to hide behind bushes for pee. Any time you need to use toilet, ask your guide. He will arrange a nearby toilet for you in someone's house or in a public place.
Generally electrical supply is 230V/50 Hz and plugs have two round prongs. Many places also have the English 3 pin sockets. Our advice is travel with an adapter and to check the voltage locally.
Wi-Fi internet is widely available in Bangladesh. You'll find free Wi-Fi on most of the hotels on this tour. Upscale restaurants will also have free Wi-Fi.
Mobile phone operators have 3G coverage on most of the places in the country. 4G Service started in February, 2018 and is supposed to be available on all the big cities shortly. Mobile internet speed is not satisfactory however on any of them.
Best place to buy local SIM card would be at the airport. Upon finishing with your immigration and collecting luggage when you come outside and see the hotel stuffs and your guide waiting, you'll find booths of all the mobile phone operators there. From them you can buy SIM card with talk time and data. GrameenPhone has the widest network coverage in the country.
Tipping is common practice in Asia. In Bangladesh, most workers will expect a small tip, anything from 50 Taka upwards depending on the service provided. At the end of the tour, if your principle guide, together with the driver and the boat crew have been helpful then you could think about tipping them. The amount can obviously be left to you.
If you want to do parasailing in Cox's Bazar, we will take you to the parasailing center outside the Cox's Bazar city. Parasailing charges are 1,500 BDT – 2,500 BDT for 10 minuites, which is not included on the tour.
Bangladesh is a third world country with poor infrastructure. Nothing works here perfectly and as planned. Organizing such a long tour in Bangladesh may result some inconvenience occasionally. Be patient and flexible while traveling Bangladesh.
While traveling on a group, be co-operative and tolerant with the interests and difficulties of your co-travelers.
Your guide is not your enemy. He is with you to protect you and assist you on every way possible. In case of any issue with anything, simply let him know instead of trying to kill him. He will try his best to resolve the issue.
Bangladesh is not for every regular tourist. Do enough research about Bangladesh, the tour, hotels on the tour, and everything else possible before booking this tour, so that you do not have unrealistic expectations and end up disappointed after the tour.
Reviews of Discover Bangladesh
Trip Reports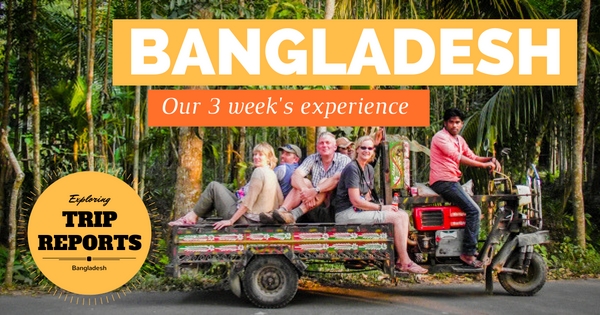 Reports from Western travelers who have taken the 3 weeks Exploring Bangladesh tour with Nijhoom Tours, despite the security warnings for Bangladesh.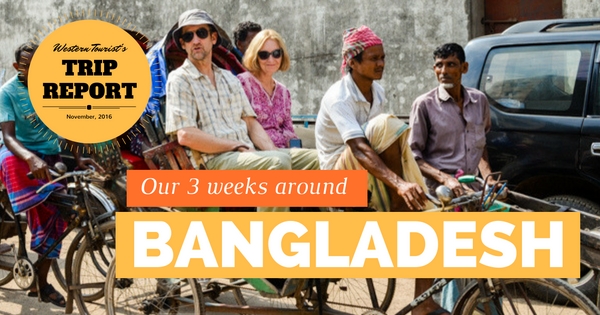 Experience of Jackie and Mike Hulton from Surrey, England, of traveling Bangladesh for 3 weeks in November, 2016, including Chittagong Hill-Tracts area.