For a long while, I had wanted to visit Bangladesh, and after much searching, I decided on the trip by Nijhoom Tours as their 28 day Discover Bangladesh tour seemed to be the most comprehensive of those on offer by any operator. The group size is also small, with a maximum of six places available (just five of us on this tour). This proved a good choice as the whole trip was well organised, extensive, and varied.
Starting in the capital, Dhaka, the tour encompasses the vast majority of the country, and almost all of its major historical, cultural and religious sites. Each place seemed to surpass the previous ones and brought new interest and experiences, whether this was visiting UNESCO World Heritage sites (the mosques at Bagerhat, Buddhist ruins at Paharpur and the Sundarbans), visiting hill tribes above Chittagong, exploring the cities of Dhaka, Khulna, Mongla, Srimangal, Sylhet, etc. or experiencing the life of Rohingya refugees at their camp at Cox's Bazaar, and much more.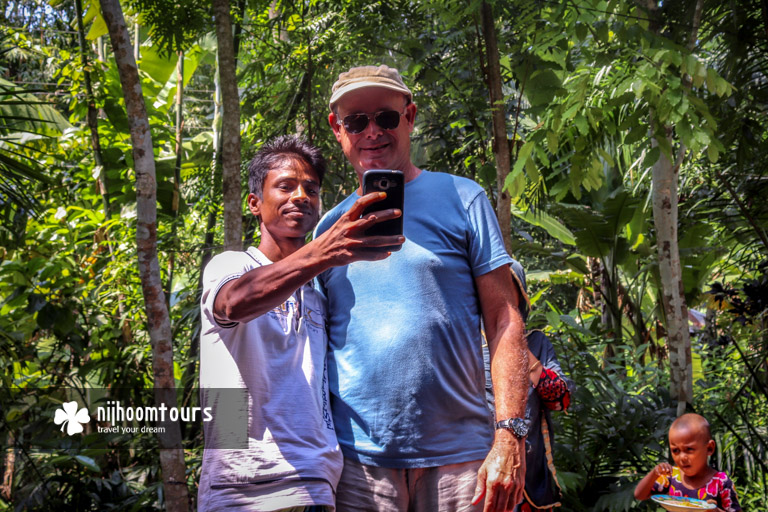 Visiting a village at Barisal in Bangladesh. ©Photo Credit: Arafat Rasul
A wide range of transport was used throughout the trip, from internal flights to riverboats with accommodation in the Sundarbans, canoes, paddle-steamer, trains, rickshaws, and mini-bus (driving in Bangladesh can be quite a highlight with some long journeys, rough roads, dubiously maintained vehicles and great disregard for "rules of the road", but we had good drivers and vehicles for our trips).
The accommodation was also quite varied, as is to be expected in a country with limited tourism infrastructure, but was always clean and comfortable. The food was a delight, with influences from both Indian and Chinese cuisine providing some unique dishes.
Perhaps most special of all was the people. Whether they were city dwellers, rural farm or fishing villagers, tribes-people from the hills, or those seeking out a precarious living on the chars (small islands in the river estuaries which are usually under water during the rainy season), they were all invariably cheerful, welcoming and generous. They also showed as much interest in us as visitors, and we showed in them. I have never been asked for so many "selfies", and my photo must now be on hundreds of mobile phones in Bangladesh!
Visiting a river island in Bangladesh. ©Photo Credit: Arafat Rasul
It is impossible in a few brief paragraphs to give more than a small flavour of this tour in Bangladesh. All the arrangements worked extremely well, our guide (Arafat Rasul) was excellent – friendly, knowledgeable and had great enthusiasm for his country and people, many times going beyond the tour itinerary to give us additional experiences (e.g., dining at home with his family, visiting the railway workshops at Saidpur, etc.).
The flexibility of the tour provided many extra highlights as well as allowing time for individual exploration. I would certainly recommend this trip to anyone who wants to get an extensive insight into all that Bangladesh has to offer.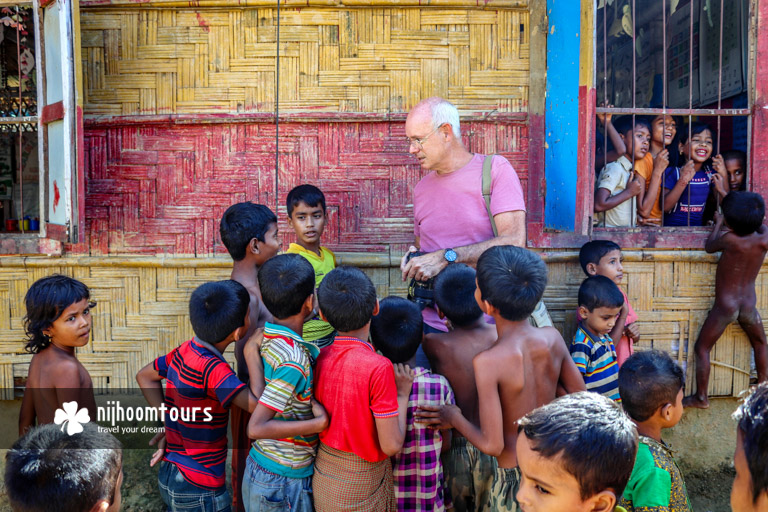 Visiting the Rohingya camps at Cox's Bazar in Bangladesh. ©Photo Credit: Arafat Rasul