We travel to learn and experience, not to relax at a resort or at a beach. After 12 trips (most of them for four weeks) in the last 20 years to the region (Pakistan, India [4 times], Sri Lanka, Nepal, Sikkim, Bhutan, Myanmar [3 times]), we decided to travel to Bangladesh which is surrounded by these countries and shares a common history and present interactions with them. We chose Nijhoom tours in Dhaka as our tour company.
The four-week tour provided an excellent coverage of the country geographically, culturally, and regionally. Bangladesh has over 160 million inhabitants in an area of roughly one-third of California (40 million people). It is mostly flat and 10% of the land would be lost if the sea level rises by only 3 ft.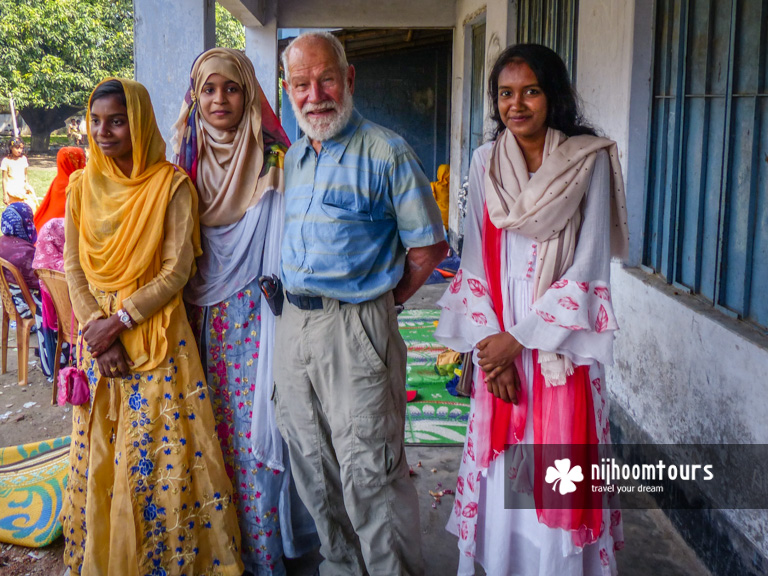 With some local girls at Barisal in Bangladesh. ©Photo Credit: Yvonne Richter
We started and revisited during and ended the trip in Dhaka. This capital is one of the most densely populated cities in the world. It's of fascinating vibrance and we added an extra day for a very worthwhile photo tour. Traffic in Dhaka is incredibly congested and must be (patiently) experienced.
In the southern part of Bangladesh on the Bay of Bengal is a huge river delta formed by several big rivers including the Ganges. We visited the area called the Sundarbans where the largest mangrove forests on earth are found (a UNESCO World Heritage Site [WHS]).
Inside a mosque at the lost city of Gauda in Bangladesh. ©Photo Credit: Juergen Richter
We spent three days exploring the area sleeping on a four-cabin boat and explored the waterways in the mangrove forests quietly on wooden rowboats. It was quite an experience.
We had many more experiences on paddleboat steamers, ferries, and a variety of other boats on rivers and lakes. All very interesting.
Very special were ancient Buddhist monasteries (the WHS of Somapur Mahavira), mosques (in Bagerat, also a WHS, Bagha, Kusumba, and others), and Hindu temples (Khodla Math).
We saw magnificent buildings in the ancient historical city of Panam Nagor.
We explored many markets including interesting fish markets.
We visited several small islands called chars and their inhabitants and observed their way of life.
We also visited several Tribal areas both in the flat land and in the hills.
Tribal women at Chittagong Hill-tracts area in Bangladesh. ©Photo Credit: Arafat Rasul
Very interesting was a trip to the river region near Jaflong. It's very scenic and a favorite vacation site for well-to-do Bangladeshis. It's also a rock collection site where the poorest of all manually drag colorful stone from the river and carry unbelievably heavy loads on their heads from the collection boats up the shore often including women and children. It's an area of beauty and heart-breaking suffering side-by-side. It makes one realize how easy we have it.
Similarly, watching the controversial ship breaking activities near Chittagong was a fascinating and sobering experience.
We visited one of the Rohingya refugee camps which pose an incredible burden on Bangladesh. Even though it was probably one of the better ones with UN and NGO support, it was a sad experience but one we wanted to see.
With a red-beard man at Rangpur in Bangladesh. ©Photo Credit: Yvonne Richter
We try not to judge a country based on a relatively short visit, but there are some observations that we believe can be generalized:
People in Bangladesh are incredibly friendly. They smile and are eager to interact with foreigners. We can't count the number of selfies local people requested with us.
Bangladeshis are 90% Muslims, 9% Hindu and 1% Buddhist or Christian. All religions seem to live in harmony and mutual acceptance (apart from very isolated incidences). We traveled during very colorful Durga (Hindu) festivals. The majority of Muslims not only tolerated but even watched and participated.
The Sunni Muslims also have no problems with Sufi shrines and venerations. Christians and Buddhists are intermingled with Hindus and Muslims. We found this remarkable and refreshing and an example for other countries.
With some local girls at Rajshahi in Bangladesh. ©Photo Credit: Yvonne Richter
The traffic in Bangladesh (in Dhaka and all other cities, even villages) is something to be experienced. Traffic participants are pedestrians, bicycles, rickshaws (both human-powered and with electric motors), CNGs (tuk-tuks), cars, truck of every size and the most banged-up buses in the world. They all drive sometimes four abreast on two-lane roads way too fast for our impression.
Traffic lights (when they exist) and stop signs are ignored. Everyone cuts in front of other vehicles. And somehow there are not frequent accidents. What amazed us most that there is no road rage. Rarely someone reacts with indignation or is upset when cut off by another vehicle. That tolerance of each other is perhaps linked with the friendliness and the religious tolerance mentioned above.
Visiting the ship breaking yards with a powered boat in Bangladesh. ©Photo Credit: Juergen Richter
We also enjoyed the mix of transportation on our tour. From walking to using rickshaws, CNGs, our van, (we did not use busses), trains (what an experience), rowboats, powered boats, ships with cabins, and ferries including the famous "rocket" paddleboat steamer and internal flights we had them all; and what an experience it was. We traveled 3200 km (not counting the four internal flights).
In summary, Bangladesh is a rewarding destination. Not because it has one or a few must-see sights (like the Taj Mahal, Amritsar, Bagan) for which a single trip would be justified. It's the sum of all the varied experiences that makes Bangladesh special. It shouldn't be missed.
It was a great tour and provided the learning for which we travel. If someone wants to experience Bangladesh, we strongly recommend this Nijhoom tour.
Juergen & Yvonne Richter visiting a village at Barisal in Bangladesh. ©Photo Credit: Arafat Rasul