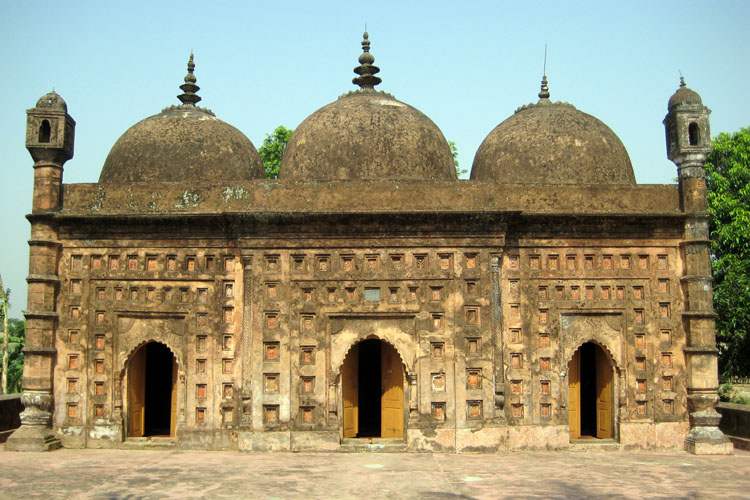 Nayabad Mosque is located in the bank of the river Dhepa, just 1.5km south-west of the infamous Kantaji Temple at Dinajpur in Bangladesh. The mosque is named after the village "Nayabad" in which it stands in the Police Station of Kaharole. According to an inscription found on the central doorway, it was constructed at 1793 AD in the reign of Mughal Emperor shah alam II. During that period, Raja Baidyanath, the last of the Dinajpur Royal family, was the Zaminder (feudal land owner).
Nayabad Mosque was erected at a time when the soil of Dinajpur had already been enriched with one of the most remarkable navaratna temples, the Kantajew Temple in 1752 AD. The founding Royal family of Dinajpur was still prominent. According to local traditions, the mosque was built by Muslim architectural workers who had come to this place from the west to build Kantaji Temple. They had settled in Nayabad, a village near the temple, and had built the mosque for their own use. There is a grave of an unknown person in the premises of the mosque. Local people believe, this is the grave of Kalu Khan, the master architect of Kantaji Temple.
It is an oblong three-domed mosque with octagonal towers at the four corners. There are three arched entrances to enter the mosque. Among them, the central one is bigger than the flanking ones. These are equal in height and width. There is an arched window each on the south and north sides. Inside in the western wall there are three mihrabs in line with the three entrances. The central mihrab is bigger than the flanking ones which are of equal size. Three hemispherical domes cover the mosque, of which the central one is bigger than the side ones. Pendentives have been used in their phase of transition. The parapet and cornice are straight.
Terracotta plaques have been used in decoration of the mosque. At present there are about 104 terracotta plaques rectangular in shape, used in the surface decoration of the mosque walls. The platform of the mosque is enclosed by a low brick wall with only one access from the east. On either side of the mosque are to be seen a number of tombs each of found fixed over the central doorway of the mosque.
Have you ever visited the mosque? Share your experience with us in comments!
Check out our 01-07 days tours and excursions in Bangladesh and 08-27 days holiday packages in Bangladesh to travel Bangladesh with comfort.
Further reading on Nayabad Mosque
Share with friends
Let the world know about this amazing article you've found!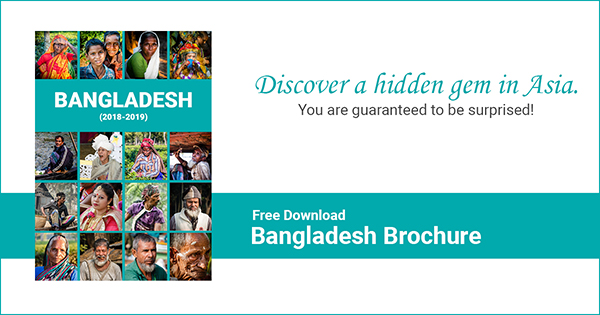 Free download our Bangladesh brochure for 2018-2019, and discover a hidden gem in Asia. You are guaranteed to be surprised! Download now!
Popular Holiday Packages in Bangladesh:
08 DAYS   $785 USD*
---
22-29 Sep, 02-09 Oct, 2017
---
01-08 Dec, 2017
---
15-22 Jan, 03-10 Feb, 2018
---
19-26 Mar, 23-30 Apr, 2018
---
04-11 May, 10-17 Sep, 2018
---
11 DAYS   $1,070 USD*
---
08-18 Sep, 16-26 Oct, 2017
---
01-11 Jan, 09-19 Apr, 2018
---
17-27 Sep, 2018
---
21-31 Jan, 08-18 Apr, 2019
---
16-26 Sep, 2019
---
14 DAYS   $1,495 USD*
---
06-19 Oct, 15-28 Dec, 2017
---
05-18 Mar, 16-29 Oct, 2018
---
18-31 Dec, 2018
---
18-31 Mar, 15-28 Oct, 2019
---
17-30 Dec, 2019
---
18 DAYS   $2,080 USD*
---
10-27 Nov, 2017
---
06-23 Feb, 06-23 Nov, 2018
---
05-22 Feb, 05-22 Nov, 2019
---
23 DAYS   $2,615 USD*
---
08-30 Dec, 2017
---
02-24 Mar, 04-26 Dec, 2018
---
04-26 Mar, 03-25 Dec, 2019
---
27 DAYS   $3,100 USD*
---
03-29 Jan, 03-29 Oct, 2018
---
02-28 Jan, 02-28 Oct, 2019
---
The following two tabs change content below.
Raw Hasan ( র. হাসান )
Founder & CEO
at
Nijhoom Tours
I am the Founder and CEO of Nijhoom Tours, an
award winning tour operator in Bangladesh
specialized in organizing inbound tours for the foreigners, specially the western tourists. While not traveling or busy with the desk work, I love to write about traveling Bangladesh, one of the least traveled destinations in the world about which not much correct information is available anywhere. Connect with me in Facebook, Twitter, or LinkedIn for updates and help about visiting Bangladesh.
Latest posts by Raw Hasan ( র. হাসান ) (see all)