A list of top Bangladeshi food including main dishes, drinks, and deserts someone must try while visiting Bangladesh for an authentic Bangladesh experience.
Bangladesh is famous for its delicious food and desserts. The specialty of Bangladeshi food is they are spicy. Rice is the main Bangladeshi food. Rice, fish curry, and lentil is the most common traditional Bangladeshi food for the general people. Bangladesh is also famous for its desserts. You will find dozens of sweets, rice cakes, rice puddings, and many other desserts in Bangladesh, mostly made from rice and cow milk. It is a paradise for food lovers.
List of Top Bangladeshi Food
Here is a list of the top Bangladeshi food you must try while visiting Bangladesh for an authentic Bangladesh experience. Most of these foods are available to taste in traditional Bangladeshi restaurants, but some of them are homemade food and not available in restaurants. The only chance to taste them is if you get invited by a Bangladeshi family. Try these famous Bangladeshi foods and let us know in the comments how much you like them.
Paratha – Popular Bangladeshi Food for Breakfast. ©Photo Credit: Wikipedia
Bangladeshi Breakfast
Paratha
Paratha is an unleavened flatbread in Bangladesh made by baking flour dough on a frying pan and finishing off with shallow frying. It is layered by coating with oil and folding repeatedly using a laminated dough technique. It is the most popular Bangladeshi food for breakfast in restaurants, which is normally eaten with Bhaji (mixed vegetable) or lentil or a mixture of these two together, and with fried eggs.
If you are visiting Bangladesh, the most authentic local way of starting your day would be having breakfast with paratha, Bhaji, and egg fry, followed by tea. You can also have Nehari with paratha, which is slow-cooked beef shank with lots of gravy – a very popular breakfast with the locals.
Kachchi Biryani – A special Bangladeshi food. ©Photo Credit: nannabiryani.com
Bangladeshi Main Dishes
Kachchi Biryani – Special Bangladeshi Food
Kachchi biryani is usually a featured dish for weddings and social gatherings and celebrations. Layers of meat, rice, and potatoes are infused with warm and delectable blends of aromatic spices to prepare Kachchi biryani.
The term "Kachchi" means raw referring to the biryani ingredients being combined raw in layers instead of first cooking the meat or rice separately. Traditionally, Kachchi biryani is cooked in a clay oven and the cooking pot is usually sealed with flour dough to allow the biryani to cook in its own steam. The sealed pot is not opened until the biryani is ready to be served.
A simple salad is sufficient as a side for Kachchi biryani but traditionally Shami Kabab and chutney are served alongside. Also very popular is to have Borhani with Kachchi biryani, which is a traditional yogurt drink. Kachchi Biryani is the most popular formal Bangladeshi food that you must try at least once while visiting Bangladesh.
Bhuna Khichuri – A special Bangladeshi food. ©Photo Credit: bdfoodnavi.com
Bhuna Khichuri
The Bengali word "Bhuna Khichuri" means browning, mixing, or deep frying spices with rice and lentil. It is the richer version of the plain old Khichuri. Bhuna means braised, so this dish is kind of slow-cooked to infuse the flavors and the spices as opposed to the simple process of cooking everything together during the other times. You cannot ignore the beautiful aroma while it is braising and cooking!
Bhuna Khichuri could be cooked with different types of meat – beef, mutton (goat), and chicken. Also, it can have eggs or prawn added to it. It is a very popular dish for lunch in traditional Bangladeshi restaurants. Bhuna Khichuri would be the number three authentic Bangladeshi food you must try while visiting Bangladesh.
Patla Khichuri – A romantic Bangladeshi food. ©Photo Credit: Raw Hasan
Patla Khichuri – Romantic Bangladeshi Food
Patla Khichuri is the actual traditional Khichuri of Bangladesh cooked plainly with rice and lentil. It is semi-liquid. Usually different seasonal vegetables, spinach, and potatoes are added with it. It is eaten with any meat curry – beef, mutton, or chicken. Also eaten with a fried egg or Begun Bhaja (fried eggplants). Just a teaspoon of ghee brings out the actual essence of this yummy dish.
Patla Khichuri is a romantic food in Bangladesh. During the heavy rain of a monsoon day, a hot plate of Patla Khichuri with meat is what any traditional Bengali people want! Patla Khichuri is cooked in every village house during the two Eid festivals, the biggest festivals in Bangladesh. When people go to visit other people's houses in any village during Eid, Patla Khichuri is a much thing to serve with meat curry, along with the special Eid dessert called Semai.
Patla Khichuri is a traditional homemade food and not served in restaurants. Only the Bhuna Khichuri is served in the restaurants. The only chance of tasting Patla Khichuri is if you are invited to a local's house during a rainy day of monsoon, or in a village house during Eid.
Morog Polao – A special Bangladeshi food. ©Photo Credit: helloworldmagazine.com
Morog Polao (Chicken Pilaf)
Morag Polao is a very rich flavorful full dish where chicken and rice are cooked with spices, yogurt, and clarified butter (ghee). Nowadays to make it a little less rich, oil and ghee are used together.
Morag Polao is a very traditional rich item in Bengali cuisine. It is not spicy, and the chicken has a light and yummy taste. It is a treat for meat lovers because chicken is used in large portions here. It is usually served on special occasions together with the traditional yogurt drink known as Borhani. Morag Polao would be the number four Bangladeshi food you must try while visiting Bangladesh.
Rice with Curry, Vorta, Vaji, and Daal. ©Photo Credit: ntvbd.com
Rice with Curry, Vorta, Vaji, and Daal – Everyday Bangladeshi food
Plain rice is the main food in Bangladesh. It is served with different fish and meat curry, Bhorta (mash) of different vegetables and fish, bhaji (fried) of different vegetables, and Patla Daal (lentil soup). There is a proverb in Bangladesh – "rice and fish makes the Bengali people". From this, you can understand that fish and rice is the most popular food in Bangladesh.
While visiting Bangladesh, go to any traditional restaurant anywhere in the country, and order rice with different curries, Bhortas, bhajis, and daal. This will be the most traditional way of having lunch or dinner. You should try this Bangladeshi food for lunch at least once while visiting Bangladesh.
Grilled Chicken. ©Photo Credit: chowstatic.com
Bangladeshi Evening Snacks
Grilled Chicken with Naan Roti
Grilled Chicken has become very popular in Bangladesh recently. You can find mouth-watering grilled chicken on almost every street. Chicken is marinated with spices and later grilled on the griller. The chicken is super moist inside but crunchy bits of chars outside make them taste heavenly. Grilled chickens are normally served with Naan Rooti (an oven-baked flatbread), mayonnaise, and simple salads. This is an evening snack, mostly available after 5.00 pm at the restaurants.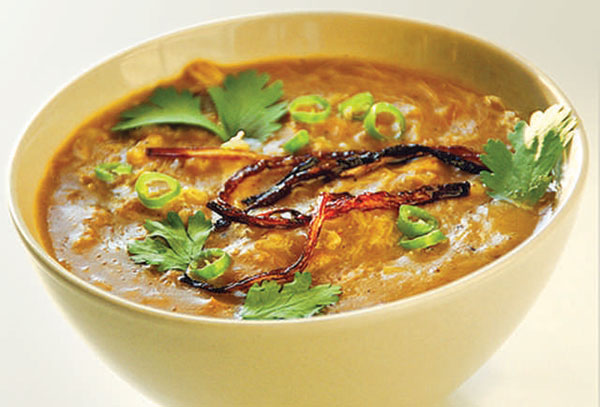 Haleem. ©Photo Credit: thedailystar.net
Haleem
Haleem is basically spicy lentil soup very popular in Bangladesh. Haleem is made of wheat, barley, meat (usually minced meat of beef or mutton), different types of lentils, spices, and sometimes rice is also used. This dish is slow-cooked for seven to eight hours, which results in a paste-like consistency, blending the flavors of spices, meat, barley, and wheat.
Haleem is served with coriander leaves, lemon wedges, chopped ginger, green chili, and fried onion. Sometimes it is served with naan or any kind of bread in Bangladesh. This is another evening snack available in almost every restaurant in Bangladesh. Haleem is a special Bangladeshi food you must not miss while visiting Bangladesh. You'll miss a lot if you do so!
Sheek kabab with Paratha. ©Photo Credit: 4.bp.blogspot.com
Sheek Kabab
Sheek Kabab is beef or mutton cut in cubic pieces, marinated for a long time with spices, put together on a skewer, and Bar-b-Qed. The main trick of melt-in-mouth kabab is how to marinate and for how long to marinate it. They are marinated for three hours to two days.
Sheek Kabab is served with Naan Roti and a simple salad. It is another evening snack, available mostly after 5.00 pm at the restaurants. While visiting Bangladesh, try Sheek Kabab at least once in the evening. You will not regret it!
Fuchka. ©Photo Credit: thedailystar.net
Bangladeshi Street Food
Fuchka
Fuchka is the most popular street food in Bangladesh, served mainly in the evening. It has a unique spicy, sour, crispy taste. It consists of a round, hollow puri, fried crisp, and filled with a mixture of flavored water, tamarind chutney, chili, chaat masala, potato, onion, and chickpeas. Fuchka uses a mixture of boiled mashed potatoes as the filling and is tangy rather than sweetish while the water is sour and spicy.
Misti Doi / Sweet Yogurt. ©Photo Credit: Wikipedia
Bangladeshi Desserts
Misti Doi (Sweet Yogurt)
Sweet Yogurt is a traditional Bengali dessert item that is locally known as Mishti Doi. It is a healthy low-fat dessert. No Bengali occasion is complete without Sweet Yogurt and Sweets. It is not your regular yogurt. Also, it is not at all runny as curd. It is thick, dense, and more like creamy cheesecake.
Misti Doi is made with milk and sugar or jaggery. It differs from plain yogurt because of the technique of preparation. It is prepared by boiling milk until it is slightly thickened, sweetening it with sugar or jaggery, and allowing the milk to ferment overnight. Earthenware is always used as the container for making Misti Doi because the gradual evaporation of water through its porous walls not only further thickens the yogurt, but also produces the right temperature for the growth of the culture.
Bangladeshi people are very fond of desserts, and sweet yogurt is a popular one after lunch or dinner. Sweet Yogurt is mostly sold in sweet shops, but also available in restaurants. In restaurants, they normally serve it in small cups made of pottery. Sweet Yogurt of Bogra is the most famous in Bangladesh. In Dhaka, Ali-Baba Sweets makes one of the best Sweet Yogurts in Bangladesh.
Doi Chira. ©Photo Credit: i.ytimg.com
Doi Chira
Doi Chira is authentic Bangladeshi food. In this recipe flat rice or Chira is soaked for several hours in water then mixed with sweet yogurt, sugar, banana, or some other sweet fruits. This recipe is comfort food that will calm anyone down. Doi Chira is a Bangladeshi food that is easy to prepare and involves no cooking. You should try this Bangladeshi food at least once during your visit.
Falooda. ©Photo Credit: jamunanews24.com
Falooda
Falooda is a cold dessert very popular in Bangladesh. Traditionally it is made from mixing rose syrup, vermicelli, sweet basil (sabza/takmaria) seeds, and pieces of jelly with milk often topped off with a scoop of ice cream, lastly garnished with chopped fruits. The vermicelli used for preparing Falooda is made from wheat, arrowroot, cornstarch, or sago pearls.
Rasmalai. ©Photo Credit: thesaffronplatter.com
Rasmalai
Rasmalai is a unique Bangladeshi delicacy. This Bangladeshi dessert is a flattened cheese ball soaked in malai (clotted cream) flavored with cardamom. Malai or clotted cream itself has a unique texture.
Malai is made by heating non-homogenized whole milk to about 80 °C for about one hour and then allowing it to cool down. A thick yellowish layer of fat and coagulated proteins forms on the surface, which is skimmed off. The process is usually repeated to remove most of the fat.
Rasmalai is available at every sweet shop in Bangladesh. Raasmalai of a sweet shop in Comilla named "Matri Bhandar" is the most famous in Bangladesh. "Alibaba Sweets" in Dhaka also makes good quality Rasmalai. If you are visiting Bangladesh, good quality Rasmalai is a must to taste.
Borhani. ©Photo Credit: somoynews.tv
Bangladeshi Drinks
Borhani
This is a spicy yogurt drink served at weddings or big parties with Biryani, Tahari, Bhuna Khichuri, or Morog Polao. It is a traditional drink and is very easy to make. Borhani balances the spiciness of the main food and it has ingredients like mint, cumin, and yogurt. It also helps digestion.
Bottled Borhani is available in restaurants, but it is the homemade one on the wedding feasts which you need to taste for the actual taste of Borhani.
Sweet Lacci. ©Photo Credit: i.ytimg.com
Sweet Lassi
Lassi is a popular traditional yogurt-based drink from Bangladesh. Lassi is a blend of yogurt, water, spices, and sometimes fruit. Lassis are enjoyed chilled as a hot-weather refreshment, mostly taken with lunch. It is a very popular drink in Bangladesh which you must try at least once while visiting Bangladesh.
Have you ever visited Bangladesh? What is your most favorite authentic Bangladeshi food that you've tasted here? Have I missed something that should be on this list? Share with us in the comments!
Check out our 1-7 days Bangladesh tour packages and 8-28 days Bangladesh holiday packages to visit Bangladesh with comfort.