Dhaka is the capital city of Bangladesh, a residence of 16 million population and growing everyday. It is one of the most densely populated city in the world full of activities – a paradise for street photography. If you like street or portrait photography, Dhaka is your city. You'll find unlimited subjects here to shoot for several days.
Other than photography, Dhaka has many interesting sites to visit from Mughal and colonial period. In this article, you'll find some of the must visiting sites in Dhaka which you should not miss while visiting Bangladesh. If you are interested in visiting them on a single day, you might be interested in checking our Old Dhaka Tour, which is our most popular city tour in Dhaka. Enjoy!
01. Dhakeshwari Temple
State owned 1,200 years old Hindu temple build by one Mangat Ray, who was also known as Ballalasena, younger brother of Arakanese king Shri Sudharma, son of famous Arakanese king Raja Malhana alias Husen Shah. This is the center of Hindu religion in Dhaka.
More reading: Dhakeshwari Temple – The center of Hindu religion in Dhaka
© Photo Credit: Raul Vibal on Flickr
02. Lalbag Fort
A 17th century incomplete fort. Started by Prince Mohammed Azam and handed to then governor of Dhaka Shaista Khan for completation, who didn't finish it because of death of her daughter Pari Bibi whose tomb is inside the fort. There is a small museum inside displaying Mughal paintings and calligraphy, along with swords and firearms.
More reading: History of Lalbag Fort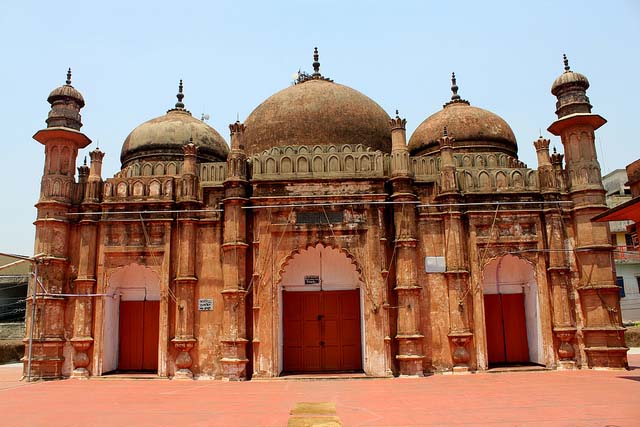 03. Khan Mohammad Mridha's Mosque
Erected in 1706, this Mughal structure is stylistically similar to Lalbag Fort, built on a raised platform, up a flight of 25 steps. Three squat domes, with pointed minarets at each corner, dominate the rectangular roof.
More reading: Khan Mohammad Mridha's Mosque at Old Dhaka
04. Armenian Church
Located at Armanitola, named after the Armenian colony that settled here in the late 17th century. The church is the soul of this now almost extinct community. Dates from 1781, it is an oasis of tranquility in the heart of the crowded city.
More reading: Armenian church at Old Dhaka
05. Star Mosque (Tara Masjid)
One of the city's most popular tourist attractions, dating from the early 18th century. The whole walls of the mosque is decorated with mozaic stars, so is the name. It was originally built in the typical Mughal style, with for corner towers, but radically altered later.
More reading: Beautiful Star Mosque (Tara Masjid) in Old Dhaka
06. Ahsan Manzil
Dating from 1872, Ahsan Manjil was built on the site of an old French factory by Nawab Abdul Gani, the city's wealthiest landowner. Some 16 years after it's construction, it was damaged by a tornado, and reconstructed again altering massively and became even grander than before.
More reading: Ahsan Manzil (Pink Palace) – The home of Dhaka Nawabs
07. Sadarghat River Port
One of the largest river port in the whole world, passing about 30,000 passengers daily. You'll get a true authentic taste of Dhaka if you visit this chaotic and dynamic place. This is the hub of southern part of the country.
More reading: Sadarghat – The chaotic and dynamic river port of Dhaka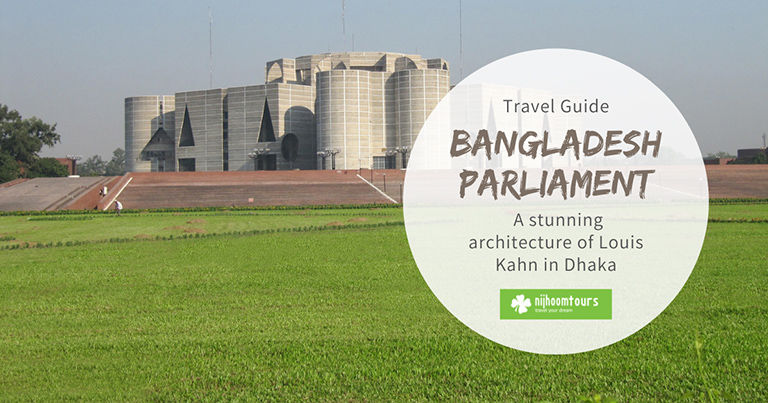 08. Parliament Building
The finest architecture of world renowned American architect and Yale University Professor Louis I. Kahn. Originally commissioned by the Pakistani's when Bangladesh was known as East Pakistan after Partition of the Indian Sub-Continent, was meant to serve as the second seat of the national parliament. Construction started in 1964 but halted due to the Bangladeshi War of Independence, and finally completed in 1982.
More reading: Parliament building of Bangladesh – The finest architecture of Louis Kahn
09. List Yours
List your place of Dhaka which you think could be in this list. Write about your most favorite tourist site at Dhaka in comments!
You might also be interested in reading 13 Best places to visit in Bangladesh you can't miss and 101 Things to know about traveling Bangladesh.
Check out our Old Dhaka Tour for a full day tour in new and Old Dhaka to have the best experience of the city. We will show you all the key attractions of Dhaka including it's backstreets, take you for rickshaw and boat ride, and take you on lunch in an authentic local restaurant to enjoy authentic Old Dhaka food.
Check out our 01-07 days tours and excursions in Bangladesh and 08-27 days holiday packages in Bangladesh to travel Bangladesh with comfort.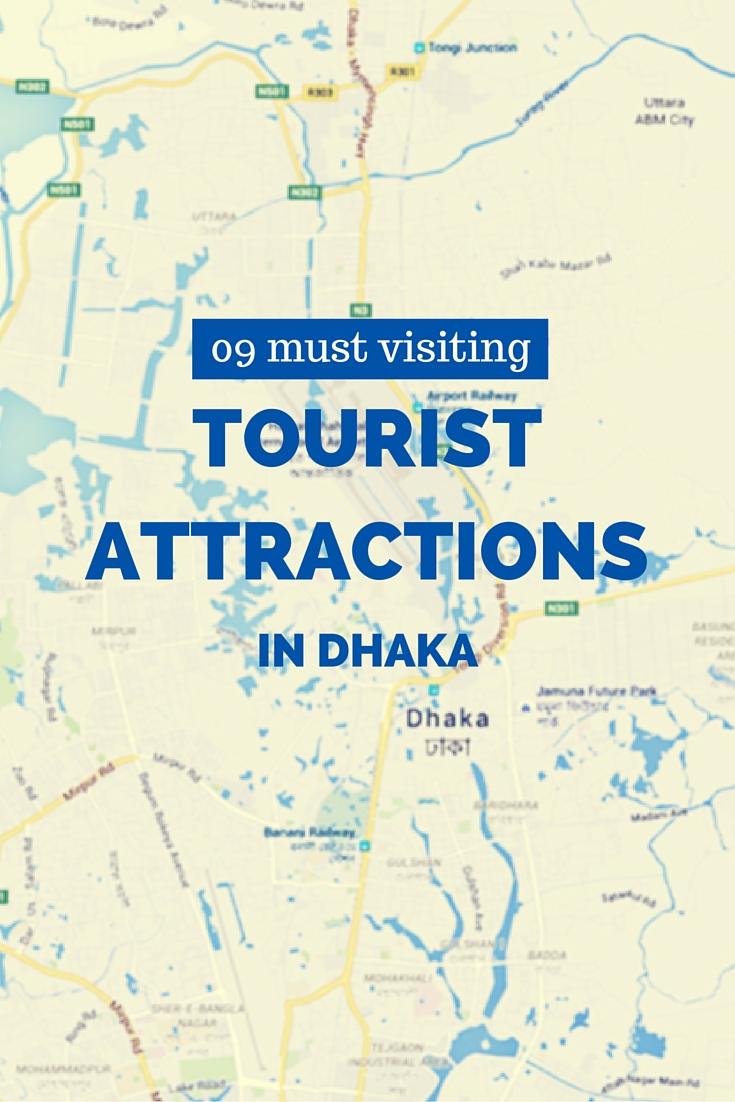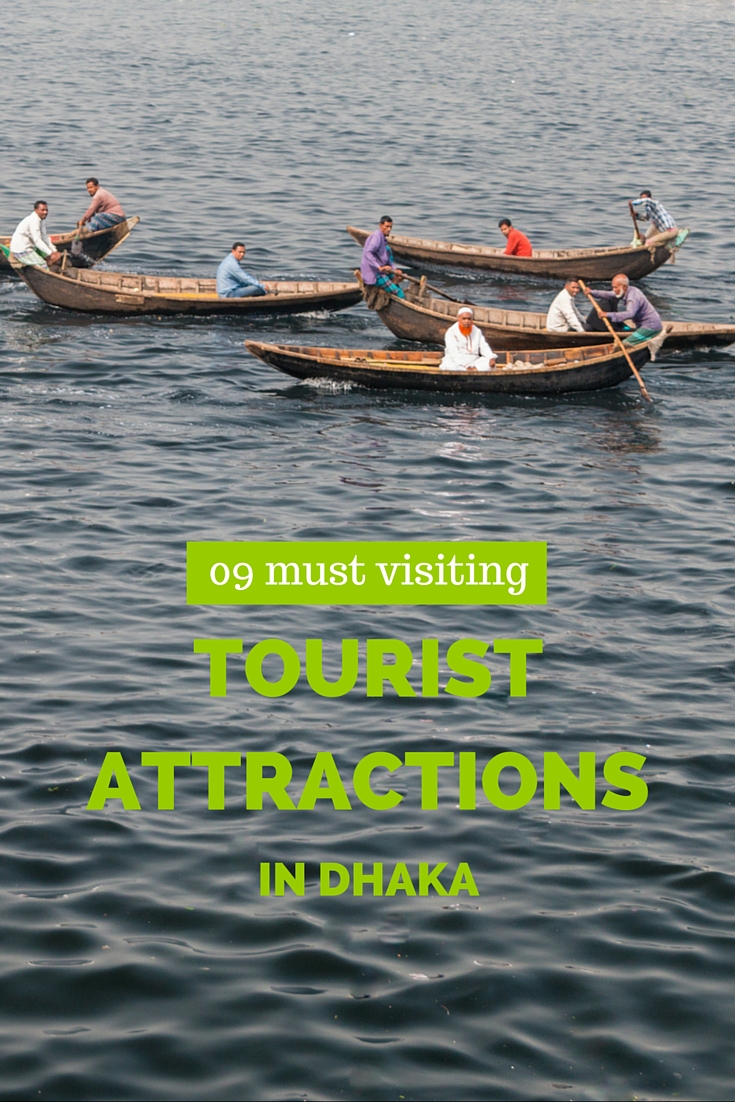 Pin these images to share this post. Hover mouse for the Pinterest button.
Share with friends
Let the world know about this amazing article you've found!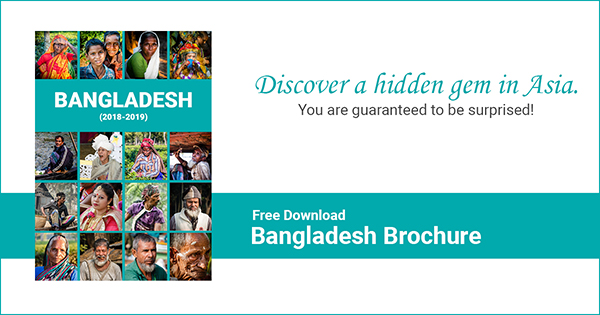 Free download our Bangladesh brochure for 2018-2019, and discover a hidden gem in Asia. You are guaranteed to be surprised! Download now!
Popular Holiday Packages in Bangladesh:
08 DAYS   $785 USD*
---
22-29 Sep, 02-09 Oct, 2017
---
01-08 Dec, 2017
---
15-22 Jan, 03-10 Feb, 2018
---
19-26 Mar, 23-30 Apr, 2018
---
04-11 May, 10-17 Sep, 2018
---
11 DAYS   $1,070 USD*
---
08-18 Sep, 16-26 Oct, 2017
---
01-11 Jan, 09-19 Apr, 2018
---
17-27 Sep, 2018
---
21-31 Jan, 08-18 Apr, 2019
---
16-26 Sep, 2019
---
14 DAYS   $1,495 USD*
---
06-19 Oct, 15-28 Dec, 2017
---
05-18 Mar, 16-29 Oct, 2018
---
18-31 Dec, 2018
---
18-31 Mar, 15-28 Oct, 2019
---
17-30 Dec, 2019
---
18 DAYS   $2,080 USD*
---
10-27 Nov, 2017
---
06-23 Feb, 06-23 Nov, 2018
---
05-22 Feb, 05-22 Nov, 2019
---
23 DAYS   $2,615 USD*
---
08-30 Dec, 2017
---
02-24 Mar, 04-26 Dec, 2018
---
04-26 Mar, 03-25 Dec, 2019
---
27 DAYS   $3,100 USD*
---
03-29 Jan, 03-29 Oct, 2018
---
02-28 Jan, 02-28 Oct, 2019
---
The following two tabs change content below.
Raw Hasan ( র. হাসান )
Founder & CEO
at
Nijhoom Tours
I am the Founder and CEO of Nijhoom Tours, an
award winning tour operator in Bangladesh
specialized in organizing inbound tours for the foreigners, specially the western tourists. While not traveling or busy with the desk work, I love to write about traveling Bangladesh, one of the least traveled destinations in the world about which not much correct information is available anywhere. Connect with me in Facebook, Twitter, or LinkedIn for updates and help about visiting Bangladesh.
Latest posts by Raw Hasan ( র. হাসান ) (see all)