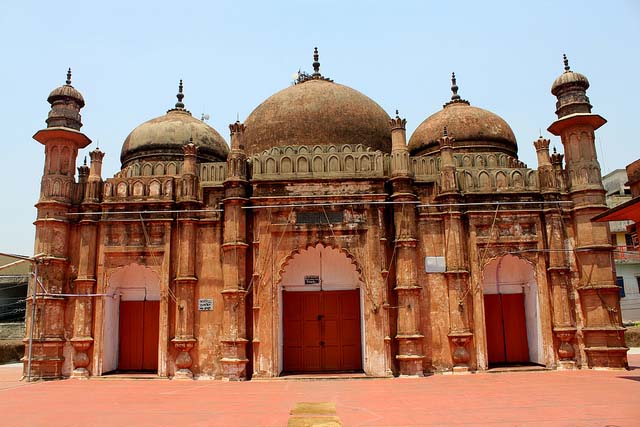 Khan Mohammad Mridha Mosque is located at Old Dhaka, some 500m west of Lalbagh Fort. According to two Persian inscriptions, one over the central archway and the other over the central Mihrab, the mosque was built during the rule of Deputy Governor of Dhaka, Farrukh Siyar, by a Khan Mohammad Mirza, who could have been the architect. The construction was orders by a Qazi Ibadullah during 1704–05 AD.
Khan Mohammad Mridha Mosque is stylistically similar to Lalbagh Fort. It is built on a raised platform which is 5.8m from the ground level. Underneath the platform are vaulted rooms on all sides except the eastern side, which were used for living purposes. In the eastern side, there is a stairway of 25 steps which ends with a gateway aligning the central doorway of the mosque proper. It is through this gateway that one can reach the top of the platform.
The prayer hall of Khan Mohammad Mridha Mosque is a rectangular structure measuring 48′ x 24′ and is capped by three domes, the central being the larger one. The smaller sizes of the side domes are achieved by using intermediary pendentives. The corner minarets are short and slender, rising just above the parapet and are capped by ribbed copulas. The annex to the north of the mosque serves as a madrasa or religious school and has a hujra or arcaded hall that is used for travelers and visitors.
The facade of the mosque is decorated with paneling and ornamental merlons along the parapet. The entrances to the prayer hall are framed by multi-cusped arches and engaged columns on either side. The interior is divided into three bays by two lateral arches. Each bay contains a mihrab that is marked by multi-cusped arch within a rectangular panel.
To get a good view of this walled mosque, you have to enter the main gate off the main road. People of any religion and women are welcome inside. Ladies should get properly covered. Other than the prayer time, you may find the mosque gate locked, but if you ask the caretaker, he'll open it for you.
Tips for visiting Khan Mohammad Mridha Mosque
Do not go to visit Khan Mohammad Mridha Mosque during prayer times. For ladies, covering the head is necessary to enter the mosque. Also need to wear modest cloths. Entering the mosque wearing shorts will not be possible for both men and women.
Have you ever visited Khan Mohammad Mridha Mosque? How beautiful have you found it? Share your experience with us in comments!
You might also be interested in reading 13 Best places to visit in Bangladesh you can't miss and 101 Things to know about traveling Bangladesh.
Check out our Old Dhaka Tour to visit the key attractions of Dhaka city, including Khan Mohammad Mridha Mosque. Full day tour starts from $52 with air-conditioned car, English speaking guide, all site entrance tickets, and lunch on a local restaurant with authentic local food.
Check out our 01-07 days tours and excursions in Bangladesh and 08-27 days holiday packages in Bangladesh to travel Bangladesh with comfort.
Share with friends
Let the world know about this amazing article you've found!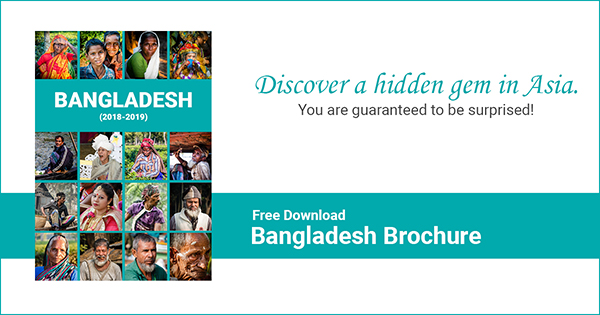 Free download our Bangladesh brochure for 2018-2019, and discover a hidden gem in Asia. You are guaranteed to be surprised! Download now!
Popular Holiday Packages in Bangladesh:
08 DAYS   $785 USD*
---
10-17 Sep, 01-08 Oct, 2018
---
16-23 Nov, 10-17 Dec, 2018
---
07-14 Jan, 11-18 Feb, 2019
---
11-18 Mar, 22-29 Apr, 2019
---
06-13 May, 02-09 Sep, 2019
---
11 DAYS   $1,070 USD*
---
08-18 Sep, 16-26 Oct, 2017
---
01-11 Jan, 09-19 Apr, 2018
---
17-27 Sep, 2018
---
21-31 Jan, 08-18 Apr, 2019
---
16-26 Sep, 2019
---
14 DAYS   $1,495 USD*
---
06-19 Oct, 15-28 Dec, 2017
---
05-18 Mar, 16-29 Oct, 2018
---
18-31 Dec, 2018
---
18-31 Mar, 15-28 Oct, 2019
---
17-30 Dec, 2019
---
18 DAYS   $2,080 USD*
---
10-27 Nov, 2017
---
06-23 Feb, 06-23 Nov, 2018
---
05-22 Feb, 05-22 Nov, 2019
---
23 DAYS   $2,615 USD*
---
02-24 Mar, 2018
---
04-26 Mar, 03-25 Dec, 2019
---
27 DAYS   $3,100 USD*
---
03-29 Jan, 03-29 Oct, 2018
---
02-28 Jan, 02-28 Oct, 2019
---
The following two tabs change content below.
Raw Hasan ( র. হাসান )
Founder & CEO
at
Nijhoom Tours
I am the Founder and CEO of Nijhoom Tours, an
award winning tour operator in Bangladesh
specialized in organizing inbound tours for the foreigners, specially the western tourists. While not traveling or busy with the desk work, I love to write about traveling Bangladesh, one of the least traveled destinations in the world about which not much correct information is available anywhere. Connect with me in Facebook, Twitter, or LinkedIn for updates and help about visiting Bangladesh.
Latest posts by Raw Hasan ( র. হাসান ) (see all)