Tour Duration:
Full Day Tour
Location:
New and Old Dhaka
Tour Attractions:
Sights, Attractions, and Activities of Dhaka City
Best time to go:
October-March
Tour Available:
Year Round
Next Scheduled Tour:
Please Check Bellow
Price:
From
$70 US*
per person
Dhaka tour to experience the life and sights of the live and vibrant Dhaka City. Visit the key attractions of both the New and Old Dhaka, including the National Assembly Building, Lalbagh Fort, Ahsan Manzil, Star Mosque, Armenian Church, and Khan Mohammad Mridha Mosque. Experience the hustle and bustle of Old Dhaka by walking and riding a rickshaw on its backstreets. Enjoy the busy activities of Sadarghat waterfront on a rowing boat. Have an ultimate experience of the best of what Dhaka City has to offer on our Old Dhaka Tour.
In this Tour, we'll show you most of the famous tourist sights and attractions in New and Old Dhaka, as suggested in popular guide books like Bradt and LonelyPlanet, and beyond their recommendations. If you are visiting Bangladesh for the first time, Old Dhaka Tour is the first tour you should book to experience Dhaka city's life, sights, and activities. Old Dhaka Tour is our most popular day tour covering a large number of sights and activities to provide you an authentic experience and taste of Dhaka city, especially Old Dhaka.
Highlights of Old Dhaka Tour
Visit the key tourist sights and attractions of both the New and Old Dhaka.
Walk on the backstreets of Old Dhaka and experience its hustle and bustle.
Enjoy a rickshaw ride on the narrow streets of old Dhaka, where cars can't reach.
Experience the activities of Dhaka's busy waterfront on a rowing boat.
Taste some authentic Bangladeshi food at a local restaurant.
Itinerary of Old Dhaka Tour
08.00 – 08.00 AM: A guide and driver of ours will meet you at your hotel/residence, pick you up, and start driving toward Old Dhaka immediately.
08.30 – 08.50 AM: Visit outside of the National Assembly Building (Parliament Building) on the way, which is one of the largest legislative buildings in the world, designed by world-famous US architect Louis Kahn. We'll have a good look at the building from both the back and the front side and continue driving toward Old Dhaka.
09.20 – 09.40 AM: Reach Old Dhaka and visit Dhakeswari Temple. This temple is assumed as a 400 years old temple built by an Arakanese who was the governor of Chittagong when it was a part of the Arakanese kingdom. He took shelter in Dhaka and built this temple as gratitude after a failed mutiny against the king of Arakan to cease power in 1638. Dhakeshwari Temple is the center of Hindu religion and festival in Dhaka and Bangladesh's national Hindu temple.
09.50 – 10.05 AM: Continue driving and visit Khan Mohammad Mridha Mosque, a Mughal period mosque built in 1704 on a raised platform with vaulted rooms on the ground floor.
The stairs of Khan Mohammad Mridha Mosque we'll visit in Old Dhaka Tour. © Photo Credit: Eric Lynn.
10.15 – 11.00 AM: Visit Lalbagh Fort, an unfinished Mughal fort in Dhaka built in 1678, which was left unfinished because of the tragic death of the daughter of the governor who was in charge of its construction. Lalbagh Fort is one of the key tourist attractions of Dhaka city. Locals living in a congested city like Dhaka come here to breathe on its ample open space and beautiful gardens.
11.00 – 11.45 AM: Take a paddled rickshaw and ride through the narrow alleys of Old Dhaka where cars can't reach, and experience the hustle and bustle of Old Dhaka. Visit Star Mosque upon reaching, an early 20th-century mosque beautifully decorated with star motifs made with China clay mosaic on every inch of its walls, domes, and the minerate.
11.55 – 12.15 PM: Walk for 10 minutes and visit the Armenian Church, an orthodox church built by the now disappeared Armenian community in Dhaka in 1781, who played a significant role in Bengal trade and politics in the 17th & 18th century. The area is still called 'Armanitola', meaning the residence of the Armenians.
12.20 – 01.00 PM: Walk on Islampur Road, the largest wholesale clothing market of Bangladesh, where shopowners from all over the country come to get supplies for their shops. After that, walk on Sakhari Bazar, also known as the Hindu Street. This is a unique street in Dhaka and the center of Hindu culture and community in Old Dhaka. Old buildings are raised on both sides of the street, full of jewelry shops, local musical instrument shops, Hindu bridal shops, kite shops, cookery shops, temples, rickshaws, and people.
01.10 – 01.50 PM: Lunch at a local restaurant with authentic Bangladeshi food.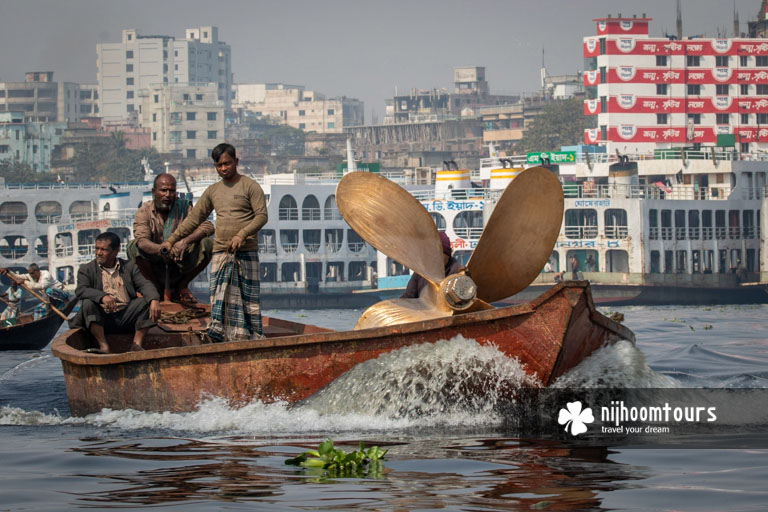 Sadarghat Waterfront: A highlight of Old Dhaka Tour city sightseeing. © Photo Credit: Eric Lynn.
02.15 – 02.55 PM: Walk for 10 minutes and visit Ahsan Manzil (Pink Palace), a colonial period palace that was the home of the most influential family in Dhaka, who were the feudal landlords during the British rule. Ahsan Manzil is another key tourist attraction of Dhaka city.
03.05 – 03.15 PM: Visit Sadarghat River Port, the main river port in Dhaka and one of South Asia's largest river stations. Passenger ferries leave for the southern part of Bangladesh from here to all over the Barisal region.
03.20 – 04.00 PM: Enjoy the activities of Dhaka's busy Buriganga river on a rowing boat. This river is a live and vibrant place full of activities. You'll see hundreds of rowboats crossing people on two sides of the river, small vendors selling goods on their boats, passenger and cargo ferries passing by.
04.10 – 04.10 PM: Get into our waiting car and start the hard work of getting back through Dhaka's hectic traffic.
05.30 – 06.00 PM: Drop-off at the hotel/residence, say goodbye—the end of Old Dhaka Tour.
A map of full day Old Dhaka Tour with Nijhoom Tours to visit the highlights of Dhaka City
Price of Old Dhaka Tour
Group Size
Tour Price
-
USD
Per Person
1 Pax Group
$120 US pp
2 Pax Group
$95 US pp
3 Pax Group
$85 US pp
4 Pax Group
$70 US pp
Inclusions and Exclusions
Tour includes:
Air-conditioned car and driver.
English speaking guide.
All site entrance tickets.
Lunch at a local restaurant with authentic Bangladeshi food.
Two 500ml bottles of drinking water.
All rickshaw and boat rides.
All tips except our guide and driver.
Does not include:
Any food or drinks other than mentioned above.
Any personal item.
Watch video of Sadarghat waterfront which you'll visit on Old Dhaka Tour
Important Notes on Old Dhaka Tour
Old Dhaka Tour is available to book any day of the week, year-round.
All the sites on Old Dhaka Tour will remain open on Friday, Saturday, Monday, Tuesday, and Wednesday. Ahsan Manzil will be closed on Thursday and will open after 03.00 pm on Friday. Lalbagh Fort will be closed on Sunday and will open after 02.00 pm on Monday. The rest of the sites will remain open seven days a week.
There will be a heavy rush of local tourists at Ahsan Manzil on Friday afternoon, being the weekend.
Ahsan Manzil and Lalbagh Fort will remain closed on any government holiday. You can have a look at them from outside though during these days.
The price of the Old Dhaka Tour mentioned in the price chart above is the starting price for the group tour, assuming you want to join with other people on the tour. This price will go down according to the price chart when more people join the tour later.
We will try to include other people on the tour once you book a group tour and refund you on cash BDT accordingly during the tour if we find other people to join the tour later. We take a maximum of 6 people on our tours.
The price for an exclusive private tour will be different than what is provided on the chart above. We'll not include anyone else on the tour in case of booking a private tour. Contact us for the price if you do not want to join with anyone else on the tour.
We'll require full payment in advance to book this tour. You can pay us online on a secured website with any Visa or MasterCard. Details of our online payment system could be found here: How to pay us.
Although you'll find many attractive street foods during the tour, they, in general, are prepared in a difficult hygiene condition. That is why we do not recommend tasting any street food during the tour. Do it at your own risk if you want to try some. However, the guide will be able to suggest any safe street food on a case-by-case basis.
The specialty of Bengali food is they are spicy, which is the main difference with Indian food. Khichuri (made of rice, lentil, and meat) and Biryani (rice and meat cooked specially with added spice) are two of the most famous foods – especially Biryani.
Options for vegetarian and vegan food on the tour are limited. Rice, lentil, and some fried vegetables are the options for vegans. Fish and egg curry can be added for vegetarians. Consider bringing some personal food with you if you are a vegan.
The itinerary of the Old Dhaka Tour is flexible, not fixed. We will adjust the itinerary during the tour based on traffic and the sights' opening hours on some days of the week.
Dhaka officially ranked as the second least livable city in the world. There could be incredible traffic in Dhaka sometimes when everything stops at every intersection. You could be stopped in the same place for a long time without even moving. Traffic is a little bit lighter on Friday and Saturday morning, being weekends (which is also changing in recent years).
Be prepared to walk a lot on the Old Dhaka Tour, and wear shoes accordingly.
A rickshaw ride will not be possible for a group of more than six people on the tour. We'll take visiting the sites by car in case of a group of more than six people.
Mosques, temples, and churches are places of worship, and visitors should be modestly dressed. Admission might be denied to men and women wearing short pants/skirts, sleeveless t-shirts/blouses. Bare shoulders and midriffs are not permitted and should be covered with shawls. You also need to remove shoes while entering one of these places. Wear shoes that are easy to take on and off.
Departures and Availability
| Departure Dates | Total Places | Available Places | Booking Status |
| --- | --- | --- | --- |
| Tue, Aug 16, 2022 | 6 | 3+ | Available |
FAQs on Old Dhaka Tour
Why book Old Dhaka Tour with Nijhoom Tours?
We are a multi-award-winning local tour operator in Bangladesh with vast local knowledge and the highest quality. We have 350+ reviews from our clients on TripAdvisor with an average rating of 5 on 5. We've been featured on International Travel News Magazine multiple times, published from California, USA. You'll have a great experience on our tours. By booking Old Dhaka Tour with us, you are also supporting a local small business instead of the big foreign corporations who are dominating the tourism industry with their large marketing budget.
Are you running Old Dhaka Tour during the pandemic?
What are the Covid-19 measures on Old Dhaka Tour?
Wearing masks, cleaning hands frequently, disinfecting the vehicles are some of the Covid-19 measures we have taken on our Old Dhaka Tour. Hand Rubs are always available on our vehicles for the guests. Check out here the latest Covid-19 travel rules in Bangladesh.