Bangladesh – a beautiful country with colourful, friendly, smiling people – a great country to visit.
Admittedly, not an easy country to travel independently so that is why we enlisted the expert help of Nijhoom Tours (Dhaka) to ensure we made the most of our 18 days. We chose the tour Best of Bangladesh as we didn't want to miss a thing. We were greeted at the airport by Hasan, the owner of the company with Liton (who would be our driver most of the time) and taken to our hotel to acclimatize.
Hasan would keep in constant contact with Arafat, our guide for the duration, to make sure the tour was running smoothly and that we were quite happy. In the morning Arafat picked us up for our tour of Old Dhaka visiting a Hindu temple, an Armenian church, Star Mosque, The Pink Palace, Lalbagh Fort, and a rickshaw ride through the mayhem of the narrow streets.
Dinghy ride over the busy Buriganga River. ©Photo Credit: Judith Colston-Jones
After lunch and a rest at the hotel, we piled our luggage into the van and set off for Sadarghat, the starting point for the Rocket, the famous paddle-wheel steamer which would later take us down the river but not before a sunset dinghy ride over the busy Buriganga River, between the dinghies ferrying commuters from one side to the other and feeling dwarfed next to the oil barges and ferries already setting off downriver.
We had a first-class cabin but the locals camped on open decks preparing for their night ahead. On the front deck, we watched the world go by or wandered around the decks until it was time for bed. We made a few stops on the way to Hularhut and I had my face glued to the window watching the activity on the quays and passengers embarking and disembarking.
People on the deck of Rocket Paddle Steamer. ©Photo Credit: Judith Colston-Jones
On arrival, we drove to Bagerhat and sampled the countryside – busy roadside communities with stalls and workplaces and you can see that just everything in Bangladesh is recycled and put to good use. (Bangladesh was the first country in the world to ban thinner plastic bags).
In Bagerhat we saw a Hindu temple and many ancient brick mosques, including the 60 Dome Mosque at the UNESCO World Heritage site of the medieval city of Khalifatabad. There was even a crocodile in a pond by the tomb of Khan Jahan Ali. And talking of ponds, everywhere in the country you see shrimp and fish ponds.
Making different things with coconut husks. ©Photo Credit: Judith Colston-Jones
We stopped to observe a man sorting a bowl of shrimps – the minuscule ones he would sell and the rest he put back in the pond. We were interested in the piles and piles of coconut husks so Arafat made a stop to show us all the different things they do with the husks from making a sturdy rope to feeding the fish.
We arrived at our hotel in the river port of Mongla and in the morning boarded the boat which would take us on our Sundarbans adventure, the world's largest mangrove swamp – a haven for wildlife. For three days Ali and his crew made us feel at home and cooked us wonderful meals.
A spotted deer inside Sundarbans. ©Photo Credit: Judith Colston-Jones
Each early morning and late afternoon we cruised the backwaters or creeks in a dinghy where Arafat and Ali, the bird experts, pointed out so many species – too many to mention. We walked through the mangroves on a boardwalk near the edge of the forest, strode through tall grass, and who knows if a tiger spotted us because when we arrived at the beautiful beach we saw recent pug marks of a tiger obviously tracking its favourite food, a spotted deer!
In the Sundarbans we also saw a river otter, a huge crocodile sunning on the sandbank, a river dolphin, many spotted deer, wild boar, a Bengal monitor, a mud crab, a monocled cobra, and macaques.
In a fishing village on the edge of Sundarbans. ©Photo Credit: Arafat Rasul
All too soon, we had to leave this beautiful national park and drive to the city of Khulna, where, in the evening, Arafat picked us up and took us to the home of a dear friend of his who cooked us several delicious dishes and even a few traditional desserts for us to try. A unique experience.
An early train took us north to Rajshahi where we arrived early afternoon and lunched at our hotel before visiting the lovely village of Puthia and it's once glorious palace and temples with intricate terracotta designs, surrounding a large picturesque lake.
Temples of Puthia with intricate terracotta designs. ©Photo Credit: Judith Colston-Jones
As at all the famous sites, the local visitors asked to have their photo taken with us and throughout the trip, we were the subject of numerous selfies. I felt like a film star! The next day we stopped at the medieval Kusumba Mosque quite beautifully made of black stone on the way to Bangladesh's other UNESCO World Heritage site, Paharpur Monastery, and on to Mahasthangarh, the oldest city in the country, to walk around the citadel and gardens.
On the way to Bogra, Arafat took us to one of many tribal villages and shared his export knowledge of the people. A lady was making popcorn on fire, dropping the rice into a dry pan containing sand over a hot fire and then expertly flicking the sand out with a brush to leave the popcorn. Along the road, we passed brick makers and we stopped so Arafat could explain the process to us.
A Hindu girl at Rajshahi. ©Photo Credit: Judith Colston-Jones
In the morning before driving back to Dhaka we took a boat up the Jamuna river to one of the many chars, which are large sandbank islands. The communities that live on them are vulnerable due to flooding and erosion but they make their living fishing and growing crops in the fertile sand.
After a night in Dhaka, we took another early train northeast to Srimangal where we stayed in a delightful Eco hut. After lunch and a rest, Mr. Lemon picked us up in his CNG (the three-wheelers that use Compressed Natural Gas, the normal mode of transport) to tour tea plantations, lemon, and pineapple plantations.
Eco Hut at Srimangal where we stayed. ©Photo Credit: Judith Colston-Jones
On the way, we visited different tribal people who had their own way of planting their produce and also weaved beautifully coloured blankets and shawls. In a roadside café, we sampled the famous 7-layer tea where it was actually invented.
In the morning, Mr. Lemon drove us to Lawachara National Park, a patch of semi-evergreen forest, where we followed trails with a guide in search of Hoolock gibbons, the only apes in Bangladesh but they, unfortunately, eluded us that morning although we did see Capped Leaf monkeys, a Himalayan squirrel and many species of birds.
A Tripura tribal lady at Srimangal. ©Photo Credit: Judith Colston-Jones
In the afternoon Arafat led us on a bike ride through the village roads, past the plantations, and tribal villages as we continued to admire the rolling scenery. In the morning we had to leave this lovely area and Arafat put us on the train back to Dhaka where we were met by Liton and Hasan, very eager to hear how we were enjoying the trip. Arafat took a direct train to Chittagong, in the south, and picked us up from the airport from the flight we had taken the following morning.
We turned out of the avenue from the airport and were greeted by the sight of hundreds of ships and tankers anchored on the river waiting for their turn in port. After eventually getting through this second city of Bangladesh, we arrived at the police post to present our permits as we were about to enter the Hill Tracts at Rangamati. At our hillside hotel, we had a great view over Katmai Lake.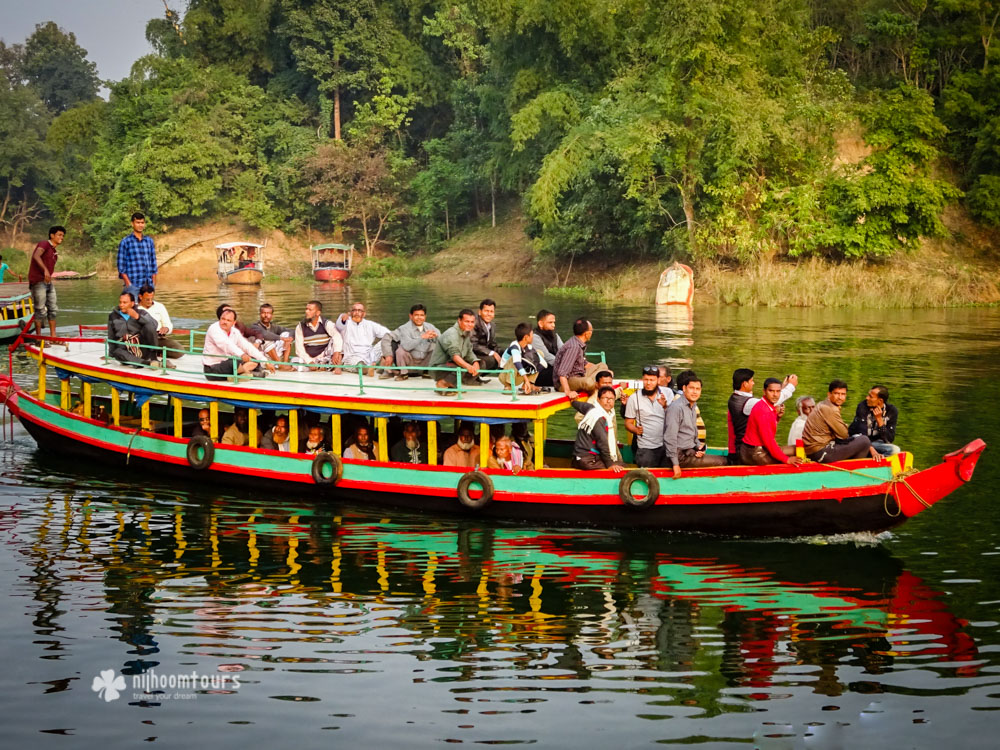 Local commuters at Kaptai Lake. ©Photo Credit: Judith Colston-Jones
After lunch, we took a boat from the Hanging Bridge and cruised across this peaceful lake (which was actually created by submerging several villages and displacing many people) dotted with fishing boats, until sunset.
In the morning we visited an interesting tribal museum/exhibition on the way to Bandarban. First, we had to take the ferry across the river Sangu, quite a sight watching trucks board and disembark until it was our turn. Most foot passengers opted for standing up on a dinghy to get across.
Crossing the river on ferry towards Bandarban. ©Photo Credit: Judith Colston-Jones
At Bandarban, we stayed in a lovely hillside resort in our own Eco hut/lodge again. In the afternoon we visited the Golden Temple (named for its beautiful golden stupa) and then drove to a hilltop where we watched the sunset. It is a very popular place, obviously a tradition there.
In the morning we drove to the top of another hill, Niligri, for more super views – where 'the heaven and earth meet'. Once back down, we visited another tribal village who were preparing for Christmas as the tribal people are mostly Christian or Buddhist. Three ethnic girls were painstakingly creating glitter by finely snipping silver-coloured wrapping paper – the things we take for granted!
At Golden Temple in Bandarban. ©Photo Credit: Arafat Rasul
We stopped at handicraft stalls, sampled fruit from the ladies at their stalls, and took photos of their elaborate ear decorations and at a cottage to watch a lady weaving a blanket. After lunch, we took another boat trip up the River Sangu to visit the tribal village of the Mro people (I think the only tribal name I can remember) living on a char. All the tribal villages we visited have their distinct building materials – some homes are built from mud and wattle, or bamboo, whilst some are brick and some made of corrugated iron.
Back in Bandarban, it was very busy as it was carnival time and we inched our way through the crowds and through the market and marveled at the wooden fairground attractions often turned by hand. The next day we had to check-out at the police post (posing for a selfie with the officer on duty) and drive to Chittagong for our flight back but…. We had time to visit the Ship Wrecking Yards first.
Elaborate ear decorations of a tribal lady in Bandarban. ©Photo Credit: Judith Colston-Jones
It is a controversial place as there are few safety measures resulting in a high injury rate so they are not too keen on people looking but Arafat found us a fisherman (in one of the many lifeboats used for fishing) who took us out past ships in varying degree of dismemberment. Honestly, nothing is wasted in this country!
On either side of the busy main road from there are businesses where they sell everything that comes off a ship. For instance, you will see a yard full of chains and anchors and a yard full of washing machines or cabin furniture or engines or whatever you can think of that ships have plenty of. If you admire or collect anything maritime then you must visit the shops where you can purchase ships wheels, barometers, gauges, clocks, you name it.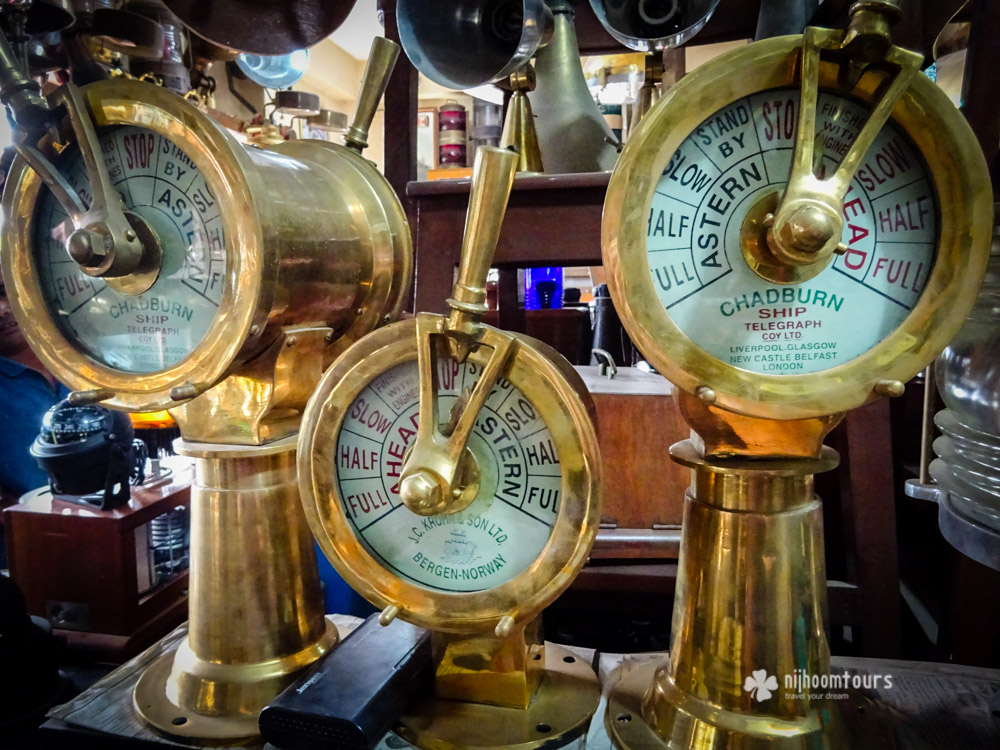 A shop at Chittagong ship breaking yard. ©Photo Credit: Judith Colston-Jones
Once more back in Dhaka, we had a final tour, this time with Masbah as Arafat still had to make his way back from Chittagong. Masbah took us to the ancient capital of Sonargon where we walked through a middle-class village (it's inhabitants being commuters to Dhaka) and Panam City which is a street of lovely old mansions over a hundred years old now in various states of disrepair.
The government wanted to restore them but the local people prefer them as they are and I can't blame them, the street does have its charm just as it is. We took another boat ride to a char where people were forced to live after the river consumed their homes but this village had become quite prosperous.
Decorated houses on a river island at Sonargaon. ©Photo Credit: Judith Colston-Jones
As it was Christmas Day and our last evening in Dhaka, Hasan invited us to eat with his staff before serving us tea at his office where he and Arafat presented us with unexpected gifts. The next evening after a specially arranged late checkout we were taken to the airport for our flight home.
It was a perfectly arranged tour and our only expenses were most meals (which came to less than 5 euros per person per meal with soft drinks). Nothing was too strenuous (unbeknownst to Arafat I have two replacement hips but I was grateful he was the perfect gentleman and didn't let me struggle with my trolley).
We were there in December, the beginning of their winter so it was a pleasant temperature during the day, not scorching hot which suited me fine. Bangladesh is a beautiful diverse country with so much to offer. As the posters say: Come before the tourists visit!!!
More Bangladesh Experiences
Have you ever visited Bangladesh? How fascinating have you found the country? Share your experience with fellow travelers in the comments, so that they can have real insight about the country, and more people get encouraged to visit the least traveled destination in the world.
Check out our 1-7 days Bangladesh tour packages and 8-28 days Bangladesh holiday packages to visit Bangladesh with comfort.