Our two week holiday in Bangladesh began with a flight from Guangzhou, China to Dhaka. I was pretty excited about returning to Bangladesh, after 46 years and had organized a tour guide through a company called Nijhoom Tours, which I found on TripAdvisor. I asked them what they could provide and together we made a two weeks package.
You see I've already lived in Dhaka; in the '70s. I was a volunteer smallpox vaccinator for WHO and lived with my family who was working on a New Zealand aid program teaching pilots how to fly. I am one of the last people to see smallpox on the planet.
Passengers on a Bangladeshi train. ©Photo Credit: Hilary Heath-Caldwell
I already knew that Dhaka was a chaotic place and to buy tickets for transport would be hours – valuable time, that I did not want to waste on my holiday. So all of the purchasing was done ahead of time by Hassan at Nijhoom Tours.
We traveled at the end of the monsoon. I like this time because the air is really clean, and the rivers are full and the paddy fields still hold lots of water. It is very picturesque. Actually, Bangladesh is a photo-heaven.
Bridge inside the Rajkandi Reserve Forest on our trail. ©Photo Credit: Hilary Heath-Caldwell
On arrival, we went and had lunch in Old Dhaka and then went on the little wooden boats on the river for a small paddle before boarding our 1929 paddle steamer to go on an overnight journey to Bagerhat.
We traveled First Class, Bangladesh style. We are both physically fit and used to camping. Bangladesh is a developing nation so nothing is what you expect, the beds are hard, things can look grubby and run down, and people stare at you. If you are a 5 Star tourist, this is not the place for you.
On the other hand, if you love color, other cultures, and have some travel endurance, then this might be your next destination.
Bangladeshi women in colorful saries. ©Photo Credit: Hilary Heath-Caldwell
We traveled on little boats, big boats, trains, trishaws, hiking, cycling, and a jeep from one side of the country to the other. We ate everything, and everywhere and never got sick. We used signs and laughs and smiles to communicate with the local people, and we got plenty back.
Bangladeshis made us feel like we were visiting royalty. They were so pleased that we had come to their country to visit them. And of course, by being there we were helping the local little communities by spreading our dollars.
We were in a country with 160 million Muslims. That's quite a few and I have to say I felt safe the entire time. Bangladeshis are people going about their lives eking out a living, and feeling very optimistic about their future.
Trekking inside the Rajkandi Reserve Forest in Srimangal. ©Photo Credit: Hilary Heath-Caldwell
Now, remember I'd lived there in the 1970s and things had changed. This is a quick list of the changes…
Women are loving wearing brightly colored saris.
There is not a strong prevalence of skin disease among children.
There were a few beggars.
The pie dogs look healthy.
People are optimistic.
People work hard.
There is plenty of healthy food and everyone appeared well-fed.
Our tour leader Arafat was conscious of litter in the National Parks and collected it up.
It was OK for crossdressers to collect funds on one section of the train route.
The traffic in Dhaka is worse, so get out into the country.
Book a tour leader AND GO EXPLORE.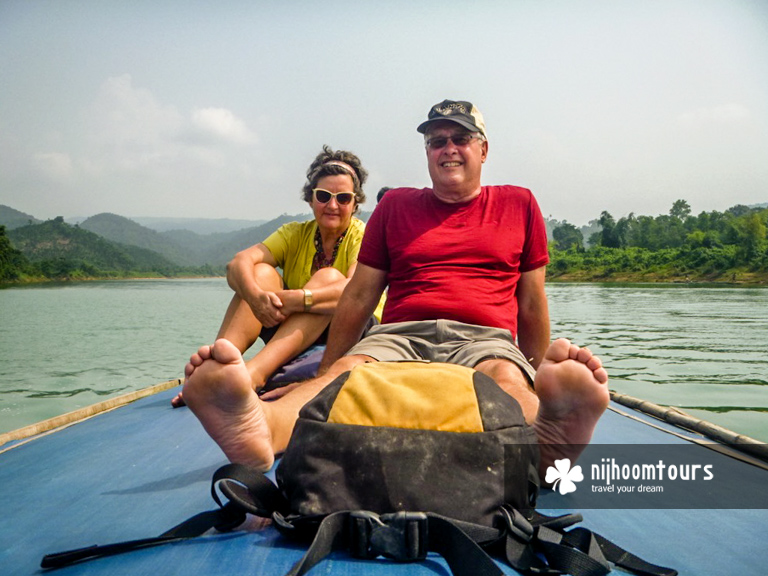 Boat ride on green-water canal Lalakhal in Sylhet. ©Photo Credit: Arafat Rasul
More Bangladesh Experiences
Have you ever visited Bangladesh? How fascinating have you found the country? Share your experience with fellow travelers in comments, so that they can have first-hand insight about the country, and more people get encouraged to visit this one of the least traveled destinations in the world.
Check out our 1-7 days Bangladesh tour packages and 8-28 days Bangladesh holiday packages to visit Bangladesh with comfort.