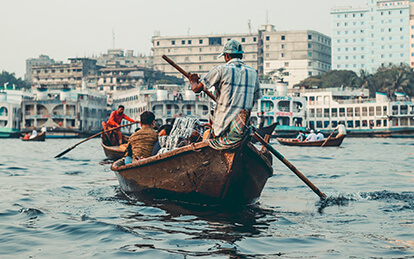 Tour Duration:
Full Day Tour
Location:
New & Old Dhaka
Tour Attractions:
New & Old Dhaka City Sightseeing Tour Package
Best Time To Go:
October-March
Tour Available:
Year Round / Any Day
Next Scheduled Tour:
Please Check Bellow
Price:
From
$70* US
per person
Discover the life and sights of megacity Dhaka in our unforgettable Dhaka City tour package covering the highlights of both the New & Old Dhaka attractions. Join us for an incredible Dhaka sightseeing tour. Our package includes the city's top attractions: outside the National Assembly Building, Lalbagh Fort, Ahsan Manzil (Pink Palace), Star Mosque, Armenian Church, and more. Have an Old Dhaka Tour by walking & riding a paddle rickshaw in Old Dhaka's narrow backstreets. Experience the bustling Sadarghat waterfront on a rowing boat with proper safety. The first Dhaka City day tour you should book—a must for every traveler seeking an authentic experience of the megacity.
This tour will show you most of New and Old Dhaka's famous tourist sights and attractions, as suggested in popular guidebooks like Bradt and LonelyPlanet, and beyond their recommendations! If you are visiting Bangladesh for the first time, this is the first tour you should book to experience Dhaka city's life, sights, and activities. Dhaka City Tour is our most popular day tour package covering a large number of sights and activities to provide you with an authentic experience of the hectic Dhaka city, especially Old Dhaka, and taste some of its authentic food that your hotel's restaurant will not provide!
Our Dhaka City Tour package can be booked at any time of the year. You can join an already scheduled tour with the others and reduce costs, book a group tour on your preferred date and keep it open for others to join and reduce your price, or book a private tour just for you. Contact us now for a detailed itinerary of the tour. See below how our Dhaka City Tour differs from the others and why you should book with us.
Tour Highlights
Visit the key tourist attractions of both New and Old Dhaka and learn about the history of the city.
Walk on the bustling streets of Dhaka and discover life in the megacity of 22 million population, one of the world's most highly densely populated cities.
Have an Old Dhaka Tour by walking and riding a paddle rickshaw in the narrow backstreets of Old Dhaka, which cars can't reach.
Experience Dhaka's bustling waterfront by riding on a rowing boat on the Buriganga River with proper safety.
Taste some authentic Bangladeshi food at a local restaurant that you'll never find at your hotel.
Take unlimited photos of the friendly locals who willingly pose for your photos and never ask for money.
A map of the full-day Dhaka sightseeing tour with Nijhoom Tours to visit the highlights of Dhaka City.
Itinerary of Dhaka City Tour
Contact us for the Detailed Itinerary
Price of Dhaka City Tour
1 Person Gruop: $120 US Per Person
2 People Group: $95 US Per Person
3 People Group: $85 US Per Person
4 People Group: $70 US Per Person
Private Tour: Please contact us for the price
Inclusions and Exclusions
Tour includes:
An air-conditioned car and driver.
An English-speaking guide.
All entrance tickets.
Lunch at a local restaurant with authentic Bangladeshi food.
Drinking water.
All rickshaws and boat rides.
All tips except our guide and driver.
Does not include:
Any food or drinks other than those mentioned above.
Any personal item.
Departures and Availability
| Departure Dates | Total Places | Available Places | Booking Status |
| --- | --- | --- | --- |
| Mon, Nov 27, 2023 | 6 | 3+ | Available |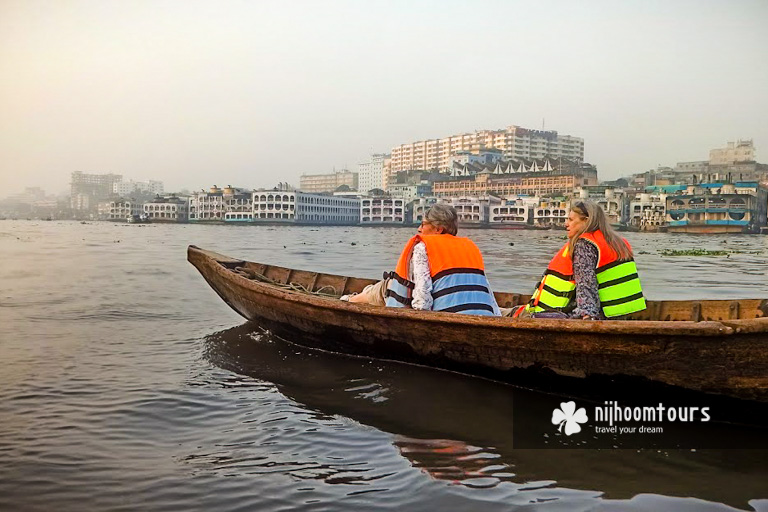 Boat ride at River Buriganga with proper safety on a Dhaka City Tour with Nijhoom Tours.
Why Book Dhaka City Tour With Nijhoom
How is your Dhaka City Tour different than the others?
★ Safety: Customer safety is the priority of our tours. We'll use life jackets during boat rides for the safety of our customers. We'll never overload the boat on the river to save a few bucks. We'll provide a safe driver who will drive you safely in a country where everyone drives like crazy. Our cars will have seatbelts, which almost no one uses in Bangladesh.
★ Comfortable Car: We'll provide a comfortable, decent, clean car with air-conditioning to navigate the hectic Dhaka traffic for long hours. We'll not squeeze you into the middle seats of the car to save money. Everyone will get a comfortable window seat.
★ Food Hygiene: We'll be cautious about food safety on the tour so that you don't become sick from food poisoning, which is common in Bangladesh. We'll take you to restaurants that maintain good hygiene.
★ Numerous Positive Reviews: We have numerous positive reviews of our Dhaka City Tour on TripAdvisor from our past clients who've had a pleasant and memorable experience with us. You'll have a great experience on our tour too!
★ Knowledgeable Guide: We'll provide a knowledgeable guide on our Dhaka City Tour, who will be able to provide you with the history and other interesting information about the sites on the tour.
★ On-Time Pick-up: We'll not be late to pick you up and give excuses for traffic.
★ No Nuicense: We will not annoy you by taking a few dozen selfies with you on the tour and posting them directly on social media.
Why book Dhaka City Tour with Nijhoom Tours?
★ Great Experience: You'll have a great experience on our Dhaka City Tour, as we are a multi-award-winning local tour operator in Bangladesh with vast local knowledge and the highest quality. We have the highest number of reviews in Bangladesh on TripAdvisor (375+ reviews) from our clients with an average rating of 5 on 5. We've been featured in the International Travel News Magazine multiple times, published in California, USA.
★ Support a Local Business: By directly booking with us instead of the giant foreign online platforms like Viator, ToursByLocals, GetYourGuide, TourRadar, Expedia, Kayak, or many others like them dominating the industry with huge marketing budgets, that only sell other local companies' tours and charge them a hefty commission, you are also supporting a local small business instead of a big foreign corporation.
★ Scheduled Tours: We have scheduled tours year-round. You can join any of them and reduce your cost.
★ Fast Communication: We reply fast. Communication with us will be a breeze.
★ Smooth Payment: Making payments with us will be swift for our Dhaka City Tour. We offer multiple payment options with credit cards and bank transfers. You can pay us in major local currencies online and avoid paying any charges for making cross-border payments for our tours.
Watch a video of Sadarghat waterfront, which you'll visit on this tour
Important Notes
Dhaka City Tour is available to book year-round, any day of the week.
All the sites on this Dhaka sightseeing tour will remain open on Friday, Saturday, Monday, Tuesday, and Wednesday. Ahsan Manzil will be closed on Thursday and open after 03.00 pm on Friday. Lalbagh Fort will be closed on Sunday and open after 02.00 pm on Monday. The rest of the sites will remain open seven days a week.
There will be a heavy rush of local tourists at Ahsan Manzil on Friday afternoon, being the weekend.
Ahsan Manzil and Lalbagh Fort will remain closed on public holidays. You can look at them from the outside, though, during these days.
Dhaka was officially ranked as the second least livable city in the world. There could be incredible traffic in Dhaka sometimes when everything stops at every intersection. You could be stopped in the same place for a long time without even moving. Traffic is lighter on Friday and Saturday mornings, being weekends (which is also changing in recent years).
Be prepared to walk a lot on this tour, and wear shoes accordingly. You need to remove shoes to enter the mosques and temples on the tour.
Decorated interior wall of Star Mosque on our New & Old Dhaka Sightseeing Tour. © Photo Credit: Tina Manley.
Share This
Support a local business in Bangladesh by sharing this with friends by clicking any button below. Let them know about amazing Bangladesh, which is one of the least traveled destinations in the world. Share now!