Dhaka is a megacity and the capital city of Bangladesh. About 16 million people live in this city which makes it one of the most densely populated cities in the world. Dhaka is full of crowds, traffic, and chaos. For a Western traveler, this will be overwhelming at the first sight. But after the first impression, if you can explore the treasures the city has to offer, you'll feel very intimidated. Here is a list of the best things to do in Dhaka city for any foreign tourist who does not have a similar culture at their home.
Best things to do in Dhaka city
Making a list of the best things to do in a city on a specific order is difficult. Still, we put the afford to make a list of the best things to do in Dhaka city, which might raise some arguments. Please do share your opinion and suggestions about the list in the comments.
Riding a cycle-rickshaw at Old Dhaka
1. Ride a rickshaw
Dhaka is the city of Rickshaws. Thousands of rickshaws roam around the streets of Dhaka. Although rickshaw is banned from the main streets, they are the king on any small street. Rickshaw is the most popular transport to travel to Dhaka. They are also very cheap. Don't miss a chance to ride a rickshaw on any street of Dhaka. Riding a rickshaw comes as number one on our list of the best things to do in Dhaka city.
Boat ride at river Buriganga
2. Boat ride at Buriganga
Buriganga is a live and vibrant river located in the southern part of Dhaka city called Old Dhaka. This river defines the end of the city. Buriganga river is as busy as the streets of Dhaka, full of large passenger boats, cargo boats, small engine boats, and tiny little wooden boats which cross thousand of people every day to the city and back. It would be an amazing experience to have a boat ride on the river Buriganga while visiting Dhaka. The boat ride at Buriganga comes as number two on our list of the best things to do in Dhaka city.
Dhaka's authentic food – Biriani
3. Taste Biriyani
Biriyani is a famous food of Dhaka. It is very popular among the people of old Dhaka. They eat Biriyani in their breakfast, lunch, dinner, and even in their dreams! Biriyani arrived in Dhaka with the Mughals and has become a part of the city.
Biriyani is made with the finest quality rice, meat, and spices. Meat and rice are cooked separately before being layered and cooked together. If you visit Dhaka, Biriyani is the most authentic food to taste, especially in any restaurant at Old Dhaka. "Hajir Biriani" and "Nanna Biriyani" are two of the most famous Biriyani shop in Old Dhaka. Tasting Biriyani comes as number three on our list of the best things to do in Dhaka city.
Eating like a local with hands
4. Eat like a local
While at Dhaka, go for lunch or dinner at an authentic local restaurant and eat like a local to have an authentic experience of the city. Plain rice, different curries, and lentil is the most popular and authentic food in Dhaka. Also, people eat here with their hands, especially the right hand. Taste plain rice with different curries of meat and fish and some liquid lentil, and eat with your right hand. That will make you a local. Eating like a local comes at number four on our list of the best things to do in Dhaka city.
A narrow street of Old Dhaka
5. Explore back-streets of Old Dhaka
Besides visiting the best tourist attractions of Dhaka city, explore the backstreets of Old Dhaka. Old Dhaka has many interesting streets which are very rewarding to explore, especially if you like photography. Shakhari Bazar (Hindu Street), Islampur Road, Bongshal Road, Chawk Bazar, Begum Bazar are some of the most interesting streets in Old Dhaka to explore. Exploring the backstreets of Dhaka comes as number five on our list of the best things to do in Dhaka city.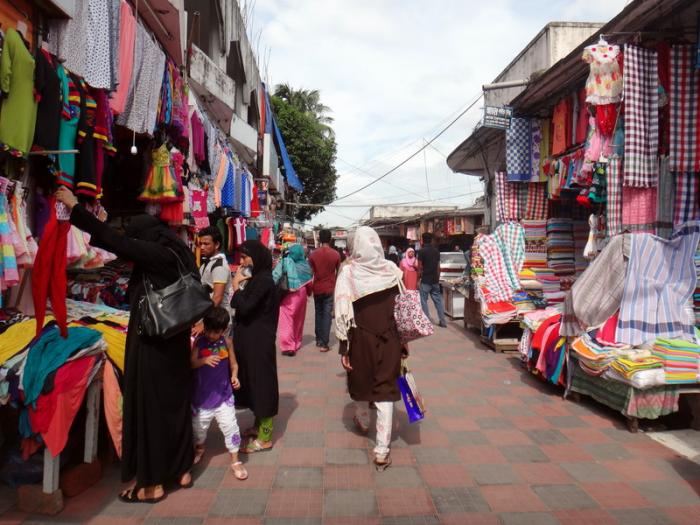 Dhaka's New Market
6. Shop local garments
Bangladesh is one of the top producers of the garments in the whole world. Here are some places, you can buy the best quality tea-shirts, shirts, and jeans at a very cheap price. Shop as much as you can while you are in Dhaka. New Market is the best place to go for this kind of shopping. Shopping local garments come at number six on our list of the best things to do in Dhaka city.
Tea is available to sip everywhere
7. Drink tea on a street tea-stall
People in Bangladesh generally love to drink tea. Dhaka's street tea stalls are very popular among the locals for a quick snack and drinking tea. Drink tea on a street tea stall anywhere in Dhaka while visiting the city to feel like a local. They will be the cup for you with boiled water, so less likely to become sick. Drinking tea on a street tea stall comes as number seven on our list of the best things to do in Dhaka city.
What is the best experience you had in Dhaka? Share with us in the comments.
Check out our Old Dhaka Tour to visit the key attractions of New and Old Dhaka. The full-day tour starts from $55* US with an air-conditioned car, English speaking guide, all entrance tickets, lunch on a local restaurant with authentic local food, a rickshaw, and a boat ride.
Check out our 1-7 days Bangladesh tour packages and 8-28 days Bangladesh holiday packages to visit Bangladesh with comfort.