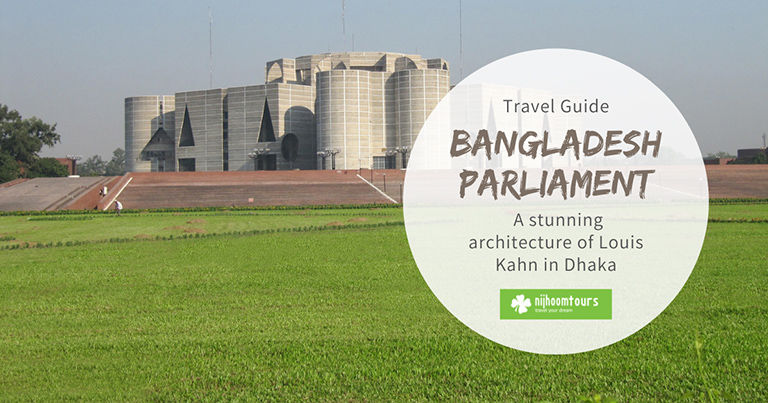 Jatiyo Sangsad Bhaban (the Bengali name for the building), or Bangladesh National Parliament is one of the must-sees of Bangladesh, an architectural masterpiece and a real accomplishment for the country. It was designed by world renowned American architect and Yale University Professor Louis I. Kahn.
Originally commissioned by the Pakistanis when Bangladesh was known as East Pakistan after Partition of the Indian Sub-Continent, was meant to serve as the second seat of the national parliament. Construction of Bangladesh National Parliament started in 1964 but halted due to the Bangladeshi War of independence, and finally completed in 1982.
Designer of Bangladesh National Parliament
If you are coming to Dhaka, watch the documentary "My Architect" about the son of Louis Kahn discovering his father through this work. The Bangladesh National Parliament at Sher-e-Bangla Nagar was his crowning achievement. It will enrich your experience immensely, because you will come with a much more full understanding of Louis Kahn, his eccentric life, and his many other buildings around the rest of the world.
Louis Kahn was a pioneer of combining the old and new, of creating bold shapes and views – famous circular windows and doors, and often, when you look to the sky, he's created shapes in the buildings through which light pours through in a magnificent fashion.
Characteristics of Bangladesh National Parliament
The physical and architectural design of the building gives off a strong Modernist vibe. The interiors apparently resembles a modern day cathedral intersected with pure geometrical elements. Geometrical windows allow natural light in the form of circles, triangles and rectangles, its very strong and simplistic.
The use of concrete and its very visible role as the dominant building material is by no way an accident, indeed it was very deliberate and apparently typical of Kahn's work rather than seeing it as a half completed building like the Lalbagh Fort. Utilizing light and space to create a 'poetic entity' are the architect's own words which formed the basis of his many works and building philosophy.
Like the Taj Mahal, it looks amazing seen from afar, but is much more than the main building – the entire complex and grounds are beautiful. The complex is divided into three parts: The Main Plaza, The South Plaza, and The Presidential Plaza. The main building is at the center of the complex. The outer parts of the complex include the MP hostel. An intricately designed lake surrounds the main building.
On the North of complex, across the Lake Road, has beautiful small artificial lake called Crescent Lake, and there is a monument of late president Ziaur Rahman. The two complexes together form a major attraction for tourists in Dhaka.
The complexes are popular among joggers and skaters of Dhaka. The official Prime Minister's Residence is on the North-West corner of the Mirpur Road and Lake Road crossing and is a five minute walk from the Bangladesh National Parliament. The area is one of the higher security zones of Dhaka.
This building is bounded by four major streets. The Complex can be accessed using any of the four roads surrounding it, however, the Manik Mia Avenue and Lake Road are the easiest approaches. The Lake Road is more scenic than from Manik Mia Avenue at south.
Although not a relic of historical age, it is considered a masterpiece of modern architecture. This makes a great tourist site to visit when in Dhaka. But sad to say, this superb piece of architectural work often found unseen and overlooked.
Have you ever visited the Parliament Building of Bangladesh? How amazing have you found it? Share your experience here with us in comments!
You might also be interested in reading 13 Best places to visit in Bangladesh you can't miss and 101 Things to know about traveling Bangladesh.
Check out our Old Dhaka Tour to visit the key attractions of Dhaka city, including the parliament building. Full day tour starts from $52 with air-conditioned car, English speaking guide, all site entrance tickets, and lunch on a local restaurant with authentic local food. Check out our National Assembly Tour for a special tour inside the parliament building.
Check out our 01-07 days tours and excursions in Bangladesh and 08-27 days holiday packages in Bangladesh to travel Bangladesh with comfort.
Share with friends
Let the world know about this amazing article you've found!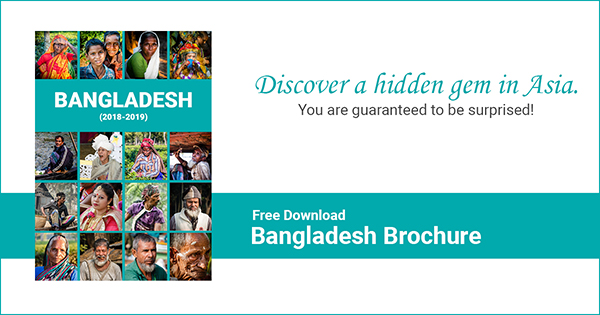 Free download our Bangladesh brochure for 2018-2019, and discover a hidden gem in Asia. You are guaranteed to be surprised! Download now!
Popular Holiday Packages in Bangladesh:
08 DAYS   $785 USD*
---
10-17 Sep, 01-08 Oct, 2018
---
16-23 Nov, 10-17 Dec, 2018
---
07-14 Jan, 11-18 Feb, 2019
---
11-18 Mar, 22-29 Apr, 2019
---
06-13 May, 02-09 Sep, 2019
---
11 DAYS   $1,070 USD*
---
08-18 Sep, 16-26 Oct, 2017
---
01-11 Jan, 09-19 Apr, 2018
---
17-27 Sep, 2018
---
21-31 Jan, 08-18 Apr, 2019
---
16-26 Sep, 2019
---
14 DAYS   $1,495 USD*
---
06-19 Oct, 15-28 Dec, 2017
---
05-18 Mar, 16-29 Oct, 2018
---
18-31 Dec, 2018
---
18-31 Mar, 15-28 Oct, 2019
---
17-30 Dec, 2019
---
18 DAYS   $2,080 USD*
---
10-27 Nov, 2017
---
06-23 Feb, 06-23 Nov, 2018
---
05-22 Feb, 05-22 Nov, 2019
---
23 DAYS   $2,615 USD*
---
02-24 Mar, 2018
---
04-26 Mar, 03-25 Dec, 2019
---
27 DAYS   $3,100 USD*
---
03-29 Jan, 03-29 Oct, 2018
---
02-28 Jan, 02-28 Oct, 2019
---
The following two tabs change content below.
Raw Hasan ( র. হাসান )
Founder & CEO
at
Nijhoom Tours
I am the Founder and CEO of Nijhoom Tours, an
award winning tour operator in Bangladesh
specialized in organizing inbound tours for the foreigners, specially the western tourists. While not traveling or busy with the desk work, I love to write about traveling Bangladesh, one of the least traveled destinations in the world about which not much correct information is available anywhere. Connect with me in Facebook, Twitter, or LinkedIn for updates and help about visiting Bangladesh.
Latest posts by Raw Hasan ( র. হাসান ) (see all)