Sonargaon, 27 km east of Dhaka, was a mint capital of the Muslim rulers of Eastern Bengal from 1296 to 1608. It was the center of power and commerce of this region during that time. Goaldi Mosque is located in a village named Goaldi at Sonargaon, just half a mile northeast of the abandoned city of wealthy Hindu merchants – Panam Nagar. It is one of the few remainings of the old capital Sonargaon from the Sultanate period, unknown to the regular tourists.
The Making of Goaldi Mosque
Goaldi Mosque was built by Hizabar Akbar Khan during the reign of Sultan Hussain Shah, in 1519. He was probably a high official under Sultan Hussain Shah. Building this mosque in the outskirt of Sonargaon township proves that it was a populous area on that time.
© Front view of Goaldi Mosque. Photo Credit: Raw Hasan
Probably there was an office or residence of a high official of Sultan Hussain Shah in Goaldi. It is said that Hussain Shah set his camp near Goaldi village and stayed here for a long time during his campaign again Assam and Tripura, located just in the other side of Meghna river.
This elegant little pre-Mughal mosque – the oldest in the area – was in utter ruins when declared 'protected' by the Department of archaeology. It was literally hidden behind bushes when it was discovered, and subsequently was carefully restored in 1975.
© Corner view of Goaldi Mosque. Photo Credit: Raw Hasan
The Architecture of Goaldi Mosque
Goaldi Mosque is a singled-domed mosque. This beautiful mosque is more elegant and ornate in comparison to the earlier Sultanate mosques at Bagerhat. Provided with three arched entrances to the edifice on the east and one each on the north and the south (now bricked up) the base of the dome rests on squinch arches at the four corners which support the dome on pendentives.
It is a graceful little mosque measuring 16 sq feet with three richly carved mihrabs. Of the three mihrabs, the central one is beautifully embellished with carved floral and arabesque relief on black stone, while the side ones are decorated similarly but in brick and fine terracotta work. Below that the spandrels of the multi-cusped arch of the mihrab are decorated within a rectangular frame.
© Terracotta ornamentation at the entrance of Goaldi Mosque. Photo Credit: Raw Hasan
The engrailed arched recess is carried on stunted octagonal pillars faceted at stages. Four round banded turrets at the outer corners rise up to the curvilinear cornice. Miniature arches with terracotta designs are placed below the cornice and above the entrance arches.
Round corner turrets that rise up to the cornice and have two moldings at the center and triple moldings at the base, just above which are more terracotta arches.
© A round corner turret at Goaldi Mosque. Photo Credit: Raw Hasan
How to visit Goaldi Mosque
To visit Goaldi Mosque, take the road west from the 2nd gate of the Folk Arts Museum, go half a mile until Goaldi Bazar More and turn right. It is better if you take a rickshaw or an auto-rickshaw. It will take you directly to the mosque.
Have you ever visited Goaldi Mosque? How fascinating you've found it? Share your thoughts and experience with us in comments. Take our Old Capital Tour to visit this mosque and more on a day tour from Dhaka.
Reference:
Discover the monuments of Bangladesh, by Dr. Nazimuddin Ahmed
Share with friends
Let the world know about this amazing article you've found!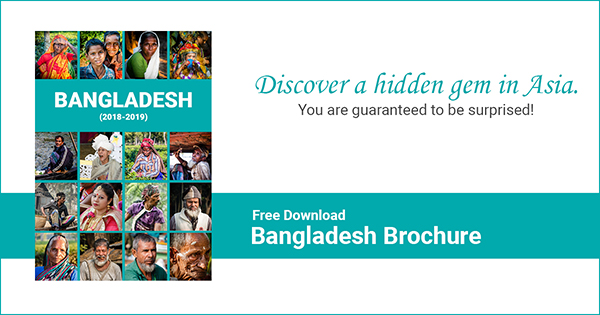 Free download our Bangladesh brochure for 2018-2019, and discover a hidden gem in Asia. You are guaranteed to be surprised! Download now!
Popular Holiday Packages in Bangladesh:
08 DAYS   $785 USD*
---
22-29 Sep, 02-09 Oct, 2017
---
01-08 Dec, 2017
---
15-22 Jan, 03-10 Feb, 2018
---
19-26 Mar, 23-30 Apr, 2018
---
04-11 May, 10-17 Sep, 2018
---
11 DAYS   $1,070 USD*
---
08-18 Sep, 16-26 Oct, 2017
---
01-11 Jan, 09-19 Apr, 2018
---
17-27 Sep, 2018
---
21-31 Jan, 08-18 Apr, 2019
---
16-26 Sep, 2019
---
14 DAYS   $1,495 USD*
---
06-19 Oct, 15-28 Dec, 2017
---
05-18 Mar, 16-29 Oct, 2018
---
18-31 Dec, 2018
---
18-31 Mar, 15-28 Oct, 2019
---
17-30 Dec, 2019
---
18 DAYS   $2,080 USD*
---
10-27 Nov, 2017
---
06-23 Feb, 06-23 Nov, 2018
---
05-22 Feb, 05-22 Nov, 2019
---
23 DAYS   $2,615 USD*
---
08-30 Dec, 2017
---
02-24 Mar, 04-26 Dec, 2018
---
04-26 Mar, 03-25 Dec, 2019
---
27 DAYS   $3,100 USD*
---
03-29 Jan, 03-29 Oct, 2018
---
02-28 Jan, 02-28 Oct, 2019
---
The following two tabs change content below.
Raw Hasan ( র. হাসান )
Founder & CEO
at
Nijhoom Tours
I am the Founder and CEO of Nijhoom Tours, an
award winning tour operator in Bangladesh
specialized in organizing inbound tours for the foreigners, specially the western tourists. While not traveling or busy with the desk work, I love to write about traveling Bangladesh, one of the least traveled destinations in the world about which not much correct information is available anywhere. Connect with me in Facebook, Twitter, or LinkedIn for updates and help about visiting Bangladesh.
Latest posts by Raw Hasan ( র. হাসান ) (see all)