The schedule of Rocket paddle steamer in Bangladesh, different classes on them, the ticket price for different classes, how to get their advance tickets, contact details of the ticket issuing authority, and many other details of them with lots of photos.
Rocket is the generic name that is given to special Paddle Steamer from the colonial period that runs daily between Dhaka and Khulna (nowadays, till Morelganj), stopping at Chandpur, Barisal, Mongla, and many other lesser ports in the route. With white wooden cabins, beds in crisp white sheets, and a range of western and local dishes served on fine china, the tranquil paddle steamboat voyage through spectacular rivers leaves a genteel memory in the minds of millions.
If you're heading to the Sundarbans, Kolkata, or the historic Muslim city from the 15th century – Bagerhat, traveling by a Paddle Steamer is a great way to go for a major part of the journey. You can enjoy the true riverine beauty of Bangladesh by traveling on Paddle Steamer. Many top travel guides, including Lonely Planet, recommend a Paddle Steamer trip while in Bangladesh, and they have been featured on the BBC, CNN, and other news services.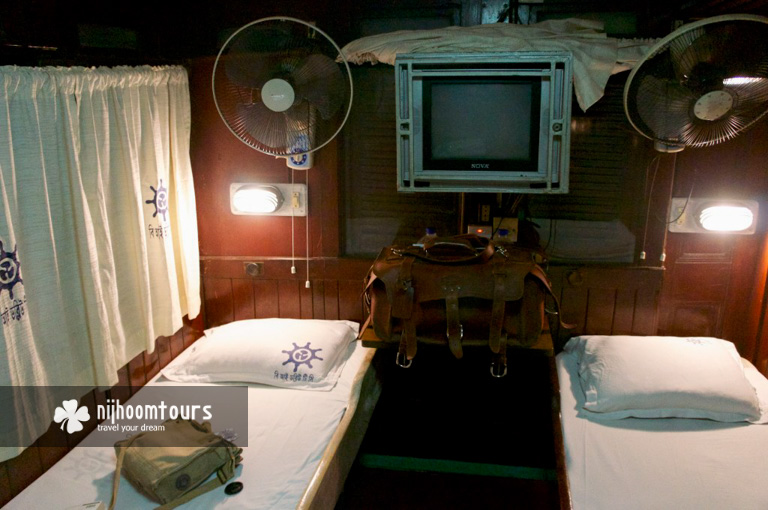 A first-class cabin of Rocket paddle steamer. © Photo Credit: Jim Trumm.
Rocket Paddle Steamer Classes
First Class: Rocket Paddle Steamers have two levels. The front side of the upper level is reserved for 1st class. There are 12 cabins here in large vessels, and 8 in the smaller ones. Half of them contain two single beds in the cabin, with a washbasin, and a fan. The other half is with a single bed with the same facilities. In the middle space between two cabins, there is a sofa for sitting, and a table for dining. The real highlight of 1st class, though, is the outside deck at the front of the boat, where you can sit while stewards serve tea and biscuits, and the river Meghna flows by.
Second Class: Located on the upper level at the back of the vessels. The cabins are smaller than those in 1st class and have no wash-basin and no bed linen. There are small fans, though, and some chairs outside the door for scenery-gazing. If you are staying back here, it might be possible for you to dine in 1st class, for a fee, naturally. There are 10 cabins in this section in big vessels, and 6 in the smaller vessels.
Inter and Deck Classes: Similar to those in the traditional passenger ferries. Foreigners are highly unlikely to be sold tickets in either of these classes. You have to bring your sleeping bag to travel in these classes.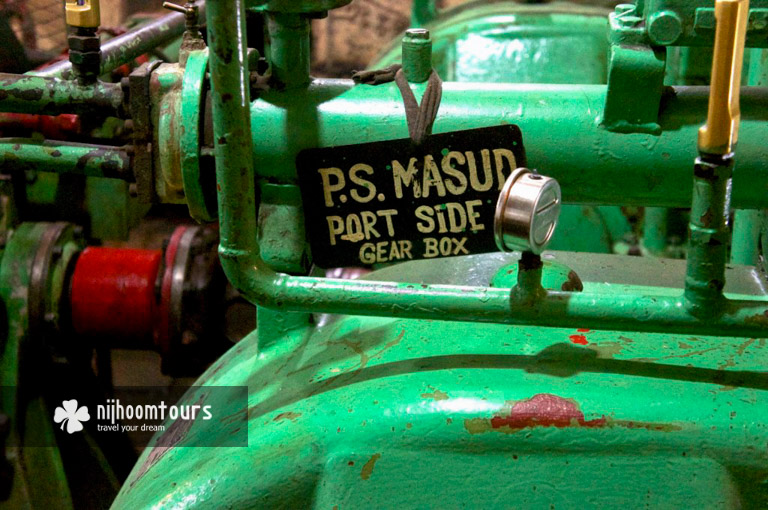 An engine of century-old Rocket Paddle Steamer. © Photo Credit: Jim Trumm.
Rocket Paddle Steamer in Bangladesh Schedule
Rocket Paddle Steamer Schedule from Dhaka: They leave every day at 06.30 pm except Fridays, reach Hularhat at 10.30 am and Morelganj at 02.30 pm the next day.
Rocket Paddle Steamer Schedule from Morelganj: They leave at 08.30 am every day except Sundays, reach Hularhat and leave at 01.00 pm, and reach Dhaka at 5.00 am the next day.
Important Notes: 2-5 hours delay reaching the destinations for the Rocket paddle steamers is common. They can be stuck in the middle of the river for a long time during dense fog in winter or if there is any problem with their old engines.
A side view of Paddle Steamer (Rocket) in Bangladesh. © Photo Credit: Julie Spencer.
Ticket price of Paddle Steamer (Rocket)
First class double-cabin ticket for Dhaka-Barishal is 2,310 BDT, Dhaka-Hularhat 3,124 BDT, and Dhaka-Morelganj 3,740 BDT.
Second class double-cabin ticket for Dhaka-Barishal is 1,260 BDT, Dhaka-hularhat 1,710 BDT, and Dhaka-Morelganj 2,100 BDT.
Advance ticket of Paddle Steamer (Rocket)
Because of heavy demand, it is almost impossible to get a cabin ticket if you just show up at departure time in the Paddle Steamer. You need to book at least 1 month before your journey to get a cabin ticket. The authority will issue the ticket just before 2 days of the journey. You need to keep in touch with them regularly until they issue the ticket.
Bangladesh Inland Water Transport Corporation (BIWTC)
5 Dilkusha, Dhaka.
Phone: +88-02-9559779
Office hour: Sunday – Thursday: 9.00 am – 5.00 pm
No online or e-mail booking facility.
Check out our 1-7 days Bangladesh tour packages and 8-28 days Bangladesh holiday packages to visit Bangladesh with comfort.