Tour Duration:
04 Days, 03 Nights
Location:
Puthia, Gauda, Kusumba, Paharpur, Mahasthangarh, Sariakandi
Tour Attractions:
Best archaeological sites of Rajshahi
Best time to go:
Mid May – August
Tour Available:
Round the year except Saturday
Next Scheduled Tour:
N/A
Rajshahi division is the north-western part of Bangladesh which contains the most impressive archaeological sites of the country. Being the center of power of the whole greater Bengal in the ancient and medieval period, Rajshahi division is full of many beautiful mosques, temples, palaces, and ruins from different period. In this tour we will take you to explore the best archaeological sites of Rajshahi division on the shortest possible time.
We'll start by visiting the temple village Puthia where the highest number of historical temples are located. After that you'll visit the ancient Bengal capital Gauda located on the Bangladesh-India border full of beautiful medieval period mosques, Kusumba Mosque, a beautiful stone-built mosque from medieval period, Somapura Mahavihara – the second largest monastery south of Himalayas from 8th century and a UNESCO world heritage site, and Mahasthangarh – the remaining of the oldest known city of Bangladesh from 3rd century BC.
Also we will take you to experience the life on the chars (river islands) of mighty river Jamuna at Sariakandi. Here you can see how people live struggling against the nature because of continuous landslides by the river. This is the tour you need to do to experience the best of what the Rajshahi division has to offer.
Itinerary of Exploring Rajshahi
Day-01: Dhaka – Rajshahi by Train, and Puthia
Pick up from hotel at 05.30 H, transfer to Airport Railway Station, and take 769 Dhumketue Express at 06.15 H to Rajshahi. Arrive Rajshahi around 11.50 H, transfer to hotel.
After check-in, freshen up, and lunch, drive to Puthia (22 km, 30 mins) and visit its beautiful temples and palaces. Largest number of historical temples of Bangladesh are located in Puthia. Back to Rajshahi in the evening.
Overnight at Rajshahi (Parjatan Hotel / Hotel Nice).
Day-02: Ancient Bengal Capital Gauda
Drive to Sonamasjid (90 km, 03 hrs) and visit some of the best archaeological sights of Gauda, which was the ancient capital of greater Bengal in the medieval period with a rich history. This once rich city is located in Bangladesh-India border and split between two countries. You will visit it's beautiful mosques, palace, and shrine the whole day.
If the tour is in mango season (May-July), we will take you to visit some mango orchards and bazaars, and you'll get a chance to taste some of the best quality mango in the world. This area is called the mango capital of Bangladesh where eighty percent of country's mangoes are grown.
Return to Rajshahi in the evening.
Overnight at Rajshahi (Parjatan Hotel / Hotel Nice).
Day-03: Kusumba Mosque, Somapura Mahavihara, and Mahasthangarh
After breakfast, drive to Kusumba (50 km, 1.5 hrs). Visit Kusumba Mosque, a beautiful stone-built mosque from medieval period. This is one of sixth remaining stone-built mosque from the Sultanate period in Bengal, which is very well preserved.
Drive to Paharpur (60 km, 1.5 hrs) and visit Somapura Mahavihara, a Buddhist monastery from 8th century and a UNESCO world heritage site. This is the most impressive archaeological site in Bangladesh.
Drive to Mahasthangarh (60 km, 1.5 hrs), and visit the remaining of the oldest known city in Bangladesh from 3rd century BC. We will take you to visit most of the well known sites at Mahasthangarh including the Citadel, Vasu Bihar, Mahasthangarh Museum, and Gokul Medh. Drive to Bogra (22 km, 30 mins).
Overnight at Bogra (Hotel Naz Garden).
Day-04: Chars of Jamuna, drive to Dhaka
After breakfast, drive to Sariakandi (50 km, 45 mins). Visit some chars (river islands) of river Jamuna and see how people live on those small islands struggling with the natural disasters.
Drive to Dhaka (250 km, 6.5 hrs). Lunch on a highway restaurant on the way. Drop at hotel upon arrival at Dhaka in the late evening, say good bye.
End of the tour.
Price of Exploring Rajshahi
Group Size
Classic Package

Comfort Package
Luxury Package
-
BDT
Per Person
USD
Per Person
BDT
Per Person
USD
Per Person
BDT
Per Person
USD
Per Person
02 Pax
41,500
$540
-
-
-
-
03 Pax
37,500
$485
-
-
-
-
04 Pax
33,500
$435
-
-
-
-
Inclusions and Exclusions
Tour includes:

02 Nights accommodation at Rajshahi and Bogra described in the itinerary on twin sharing basis, with complementary breakfast.
Dhaka – Rajshahi 1st class train ticket.
Air-conditioned car, driver, English speaking guide.
All site entrance tickets.
Transfer to train station at Dhaka (Dhaka North only – Gulshan, Banani, Baridhara, Uttara area).

Does not includes:

Any food, drinks, beverage, or any personal item.
Pick-up and drop at Dhaka from the area other than mentioned above (Hotel 71, FARS Hotel, Hotel Pacicific, Hotel Ramna, Hotel Farmview, and the whole south Dhaka area).
Notes on Exploring Rajshahi
Minimum 02 person is required to book this tour. Single travelers can join any scheduled tour announced in the website.
Tour is not available to start on Saturday, as Saturday is the off day for 769 Dhumketue Express.
1st class train tickets depend on availability. We'll try our best to get first class tickets for you. But if that is not possible, you'll have a reserved seat on 2nd class.
It is common for the train to arrive Rajshahi on 01-02 hrs late.
Tuk-Tuk will be used as local transport inside Rajshahi city.
Wearing shorts will not be allowed to enter Kusumba Mosque. Women need to wear long sleeves while visiting the mosques. In other places, wearing shorts will not be any problem.
Best time to travel:

October – March: Weather will be cool and comfortable, and less humid.

In summer, it is hot and humid in Bangladesh. Also there is occasional rain which just comes and goes and very rarely continues for a long time. It also cools down the temperature. Be prepared with raincoat, umbrella, and zip-lock bags for your gadgets, and any other protection necessary from the rain.
We'll require the full payment in advance to book this tour. Details of our online payment system could be found here: Online payment FAQs.
Share with friends
Let the world know about this amazing tour you've found!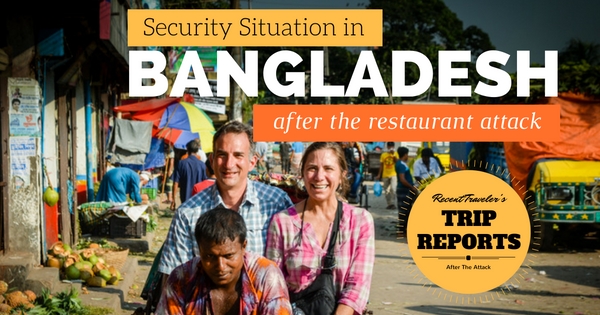 Reports from Western travelers after their recent visit to Bangladesh, about the security situation in Bangladesh since the restaurant attack in July, 2016.