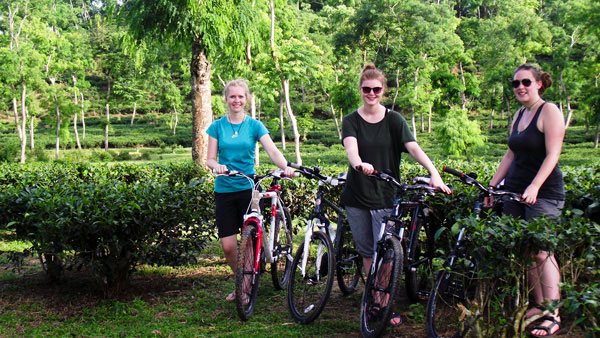 Tour Duration:
03 Days, 02 Nights
Location:
Srimangal
Tour Attractions:
Tea Plantations, Tribal Villages, Cycling, Trekking, Wildlife
Best time to go:
April – November
Tour Available:
Round the year except Sunday & Tuesday
Next Scheduled Tour:
N/A

Srimangal is the tea capital of Bangladesh, which is one of the most picturesque and enjoyable parts of the country. For miles around, tea estates form a perennially green carpet on the sloping hills here. A few days spent cycling around it's tea estates and exploring nearby villages and forests will almost certainly rank among your most treasured experiences in Bangladesh.
Srimangal Adventure Tour is packed with different activities, and for people who love adventures and challenges. This tour features cycling through the trails inside beautiful tea gardens, laborious trekking through the hills and streams in Rajkandi Reserve Forest to discover Hamham Waterfalls, and a rewarding wildlife trekking through Lawachara National park. Only people who are physically fit are advised to take this tour.
Itinerary of Srimangal Adventure Tour
Pick up from hotel at 06.30 H, transfer to Airport Railway Station, and take 07.12 H Parabat Express to Srimangal. Our guide at Dhaka will help you board the train and find your seats. Arrive Srimangal around 12.30 H. Upon arrival, our guide at Srimangal will meet you at the train station, and transfer you to the resort.
After check-in, freshen-up, and lunch, cycling through the trails of beautiful tea gardens rest of the day. People who love cycling, Srimangal could be a heaven for them. Trails through the tea gardens are scenic and also not very extreme. You'll also be cycling through the rubber plantations, pineapple gardens, lemon orchards, and village roads. Also visit a tribal village to see their lifestyle.
You'll do cycling until sunset, and return to the resort, freshen up, and go for dinner. After that, we'll take you to Nilkontho Tea cabin to taste the famous 7 layer tea of Srimangal.
Overnight at Srimangal.
Start early morning and drive toward Rajkandi Reserve Forest on a old model 4×4 car through a broken muddy road. Arrive at Kalabanpara village in the edge of the forest in 1.5 hours, and start a laborious trekking through the Rajkandi Reserve Forest to discover Hamham Waterfalls. You need to track 3 hours through the up and down hills to reach the waterfalls.
Upon arrival on the waterfall, we'll have 01 hour break to enjoy the waterfall and have lunch, and start our return journey on a different way through the streams. You'll hike 3-4 hours through knee deep water to Kalabanpara, and drive back to Srimangal in the evening on the same 4×4 car. If water level is higher than usual because of rain, we'll return on the same hilly way.
Upon arrival at the resort in the evening, freshen up and go for dinner.
Overnight at Srimangal.
Start early morning for a rewarding wildlife trek through Lawachara National Park. We'll take the 3 hours trail for the maximum opportunity to see wildlife, specially the Hollock Gibbons for which this forest is famous for.
You'll also visit a tribal village in the edge of Lawachhara National Park and see their lifestyle.
Return to the resort around noon, freshen up, have lunch, and take some rest. Late check-out and depart for Dhaka on 17.08 H Parabat Express train. Reach Dhaka around 20.10 H, transfer to your hotel/residence, and say good bye.
End of the tour.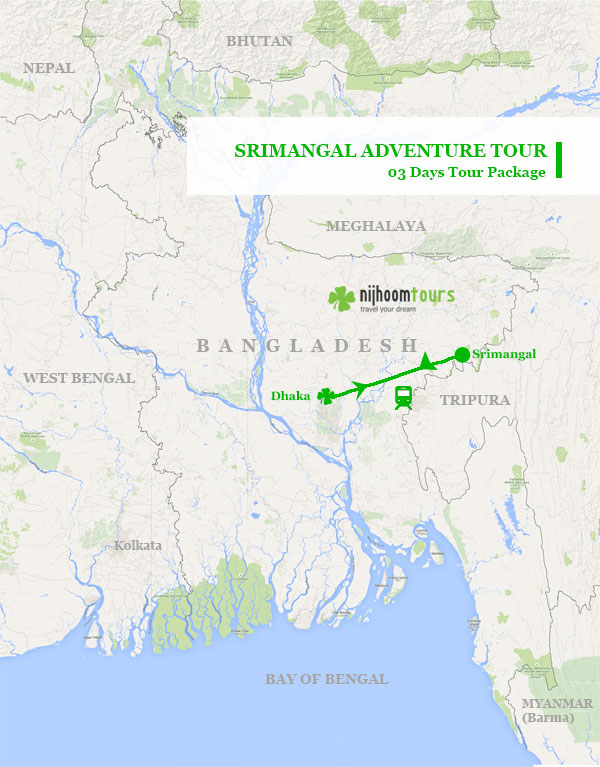 Price of Srimangal Adventure Tour
Group Size
Classic Package

Comfort Package
Luxury Package
-
BDT
Per Person
USD
Per Person
BDT
Per Person
USD
Per Person
BDT
Per Person
USD
Per Person
02 Pax
23,500
$305
-
-
34,000
$440
03 Pax
23,000
$300
-
-
36,500
$475
04 Pax
20,000
$260
-
-
30,500
$395
03 Pax (Triple Sharing)
-
-
-
-
28,000
$365
| Facilities | Classic Package | Luxury Package |
| --- | --- | --- |
| Dhaka - Srimangal Transfer | 1st Class Train (5 hrs, non-ac) | 1st Class Train (5 hrs, non-ac) |
| Accommodation at Srimangal | Nisorgo Eco Resort (Basic bamboo cottage, Complementary breakfast, non-ac room, Western style toilet, Hot water, No Wi-Fi) | Grand Sultan Tea Resort & Golf (Luxurious 5* Resort, Complementary breakfast, air-conditioned room, Western style toilet, Hot water, Wi-Fi, Swimming Pool, Gym) |
Inclusions and Exclusions
Tour includes:

2.5 Nights accommodation at Srimangal on twin/triple sharing basis, with complementary breakfast.
Locally hired old model 4×4 car and driver at Srimangal to go to Hamham waterfalls and back on Day-02.
Tuk-Tuk for all local transfers at Srimangal.
Mountain bikes to ride.
English Speaking guide.
Dhaka – Srimangal Return train ticket.
Train Station return transfers at Dhaka.

Does not include any food other than mentioned above, drink, beverage, any accompanying guide on the train, or any personal item.
Notes on Srimangal Adventure Tour
Cycling at Srimangal is currently not permitted by the local authority until further notice. We will cover the track with Tuk-Tuk.
Tour is not available to start on Sunday and Tuesday, as Tuesday is the off day for the train (Parabat Express).
1st class train ticket depends on availability. We'll try our best to get first class tickets for you. But if that is not possible, you'll have a reserved seat on 2nd class.
It is common for the train from Srimangal to Dhaka to be 01-02 hrs late. But no matter when it arrives at Dhaka, our driver will be waiting for you in the station to take you to your hotel/residence.
There will be no accompanying guide on the train.
Transfer between hotel and railway station in Dhaka is only for Dhaka North area (Uttara, Gulshan, Banani, and Baridhara). For other parts of the city, extra payment is required for arranging a transfer.
Price is not applicable for the Luxury Package during govt. holidays.
Wearing shorts for both men and women will not be any problem in Srimangal.
There might be some blood sucking leeches on the stream at day-02, but they are not dangerous. We'll take some salt with us to apply if they catch you. Using covered shoes with socks suitable for trekking in the streams will be a better protection from the leeches. Wearing a pair of detachable legs will also be a good option.
Best time to travel:

April – November: You'll see female tribal workers picking tea on numerous tea gardens at Srimangal, which is very picturesque. Best time in the year to travel.
November – March: Weather is cool and comfortable, and less humid.
June – September: The waterfall will be full of water, and looks gorgeous.
Share with friends
Let the world know about this amazing tour you've found!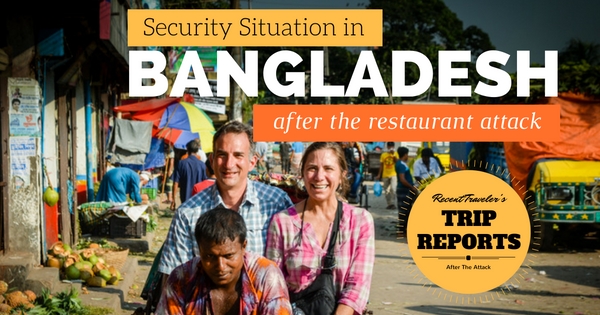 Reports from Western travelers after their recent visit to Bangladesh, about the security situation in Bangladesh since the restaurant attack in July, 2016.
Similar Tour Packages: