Khulna and Barisal Region Tours and Excursions
Immerse yourself in the rich culture of Bangladesh with the enchanting Dhaka & Bagerhat tour. Experience the vibrant energy of the megacity of Dhaka by visiting both the New and Old Dhaka, followed by a relaxing overnight journey on a passenger ferry to Barisal. Discover the UNESCO World Heritage City of Bagerhat, famous for its historical mosques, including the Sixty Dome Mosque, and visit a stunning terracotta Hindu temple in a remote village outside the city. This weekend getaway is perfect for history enthusiasts and adventure seekers alike. If you plan to extend your trip to India, we offer a transfer service to the Benapole/Petrapole border for a crossover to Kolkata at the end of the tour.
✪ Location: DhakaBagerhat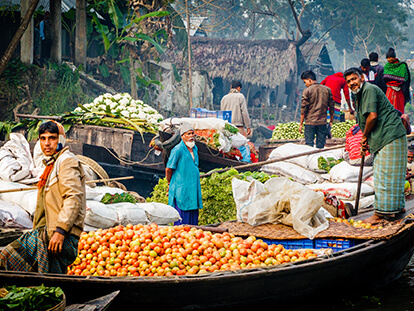 Barisal, southern Bangladesh, is filled with dozens of rivers and channels that make up the Ganges Delta, resulting in a lush landscape. Our Barisal Tour will take you to experience life in the Ganges Delta, totally based on water. You'll visit its floating markets, bazaars, villages, brick kilns, and schools beyond the reach of the guidebooks. You'll be greeted warmly by locals and have an authentic experience that is hard to find in other parts of the world. Additionally, you'll have the opportunity to experience megacity Dhaka's bustling backstreets, bazaars, and shipyards. This tour is perfect for those who enjoy capturing the essence of people's lives through photography.
✪ Location: DhakaBarisal
Experience an unforgettable Sundarban tour in Bangladesh from Mongla, home to the world's largest mangrove forest and a UNESCO World Heritage Site. Embark on a 3-day exploration aboard our small houseboat. Departing from Mongla, the gateway to the forest, our small-group tours accommodate a maximum of 6 travelers only – unlike the picnic parties of the traditional operators from Khulna on large boats with 40-70 people, wasting a full day in a round-trip to reach the forest and back. Get an authentic experience of Sundarban and a chance to see Bengal tigers, spotted deer, river dolphins, wild boars, clawless otters, salt-water crocodiles, and many other species of birds and wildlife.
✪ Location: Sundarban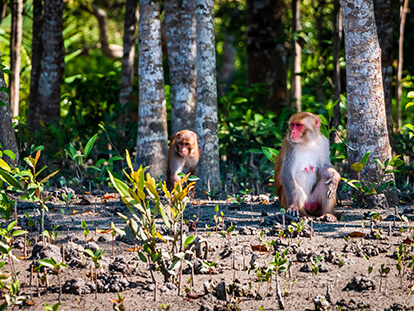 Join the Bagerhat & Sundarban Tour for a three-day adventure exploring the Sundarban Mangrove Forest. Spot the Bengal tigers, spotted deer, river dolphins, wild boars, clawless otters, monkeys, saltwater crocodiles, and other wildlife and birds in their natural habitat. Immerse in the beauty of the most significant mosques and a splendid Hindu temple in Bagerhat. This tour covers two UNESCO World Heritage Sites, starting and ending at Dhaka. Experience the serenity of Sundarban and the peacefulness of Bagerhat. If you want to discover the Sundarban mangrove Forest and the Mosque City of Bagerhat in the shortest time without visiting Dhaka, then this is the perfect tour for you.
✪ Location: BagerhatSundarban
Explore the wonders of Bangladesh with our Sundarban tour package from Dhaka. Begin in vibrant Dhaka, where history and modernity intertwine. Discover archaeological marvels in Bagerhat World Heritage Site, from magnificent mosques to a grand Hindu temple. Then, delve into the enchanting Sundarban Mangrove Forest, a UNESCO World Heritage Site. Cruise its mystical waterways, spot the majestic Bengal tigers, spotted deer, clawless otters, salt-water crocodiles, Indian flying foxes, much other wildlife, and many species of birds, including nine different types of kingfishers. If you plan to go to Kolkata, this Sundarban tour package from Dhaka can transfer you to the Indian border at the end.
✪ Location: DhakaBagerhatSundarban
Share This
Support a local business in Bangladesh by sharing this with friends by clicking any button below. Let them know about amazing Bangladesh, which is one of the least traveled destinations in the world. Share now!