4-Day Tour Packages All Over Bangladesh
Listed on this page are all of our 4-day tour packages all over Bangladesh. Perfect for people who have very limited time to travel Bangladesh, and want to explore some of the best sights and attractions of the country.
Visit Dhaka and Rupganj. Experience life on Ganges Delta in Barisal by exploring it's rivers and canals on a country boat and visiting it's numerous floating markets, endless guava gardens, timber market, saw mills, brick factories, schools, and villages. Go overland and meet people. It will be an unique and highly photogenic experience full of activities.
Location: Barisal | Tour Details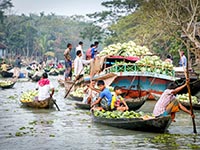 Experience life and culture on the backwaters of Barisal, the southern division of Bangladesh which is awash with rivers and canals and is the heart of Ganges Delta, where traveling by boat is the way of life. Visit the UNESCO World Heritage City in Bagerhat, and spend a day exploring the life and sights on mega city Dhaka, one of the most densely populated cities in the world.
Location: Barisal and Bagerhat | Tour Details

Explore the Best archaeological sites of north-western Bangladesh. Visit an 8th century Buddhist monastery, medieval period mosques, and beautiful Hindu temples and palaces. Experience the lifestyle of people on a Santhal tribal village and on the river islands of Jamuna. Taste best quality mangoes and see the mango culture while on fruit season.
Location: Rajshahi, Puthia, Gauda, Kusumba, Paharpur, and Sariakandi | Tour Details