4-Day Tour Packages All Over Bangladesh
Listed on this page are all of our 4-day tour packages all over Bangladesh. Perfect for people who have minimal time to travel to Bangladesh and want to explore some of the country's best sights and attractions.
Explore the best archaeological sights of Rajshahi. Start your journey in the serene temple village of Puthia and the historic Bagha Mosque. The highlight of your exploration will be Gauda, the former capital of Bengal, renowned for its impressive architectural wonders. Continue to the medieval Kusumba Mosque and the 8th-century Somapura Mahavihara at Paharpur. Experience the unique culture of a Santhal tribal village and explore the largest wholesale bazaar in northwestern Bangladesh. Your adventure culminates at Mahasthangarh, an ancient site of immense significance, providing a deep dive into the rich history and vibrant life of northwest Bangladesh.
✪ Location: PuthiaBaghaRajshahiSonamasjidKusumbaPaharpurBogra
Chittagong Hill Tracts Tour will take you on a journey into the extraordinary landscapes of the Chittagong Hill Tracts in Bangladesh, a land known for its hilly topography, contrasting the nation's usual plains. Home to diverse indigenous groups, this tour offers a rich tapestry of unique cultures and traditions. Your voyage will immerse you into the heart of tribal villages, showcasing daily life and customs and the vibrant tribal bazaars, a sensory feast of sights, sounds, and aromas reflecting the local culture. Also, enjoy a tranquil boat ride on the scenic Kaptai Lake and Sangu River, where the stunning vistas of lush greenery, majestic hills, and serene waters encapsulate the region's enchanting spirit.
✪ Location: ChittagongRangamatiBandarban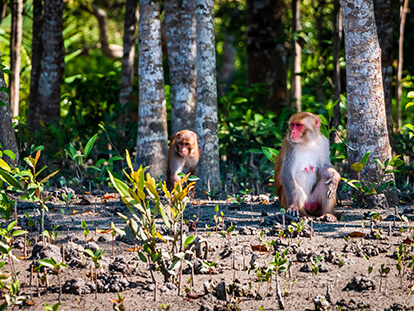 Join the Bagerhat & Sundarban Tour for a three-day adventure exploring the Sundarban Mangrove Forest. Spot the Bengal tigers, spotted deer, river dolphins, wild boars, clawless otters, monkeys, saltwater crocodiles, and other wildlife and birds in their natural habitat. Immerse in the beauty of the most significant mosques and a splendid Hindu temple in Bagerhat. This tour covers two UNESCO World Heritage Sites, starting and ending at Dhaka. Experience the serenity of Sundarban and the peacefulness of Bagerhat. If you want to discover the Sundarban mangrove Forest and the Mosque City of Bagerhat in the shortest time without visiting Dhaka, then this is the perfect tour for you.
✪ Location: BagerhatSundarban
Share This
Support a local business in Bangladesh by sharing this with friends by clicking any button below. Let them know about amazing Bangladesh, which is one of the least traveled destinations in the world. Share now!