Khulna and Barisal Region Tours and Excursions
An overnight journey from Dhaka to Barisal/Hularhat on a passenger ferry, including full-day sightseeing at New & Old Dhaka, and visiting 60 Dome Mosque and Kodla Moth at Bagerhat. Greatest opportunity to discover the riverine beauty of Bangladesh in this Dhaka & Bagerhat Tour, recommended by popular travel guides including Bradt and LonelyPlanet.
✪ Location: DhakaBagerhatKhulna
An exclusive tour to visit Sundarbans, the largest mangrove forest on earth, and a UNESCO World Heritage Site. Stay on our small houseboat and explore the forest for full three days. Our tours start at Mongla, the edge of the forest, with a group of a maximum of 6 travelers only – unlike the picnic parties of the traditional operators from Khulna on large boats with 40-70 people and wasting a full day in a round-trip to reach the forest and back. Get an authentic experience of Sundarbans and a chance to see Bengal tigers, spotted deer, river dolphins, wild boars, clawless otters, monkeys, and salt-water crocodiles together with many other species of birds and wildlife.
✪ Location: MonglaSundarbans Mangrove Forest
Visit Dhaka and Rupganj. Experience life on Ganges Delta in Barisal by exploring it's rivers and canals on a country boat and visiting it's numerous floating markets, endless guava gardens, timber market, saw mills, brick factories, schools, and villages. Go overland and meet people. It will be a unique and highly photogenic experience full of activities.
✪ Location: Barisal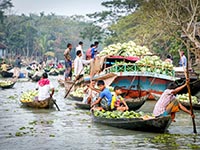 Experience life and culture on the backwaters of Barisal, the southern division of Bangladesh which is awash with rivers and canals and is the heart of Ganges Delta, where traveling by boat is the way of life. Visit the UNESCO World Heritage City in Bagerhat, and spend a day exploring the life and sights on mega city Dhaka, one of the most densely populated cities in the world.
✪ Location: BarisalBagerhat
Fly to Jessore and visit the Mosque City of Bagerhat. Three-day excursion on a small group to Sundarbans, the largest mangrove forest on earth. Fly back to Dhaka on the fourth day evening. The shortest possible tour to visit Sundarbans and Bagerhat from Dhaka. You can visit two UNESCO world heritage sites on this tour.
✪ Location: BagerhatKhulnaSundarbans Mangrove Forest
Overnight journey on a century-old Rocket Steamer, visit all the sites at Old Dhaka and Bagerhat, and full 3-DAY TOUR excursion at Sundarbans, the largest mangrove swamp on earth, on a small group for a chance to see Bengal Tigers, birds, and much other wildlife. You get an opportunity to visit two UNESCO world heritage sites in Bangladesh.
✪ Location: Old DhakaBagerhatKhulnaSundarbans Mangrove Forest