Khulna and Barisal Region Tours and Excursions
Overnight journey on a first-class cabin of the century-old pedal steamer called Rocket, including full-day sightseeing at Old Dhaka and UNESCO world heritage city Bagerhat. A great opportunity to discover the riverine beauty of Bangladesh, recommended by most travel guides, including Bradt and LonelyPlanet.
✪ Location: DhakaBagerhatKhulna
Visit the largest mangrove swamp on earth – Sundarbans, one of the wildest and least known environments in all of South Asia. Sundarbans Tour will take you deep into the forest to explore the wildlife. You get a chance to see Royal Bengal Tigers, spotted deers, claw-less otters, crocodiles, and many other wildlife.
✪ Location: Sundarbans Mangrove Forest
Visit Dhaka and Rupganj. Experience life on Ganges Delta in Barisal by exploring it's rivers and canals on a country boat and visiting it's numerous floating markets, endless guava gardens, timber market, sawmills, brick factories, schools, and villages. Go overland and meet people. It will be a unique and highly photogenic experience full of activities.
✪ Location: Barisal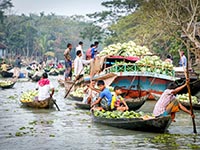 Experience life and culture on the backwaters of Barisal, the southern division of Bangladesh which is awash with rivers and canals and is the heart of Ganges Delta, where traveling by boat is the way of life. Visit the UNESCO World Heritage City in Bagerhat, and spend a day exploring the life and sights on megacity Dhaka, one of the most densely populated cities in the world.
✪ Location: BarisalBagerhat
Overnight journey on a century-old Rocket Steamer, visit all the sites at Old Dhaka and Bagerhat, and full 3-day excursion at Sundarbans, the largest mangrove swamp on earth, on a small group for a chance to see Bengal Tigers, birds, and much other wildlife. You get an opportunity to visit 2 UNESCO world heritage sites in Bangladesh.
✪ Location: Old DhakaBagerhatSundarbans Mangrove ForestKhulna