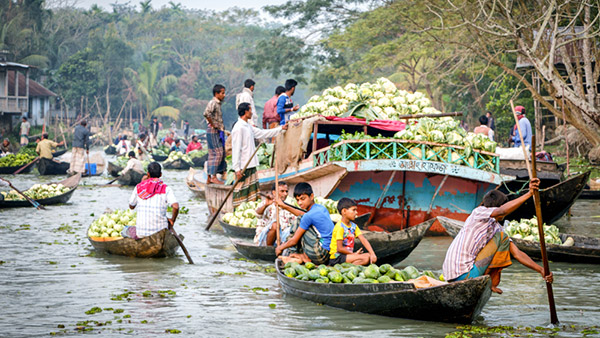 Tour Duration:
05 Days, 04 Nights
Location:
Barisal and Bagerhat
Tour Attractions:
Floating Markets, Bazaars, Villages, Mosques, Temple
Best time to go:
July – March
Tour Available:
Round the year
Next Scheduled Tour:
N/A

Experience the life and culture on the backwaters of Barisal, the southern division of Bangladesh which is awash with rivers and canals and is the heart of Ganges Delta, the largest delta in the world, where traveling by boat is the way of life. Also visit the UNESCO World Heritage City in Bagerhat, and spend a day exploring the life and sights on mega city Dhaka, one of the most densely populated cities in the world.
On Backwater and Bagerhat tour, you'll start with exploring the life and sights of Dhaka City for a whole day and board a traditional ferry in the evening. Next two days explore the rivers, canals, floating markets, bazaars, and villages in Barisal to experience the unique lifestyle in Ganges Delta. Next day explore the historical mosques and a beautiful temple in Bagerhat. Return to Dhaka on train or flight the next day. This tour is all about experiencing the traditional lifestyle in Bangladesh.
You can easily combine this tour with visiting India. Instead of returning to Dhaka we can transfer you to Benapole/Petrapole border to cross over to Kolkata which is very close from Khulna. Cost for returning to Dhaka will be deducted on that case.
Highlights of Backwater & Bagerhat Tour
Explore new and Old Dhaka the whole day.
Rickshaw ride on narrow streets of Dhaka.
Boat ride on live and vibrant river Buriganga.
Explore rivers and narrow canals and experience life on Ganges Delta in Barisal.
Visit endless floating markets of different types in Barisal.
Walk on the villages, meet locals, see natural life in Barisal.
Go overland and visit different bazaars, brick factories, schools in Barisal.
Explore UNESCO world heritage city Bagerhat for whole day.
Ride a Bangladeshi train – a unique experience.
Itinerary of Backwater & Bagerhat Tour
A guide of us will meet you at your hotel lobby at 09.00 H to pick you up, and will head toward Old Dhaka. You'll visit key tourist attractions in New and Old Dhaka the whole day, including Dhakeshwari Temple, Lalbagh Fort, Khan Mohammad Mridha Mosque, Armenian Church, Star Mosque, Ahsan Manzil, and Sadarghat River Station.
Enjoy a short boat ride at river Buriganga in the evening on a wooden boat to feel the rithom of the live and vibrant river and enjoy sunset.
Embark a traditional ferry in Sadarghat River Station at 18.00 H.
Overnight on passenger ferry to Barisal (Sleeping cabin)
Disembark at Barisal in the early morning around 5.30 am, and transfer to your hotel.
After check-in, and freshen up, drive to a remote place in Barisal on a Tuk-Tuk (01 hour). Upon arrival you'll embark at our waiting motorized country boat, and start cruising immediately toward a floating market or other interesting place depending on the day of the week. These floating markets starts around 7.00 am and finish within 8.30 am. That is the reason for us to start the days early in this tour.
Breakfast will be served on the boat bought from a local market. Being a very remote place where no descent restaurant is available, this will mainly be bread and some fruits.
You'll cruise whole day in the rivers and small canals in Barisal and visit a floating market where they bring everything to sell by boat which is full of activities and perfect for photography. Goods on these markets are mainly sold on wholesale from farmers to vendors.
We'll buy some seasonal local fruits from a local market for lunch e.g. jack-fruit, watermelon, lichee, mango, coconut, and continue cruising.
You'll also visit bazaar on land, stop on a village and have tea while meeting it's people and exchange culture with them, and visit a factory yard where they make fiber from coconut which is used as a raw material to make carpet and rope.
Return to our starting place around 3.00 pm, transfer to Barisal by tuk-tuk, and retire for the day.
Overnight at Barisal (Hotel Arena).
Breakfast on a restaurant at Barisal at 7.00 am, and transfer to a remote place in Barisal by Tuk-Tuk (01 hour). Embark our waiting boat upon arrival, and start cruising immediately.
Today we'll take you some other places to visit through the narrow canals and rivers. You'll float through the backyards of people's house and see their lifestyle while they welcome you and greet you from the land, visit numerous guava gardens where 80% of Bangladesh's guavas are grown, see a floating guava market, visit kids and teachers on a school where you can talk with them and exchange culture.
Locally bought fruits will be served for lunch on boat as yesterday.
Continue cruising through the narrow canals and rivers. Next attraction for today will be visiting a timber market which is the largest market of this type in the southern part of the country. You'll see logs dumped beside the river spread in miles long places, carried away on the river very slowly with the help of a boat, loading and unloading them manually with the help of tide. Also we'll take you ashore to visit numerous saw mills where they saw the logs according to the needs of the customers without taking the least safety measure.
Return to our starting place around 3.00 pm, transfer to Barisal by Tuk-Tuk (01 hour).
Overnight at Barisal (Hotel Arena).
After breakfast, drive towards Bagerhat (03 hr) in an air-conditioned car and visit the Mosque City of Bagerhat, a 15th century Muslim city once called Khalifatabad, which is the present day Bagerhat and is an UNESCO protected world heritage site.
You'll visit most of the remaining mosques from the 15th century city Khalifabad the whole day, including the 60 Dome Mosque, 09 Dome Mosque, Rono Bijoypur Mosque, and Singair Mosque. Also we'll take you to visit the shrine of Khan Jahan Ali, the saint general from Turkey who came to spread Islam in this country and founded this great city, and Kodla Moth – a very beautiful Hindu temple from 17th century. Drive toward Khulna (01 hr).
Overnight at Khulna (City Inn Hotel).
Classic Package:
After breakfast, transfer to Khulna Railway Station. Depart for Dhaka on 08.40 H Chitra Express. Arrive Dhaka around 18.00 H.

Comfort Package:
Drive toward Jessore at 09.00 H (2 hrs). Fly to Dhaka on 12.05 H flight (01 hr).

Transfer to hotel from train station / airport at Dhaka.
End of the tour.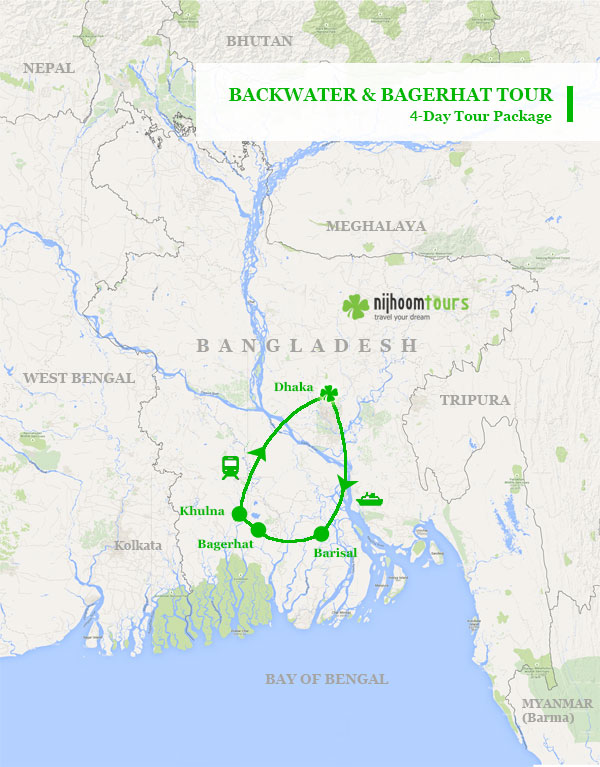 Price of Backwater & Bagerhat Tour
Group Size
Classic Package

Comfort Package
-
BDT
Per Person
USD
Per Person
BDT
Per Person
USD
Per Person
02 Pax
47,000
$610
52,000
$675
03 Pax
42,500
$550
46,500
$605
04 Pax
37,500
$485
41,500
$540
Inclusions and Exclusions
Tour includes:
04 Nights accommodations on hotels and boat cabin as mentioned in the itinerary.
All breakfasts.
02 lunch with locally purchased fruits, drinking water, tea/coffee while on country boat at Barisal.
Air-Conditioned car for visiting Dhaka and Bagerhat.
Tuk-Tuk and Rickshaw as transport in Barisal.
All boat rides mentioned in the itinerary.
English speaking guide.
All tips other than our guide, driver, and boat man.
Does not include:
Any food or drinks other than mentioned above.
Any personal item.
Watch video of brick factories in Barisal which you'll visit on this tour
Notes on Backwater & Bagerhat Tour
Thursday will be the best day to start this tour. For that, you have to return to Dhaka on flight, as there is no train back to Dhaka on Monday.
Itinerary of Barisal part of the tour is fully flexible and not fixed. It will be changed depending on the day of the week, as different markets and bazaars sets on different days of the week.
Days at Barisal will start very early in the morning. So you need to go to bed early and have a good sleep to enjoy the days.
There will be no descent restaurant available while exploring the backwaters. These are very remote places. You'll find decent restaurants only in Barisal city upon returning in the evening.
Best time to travel:

July – September: Rivers and canals will be full of water, and everything is green in it's fullest. Also the ripen season of guava when you can see the floating guava markets. Best time of the year to travel.
October – March: Weather is cool and comfortable, and less humid.