Sylhet and Sreemangal Region Tours and Excursions
Experience the Best of Sreemangal on our Exclusive Day Tour. Departing from Dhaka, Sreemangal Day Tour takes you on a thrilling journey to the tea capital of Bangladesh. Discover the highlights of Sreemangal as you trek through the captivating Lawachhara National Park, home to rare Hoolock Gibbons. Experience tribal culture by visiting their village and exploring a vibrant tribal handicraft market. Walk through the trails of sprawling tea plantations that stretch as far as the eye can see, and taste the exquisite flavors of the famous 7-layer tea. The tour is perfect for those with limited time but who want to experience the highlights of Sreemangal.
✪ Location: Sreemangal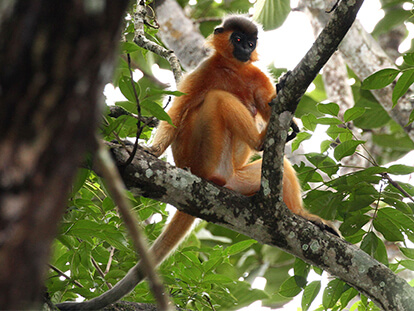 Sreemangal, the main hub for tea plantations in northeastern Bangladesh, is a must-visit destination for travelers exploring Bangladesh. With its breathtaking landscapes and rich tea heritage, it stands out as a unique and remarkable place. Join our Sreemangal Overnight Tour to enjoy the beauty of endless tea plantations. Experience life in a tribal village and browse a vibrant tribal handicraft market. Trek through the Lawachara National Park, renowned for its population of endangered Hollock Gibbons. Indulge in the delightful experience of tasting the famous 7 Layers Tea and much more. This tour is an ideal weekend getaway for anyone in Bangladesh.
✪ Location: Sreemangal
Sreemangal, the tea capital of Bangladesh, offers a scenic and delightful experience. This hilly region boasts endless tea plantations and enchanting forests, making it one of the country's most picturesque destinations. Join our Sreemangal Leisure Tour to meander along captivating trails amidst stunning tea estates. Trek through Lawachhara National Park, where you may spot the endangered Western Hoolock Gibbons. Explore remote villages inhabited by different tribes, and experience their unique lifestyles. Stroll through the vibrant handicraft market of the Manipuri tribe and taste the renowned 7 Layers Tea of Sreemangal. This tour offers a glimpse of Bangladesh's captivating highlights.
✪ Location: Sreemangal
Embark on the fascinating Discover Sylhet tour and uncover the enchanting beauty and unique lifestyle of the Sylhet and Sreemangal regions. Experience stone-collecting activities in Jaflong, ride a boat on the blue-water canal Lalakhal and visit Shahjalal's shrine in Sylhet. Explore remote villages of different tribes, trek in Lawachhara National Park searching for the endangered Hoolock Gibbons, and walk in endless tea plantations in Sreemangal. Taste the signature 7-layer tea, and wonder in the vibrant tribal handicraft market. Discover the natural beauty, cultural heritage, and warm hospitality of Sylhet and Sreemangal in one captivating journey.
✪ Location: SylhetSreemangal
Share This
Support a local business in Bangladesh by sharing this with friends by clicking any button below. Let them know about amazing Bangladesh, which is one of the least traveled destinations in the world. Share now!