3-Day Tour Packages All Over Bangladesh
Listed on this page are all of our 3-day tour packages all over Bangladesh. Perfect for people who have minimal time to travel to Bangladesh and want to explore some of the country's best sights and attractions.
Sreemangal, the tea capital of Bangladesh, offers a scenic and delightful experience. This hilly region boasts endless tea plantations and enchanting forests, making it one of the country's most picturesque destinations. Join our Sreemangal Leisure Tour to meander along captivating trails amidst stunning tea estates. Trek through Lawachhara National Park, where you may spot the endangered Western Hoolock Gibbons. Explore remote villages inhabited by different tribes, and experience their unique lifestyles. Stroll through the vibrant handicraft market of the Manipuri tribe and taste the renowned 7 Layers Tea of Sreemangal. This tour offers a glimpse of Bangladesh's captivating highlights.
✪ Location: Sreemangal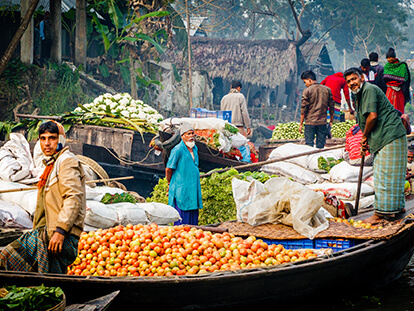 Barisal, southern Bangladesh, is filled with dozens of rivers and channels that make up the Ganges Delta, resulting in a lush landscape. Our Barisal Tour will take you to experience life in the Ganges Delta, totally based on water. You'll visit its floating markets, bazaars, villages, brick kilns, and schools beyond the reach of the guidebooks. You'll be greeted warmly by locals and have an authentic experience that is hard to find in other parts of the world. Additionally, you'll have the opportunity to experience megacity Dhaka's bustling backstreets, bazaars, and shipyards. This tour is perfect for those who enjoy capturing the essence of people's lives through photography.
✪ Location: DhakaBarisal
Experience an unforgettable Sundarban tour in Bangladesh from Mongla, home to the world's largest mangrove forest and a UNESCO World Heritage Site. Embark on a 3-day exploration aboard our small houseboat. Departing from Mongla, the gateway to the forest, our small-group tours accommodate a maximum of 6 travelers only – unlike the picnic parties of the traditional operators from Khulna on large boats with 40-70 people, wasting a full day in a round-trip to reach the forest and back. Get an authentic experience of Sundarban and a chance to see Bengal tigers, spotted deer, river dolphins, wild boars, clawless otters, salt-water crocodiles, and many other species of birds and wildlife.
✪ Location: Sundarban
Immerse in Rajshahi region's rich history and vibrant culture on our Best of Rajshahi tour. Explore the temple-studded village of Puthia and the medieval Bagha and Kusumba Mosque, exhibiting intricate terracotta and stone craftsmanship. Marvel at the grandeur of the 8th-century Somapura Mahavihara in Paharpur, a UNESCO World Heritage site. Visit a Santhal tribal village to experience indigenous lifestyles. Thrive in the bustling energy of northwestern Bangladesh's largest wholesale vegetable market. Conclude with the ancient city of Mahasthangarh. This tour encapsulates the best of Rajshahi in a short span, offering a rich, immersive experience.
✪ Location: PuthiaBaghaRajshahiKusumbaPaharpurBogra
Share This
Support a local business in Bangladesh by sharing this with friends by clicking any button below. Let them know about amazing Bangladesh, which is one of the least traveled destinations in the world. Share now!