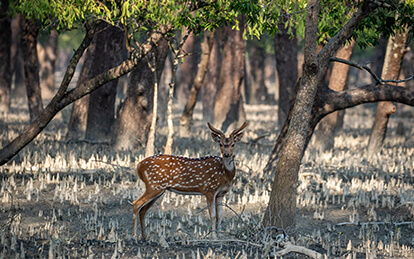 Tour Duration:
3 Days / 2 Nights
Location:
Mongla, Bangladesh
Tour Attractions:
Wildlife tour to the Sundarban Mangrove Forest
Best Time To Go:
October – March
Tour Available:
September – May / Any Day Start
Next Scheduled Tour:
Please Check Bellow
Price:
From
$560* US
per person
Experience an unforgettable Sundarban tour in Bangladesh from Mongla, home to the world's largest mangrove forest and a UNESCO World Heritage Site. Embark on a 3-day exploration aboard our small houseboat. Departing from Mongla, the gateway to the forest, our small-group tours accommodate a maximum of 6 travelers only – unlike the picnic parties of the traditional operators from Khulna on large boats with 40-70 people, wasting a full day in a round-trip to reach the forest and back. Get an authentic experience of Sundarban and a chance to see Bengal tigers, spotted deer, river dolphins, wild boars, clawless otters, salt-water crocodiles, and many other species of birds and wildlife.
Our Sundarban tour in Bangladesh will take you on an exclusive 3-day tour on a small boat to experience the Sundarban Mangrove Forest for a once-in-a-lifetime experience. We offer private and small group Sundarban tour from Mongla which is wildlife-focused and strictly maintain safety and food hygiene.
The Sundarbans is the largest mangrove forest in the world and one of the wildest, least-known environments in southern Asia. Located in the delta formed by the confluence of the Ganges, Brahmaputra, and Meghna Rivers in the Bay of Bengal, the Sundarban extends over 10,000 sq km. Two-thirds of the Sundarban is located in Bangladesh, and the rest is in India. It is a UNESCO World Heritage Site and designated a wetland site of international importance under the Ramsar Convention.
Sundarbans is the home of 104 Royal Bengal Tigers, 30,000 spotted deer, 35 species of reptiles (including giant cobras and pythons and eight species of amphibians), 300 species of birds, 120 species of fish, 42 species of mammals, numerous river dolphins, wild boars, claw-less otters, monkeys, and salt-water crocodiles together with many other species of wildlife. Hundreds of rivers, creeks, and canals are the veins of the forest, making it a pristine environment.
Sunrise in the Sundarbans Mangrove Forest. © Photo Credit: Tina Manley.
Our Sundarban tour in Bangladesh from Mongla will take you deep inside the forest on a small houseboat to experience this magical environment for three whole days. Unlike other tour operators in Bangladesh, we organize this tour with a maximum of 6 participants and take our guests through some exclusive parts of the forest from Mongla, where the traditional operators with their larger vessels can not go because of the shallowness of the canals. It ensures maximum wildlife spotting opportunities for our guests and provides an exclusive experience away from the regular tourists in the forest.
This tour starts and ends at Mongla, located on the forest's edge (240 km from Dhaka, 53 km from Khulna). You can book our longer Sundarban tour packages for the convenience of commencing and finishing in Dhaka; all of them offer a superior experience.
Tour Highlights
Immerse yourself in the captivating Sundarban, the largest mangrove forest on Earth and a UNESCO World Heritage Site, during an extensive three-day exploration.
Spend your nights on a small houseboat, anchoring in different locations within the Sundarban, ensuring a truly immersive experience.
Navigate the intricate network of creeks and channels within the Sundarban aboard a traditional wooden rowing boat, maximizing your chances of spotting wildlife during the magical early mornings and evenings.
Embark on a guided forest trail, accompanied by armed forest rangers, to delve deeper into the heart of the Sundarbans' lush vegetation and spot more birds and wildlife.
Visit a dolphin sanctuary dedicated to the conservation of the endangered Ganges and Irrawaddy Dolphin species, offering a rare opportunity to witness these majestic creatures in their natural habitat.
Indulge in the pristine beauty of the Sundarbans' finest beach, a secluded gem deep within the forest where you can relax and rejuvenate away from the crowds.
Visit a fishing village in Sundarban and experience how they live struggling with natural disasters.
Explore a crocodile and turtle breeding center, where you can observe these fascinating reptiles up close and learn about the conservation efforts being undertaken to protect them.
A map of the 3-day Sundarban Tour in Bangladesh from Mongla by small boat with Nijhoom Tours.
Itinerary of Sundarban Tour in Bangladesh
Contact us for the Detailed Itinerary
Price of Sundarban Tour in Bangladesh
Inclusions and Exclusions
Sundarban Tour in Bangladesh Includes:
Accommodation on the boat in a sleeping cabin on a twin-sharing basis.
$115 US per person forest permit fee.
All meals, drinking water, tea, and coffee while on the boat at Sundarban for three days.
An English-speaking guide.
All tips other than our guide and boat crew.
Does not include:
Any food or drinks other than those mentioned above.
$25 US fee for video camera in Sundarban (if any).
Any personal item.
Departures and Availability
Contact us for the Latest Schedule
Why Sundarban Tour with Nijhoom Tours
How is your Sundarban Tour in Bangladesh different than the others?
★ Wildlife Tour: Unlike the traditional cheap picnic parties in Sundarban, ours are wildlife tours. Spotting as much wildlife as possible is our primary focus. We take our clients to places deep inside Sundarban where there will be higher chances to spot wildlife.
★ Small Boats: We use small boats with shallow drafts to go to small channels where bigger ships can not go and can see more wildlife.
★ Silent Boat Trips: Unlike others, we use silent wooden rowing boats without engines to explore the small creeks and channels so we do not scare off the animals. You'll see more birds and animals on our boat trips on the creeks and channels.
★ Safety: The safety of our clients is always our priority. Unlike everyone else, we always use life jackets during boat rides on the small creeks and channels to protect our clients.
★ Food Hygiene: We strictly maintain food hygiene on our boat, about which very few people in Bangladesh have any idea. So unlike others, foreigners getting sick from food is rare on our boat.
★ Cleanliness: Although we use a basic boat, we keep it clean and provide clean bed sheets, pillowcases, towels, and comfortable beds and pillows.
★ Knowledgeable Guides: We provide knowledgeable guides on our tours, who will be able to tell you about the wildlife and the forest.
★ Numerous Positive Reviews: Unlike others, we have numerous positive reviews of our Sundarban Tours on TripAdvisor from our past clients who've had a pleasant and memorable experience of the forest with us. You'll have a great experience on our tour too!
Why book Sundarban Tour in Bangladesh with Nijhoom Tours?
★ Great Experience: You'll have a great experience on our Sundarban Tour in Bangladesh, as we are a multi-award-winning local tour operator in Bangladesh with vast local knowledge and the highest quality. We have the highest number of reviews in Bangladesh on TripAdvisor (375+ reviews) from our clients with an average rating of 5 on 5. We've been featured in the International Travel News Magazine multiple times, published in California, USA.
★ Support a Local Business: By directly booking with us instead of the giant foreign online platforms like Viator, ToursByLocals, GetYourGuide, TourRadar, Expedia, Kayak, or many others like them dominating the industry with huge marketing budgets, that only sell other local companies' tours and charge them a hefty commission, you are also supporting a local small business instead of a big foreign corporation.
★ Scheduled Tours: We have scheduled tours year-round. You can join any of them and reduce your cost.
★ Fast Communication: We reply fast. Communication with us will be a breeze.
★ Smooth Payment: Making payments with us will be swift for our Sundarban Tour in Bangladesh. We offer multiple payment options with credit cards and bank transfers. You can pay us in major local currencies online and avoid paying any charges for making cross-border payments for our tours.
★ Comfortable Car: We'll provide a decent, comfortable, clean car with air-conditioning.
★ Safe Driver: We'll provide a safe driver who will drive you safely in a country where everyone drives like crazy.
★ On-Time Pick-up: We'll not be late to pick you up and give excuses for traffic.
★ No Nuicense: We will not annoy you by taking a few dozen selfies with you on the tour and posting them directly on social media.
Silent cruise with a rowing boat on a Channel with proper safety with Nijhoom Tours. © Photo Credit: Nijhoom Tours.
Experiences of Sundarban Tours with us
Sundarban Tour Also Included In
Our Sundarban Tour in Bangladesh is included in most of our holiday packages. You can book one of these packages too to visit Sundarban:
FAQs on Sundarban Tours
Because your best chance to spot wildlife on a Sundarban tour is when you go on a tour with a very small group. This will increase your chance to spot wildlife many times.
All the traditional tour operators in Bangladesh run tours in Sundarban on a 40-70 people group. Going on a Sundarban tour with a big group like these, people end up seeing very little or no wildlife at all. We organize only small group tours to give you the best experience of Sundarban for your time and money.
60% of Sundarban is in Bangladesh part which is denser and more diverse with its wildlife, flora, and fauna.
You visit a wild forest in Bangladesh, not a national park. Everything you see in Bangladesh part of Sundarban is wild.
You spend the full three days inside the forest while doing the Sundarban tour with us in Bangladesh. You can spend just one day inside the forest while doing a Sundarban tour from India.
On a Sundarban tour in India, you stay at a hut in a village outside the forest. In Bangladesh, you stay on our comfortable houseboat with a Western-style toilet deep inside the forest, anchoring in different places every day. There will be armed forest rangers on board for security.
In India, you visit the forest with an engine boat starting from the village. In Bangladesh, we'll take you to explore the creeks and channels deep inside the forest with a noiseless wooden rowboat. You float on the channels quietly in the tranquil environment and get the best chance to spot wildlife while they do not flee hearing the disturbing noise of the engine.
Sundarban Tour in Bangladesh with us offers more activities, e.g. walking deep inside the forest, spending time on a beautiful sandy beach at the Bay of Bengal inside the forest while you hardly see any people, watching wildlife from an observation tower overlooking a freshwater pond where animals come to drink, explore creeks and channels with noiseless row-boat to increase your chance to spot wildlife, visit wildlife sanctuaries, and many more.
Because you reach the forest within 15 minutes of starting from Mongla. If you start from Khulna, half of your day is wasted just to reach the forest and another half day to come back. All the traditional tour operators in Bangladesh run their tours from Khulna, while we run our Sundarban Tour in Bangladesh from Mongla.
Never do a day tour of Sundarban! You might want to quickly sample Sundarban to save time and money, but it will be a full waste of your time and money as you will end up visiting just an Eco Park and a zoo which will be very disappointing, no matter who you do the tour with! It will be simply a bad taste of the forest. Either do a three days tour or save it for a future trip. There is nothing in between!
More Sundarban Tours in Bangladesh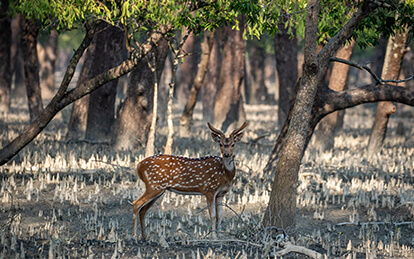 3-day tour starting and ending at Mongla (240 km from Dhaka, 53 km from Khulna) - $560 US*.
4-day tour starting and ending at Dhaka with return flights to Jessore - $950 US*.
5-Day Sundarban tour package from Dhaka with visiting Bagerhat Mosque City - $1,020 US*.
8-day tour with airport transfers and hotel in Dhaka and visiting Dhaka & Bagerhat - $1,260 US*.
Share This
Support a local business in Bangladesh by sharing this with friends by clicking any button below. Let them know about amazing Bangladesh, which is one of the least traveled destinations in the world. Share now!