Friends asked me why I was going to Bangladesh. I replied that I thought 1. It would be an interesting country having read up on it 2. that few tourists visit, and 3. that the people would be friendly. I was proven right on all 3.
Nijhoom tours have a great deal of experience. There is not much that Hasan does not know about Bangladesh and where to go. This means that he takes you to seldom-visited areas.
I considered visiting on my own as have been to most countries as a solo traveller.
I am very pleased that I did not.
This tour covered a great deal of ground, and I would say was full-on. I have recommended that more free time could be built in. I am 74 but coped well.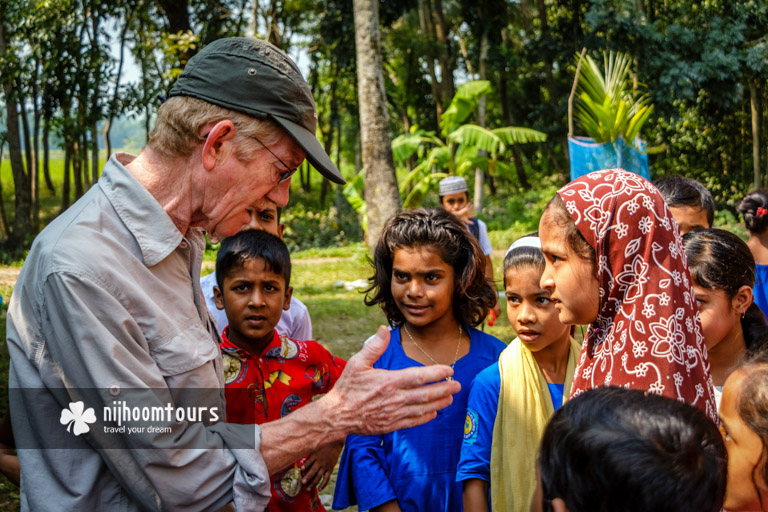 Interaction with the school kids in Barisal. ©Photo Credit: Nijhoom Tours.
I particularly enjoyed the visits to small villages to see and learn about their lives.
Also, the boat trips and Sundarbans Mangrove forests. We were a group of 7 and that was excellent.
The hotels were good. Comfy and plenty of hot water. The food at the Dhaka Civic Inn was very good.
The organization was very good, from the airport pickup through to leaving.
The people are so friendly. More so than any other country I have visited. Children are wonderful. Photo opportunities are endless and at every corner.
I definitely recommend this small Bangladesh tour operator. You are in safe hands.
With some villagers in Barisal. ©Photo Credit: Nijhoom Tours.