Tour Duration:
03 Days, 02 Nights
Location:
Jaflong and Lalakhal at Sylhet
Tour Attractions:
Tea gardens, Tribal Village, Boat ride on river and canal
Best time to go:
June – September
Tour Available:
Round the year
Next Scheduled Tour:
N/A

Jaflong is one of the most attractive tourist spots in Sylhet division, situated at the border between Bangladesh and the Indian state of Meghalaya, overshadowed by subtropical mountains and rain-forests, beside the river Mari. It is a scenic spot nearby amidst tea gardens and rare beauty of rolling stones from hills. It is famous for it's stone collections and is home of Khasia tribe. Lalakhal is a blue water canal at Sylhet surrounded by mountains of Meghalaya, about 01 hour drive from Jaflong.
In this tour, we take you on a pleasant boat ride at Lalakhal and Mari river, visit tea gardens and Khasia tribal villages, and photograph the stone collection activities in Jaflong. You can see how Khasias grow betel leaves and nuts, which is their main profession, and taste some too if you are adventurous! Also can photograph how people collect stones from river and take them to crushers manually, on which business sixty percent of the population on that area is somehow involved. A highly photogenic tour.
Itinerary of Jaflong & Lalakhal Tour
Pick up from hotel at 06.30 H (11.15 H for flight), transfer to Airport Railway Station / Airport, and take 07.12 H Parabat Express / 13.00 H Flight to Sylhet. Our guide at Dhaka will help you board the train and find your seats. Arrive Sylhet around 14.30 H (13.40 H for flight). Upon arrival, our guide at Sylhet will meet you at the train station / airport, and transfer you to the hotel.
After check-in, freshen up, and lunch, visit Sylhet city rest of the day. We'll take you to visit the century old Kin Bridge built on colonial period and one of the main entrance to the city, Surma river, and the shrines of Shah Jalal and Shah Paran where you'll see many interesting people.
Overnight at Sylhet.
Pick-up at 9.00 H from hotel, and a scenic drive toward Jaflong (02 hrs). Here you enjoy your time idly enjoying the beauty of Jaflong. You'll get an opportunity to photograph the stone collection activities on the river where they collect stones manually and take into crushers, which is highly photogenic. We will take you to the river on a local boat to photograph the stone collecting activities.
Lunch on a decent restaurant run by Nazimgarh Resort overlooking the river.
Visit the village of Khashia tribe and see their lifestyle. You can visit their gardens and see how they grow betel leaves, and visit some tea plantations for which this area is very famous.
Return to Sylhet in the evening.
Overnight at Sylhet.
Pick-up from hotel at 8.00 H, and drive to Sarighat (01 hrs). Upon arrival, transfer to the boat.
Enjoy boat ride on the blue-water canal Lalakhal. We'll take you to the end of the canal close to Indian border and back, which will be about 2.5 hrs ride in total. Also you'll visit a tea garden on the way. We'll use a motorized local wooden boat for the journey.
Back to Sylhet, have lunch, and transfer to railway station / airport.
Board 15.00 H Parabat Express / catch 14.00 H flight for Dhaka. Our Sylhet guide will help you board the train, find your seats, and say good bye. Arrive Dhaka Airport Railway Station around 22.00 H / 14.40 H for flight, and transfer to your hotel/residence. End of the tour.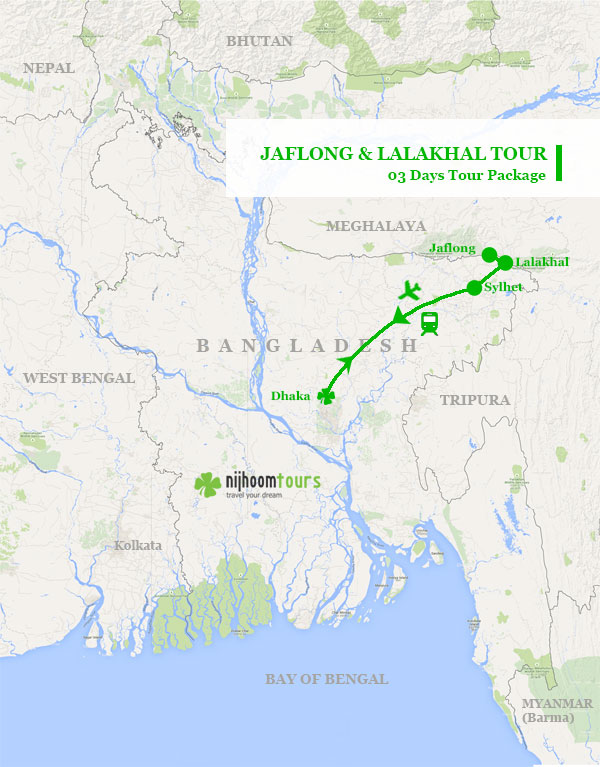 Price of Jaflong & Lalakhal Tour
Group Size
Classic Package

Comfort Package
Luxury Package
-
BDT
Per Person
USD
Per Person
BDT
Per Person
USD
Per Person
BDT
Per Person
USD
Per Person
02 Pax
26,500
$345
37,500
$485
42,000
$545
03 Pax
22,500
$290
34,000
$440
41,000
$530
04 Pax
20,000
$260
30,500
$395
35,500
$460
| Facilities | Classic Package | Comfort Package | Luxury Package |
| --- | --- | --- | --- |
| Dhaka - Sylhet Transfer | 1st Class Train (7 hrs, AC) | Flight (01 hr.) | Flight (01 hr.) |
| Accommodation at Sylhet | Hotel Britania (Basic hotel, Complementary breakfast, Air-conditioned room, Western style toilet, Hot water, Wi-fi on room) | Hotel Star Pacific (Moderate hotel, Air-conditioned room, Western style toilet, Hot water, Wi-fi on room, Swimming Pool) | Nazimgarh Wilderness Resort (Luxury resort, Air-conditioned room, Western style toilet, Hot water, Wi-fi on room, Swimming pool) |
| Additional Facilities | N/A | N/A | Complementary Kayaking from the resort |
Inclusions and Exclusions
Tour includes:

Locally hired air-conditioned car and driver at Sylhet.
02 Nights accommodation at Sylhet on twin sharing basis, with complementary breakfast.
English Speaking guide.
Return train/flight tickets.
Airport/Train Station return transfer at Dhaka.
Does not include any food other than mentioned above, drink, beverage, or any personal item.
Notes on Jaflong & Lalakhal Tour
Classic package is not available on Sunday & Tuesday, as Tuesday is the off day for the train (Parabat Express).
For Classic package, it is also possible to fly to Sylhet or back. Actual ticket price will be added with the tour price if you take that option, which starts from 3,000 BDT one way.
Price for Comfort and Luxury package depends upon availability of economy class flight tickets. Extra charge will be applicable if return flight ticket costs more than 7,000 BDT per person (actual ticket price – 7,000 BDT per person).
1st class train tickets depends on availability. We'll try our best to get first class tickets for you. But if that is not possible, you'll have a reserved seat on 2nd class.
It is common for the train from Sylhet to Dhaka to be 01-02 hrs late. But no matter when it arrives at Dhaka, our driver will be waiting for you in the station to take you to your hotel/residence.
There will be no accompanying guide on the train.
Transfer between hotel and railway station in Dhaka is only for Dhaka North area (Uttara, Gulshan, Banani, and Baridhara). For other parts of the city, extra payment is required for arranging a transfer.
Best time to travel:

April – November: You'll see female tribal workers picking tea on the tea gardens at Jaflong and Lalakhal, which is very picturesque.
December – February: Water color at Lalakhal will be blue. During other time, it will be muddy, specially in monsoon. Also you can see people collecting stones from the river on this time.
June – September: Piain river and Lalakhal will be full of water. Best time of the year to visit.
Share with friends
Let the world know about this amazing tour you've found!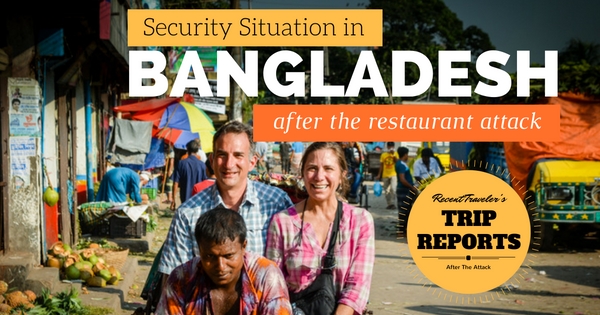 Reports from Western travelers after their recent visit to Bangladesh, about the security situation in Bangladesh since the restaurant attack in July, 2016.
Similar Tour Packages: