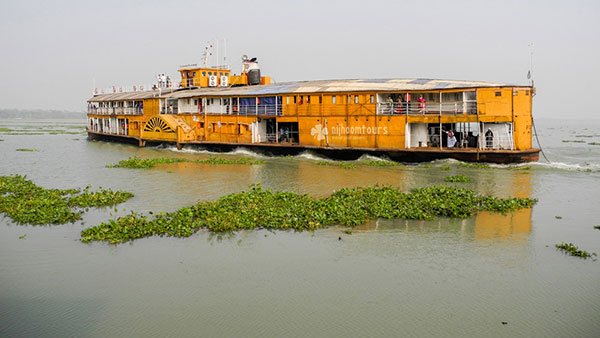 Tour Duration:
03 Days, 02 Nights
Location:
Old Dhaka, Bagerhat, and Khulna
Tour Attractions:
Old Dhaka, Rocket Steamer, 60 Dome Mosque
Best time to go:
October – March
Tour Available:
Sunday, Tuesday, and Wednesday – Round the year
Next Scheduled Tour:
N/A

Overnight journey from Dhaka to Hularhat on a first-class cabin of century old Rocket Steamer, including full-day sight seeing at Old Dhaka, and visiting 60 Dome Mosque and Kodla Moth at Bagerhat. Greatest opportunity to discover the riverine beauty of Bangladesh in this Rocket Steamer Tour, recommended by popular travel guides including Bradt and LonelyPlanet.
On this tour, we take you to visit Old Dhaka the whole day, and embark paddle steamer called Rocket in the evening. After a relaxing overnight journey, we take you to visit the 15th century Muslim city Bagerhat the next day. You Return to Dhaka in the 3rd day by train / flight. This tour is all about relaxing and enjoying the natural beauty and archaeological sites in Bangladesh.
You can easily combine this tour with visiting India. Instead of returning to Dhaka we can transfer you to Benapole/Petrapole border to cross over to Kolkata which is very close from Khulna. Cost for returning to Dhaka will be deducted on that case. If you have a plan to visit Sundarbans, you can book our Rocket and Sundarbans Tour or Sundarbans Excursion with Rocket instead.
Tour Highlights
Overnight journey on century old paddle wheel steamer called Rocket.
Explore new and Old Dhaka the whole day.
Rickshaw ride on narrow streets of Dhaka.
Boat ride on live and vibrant river Buriganga.
Explore UNESCO world heritage city Bagerhat for whole day.
Ride a Bangladeshi train – an unique experience.
Itinerary of Rocket Steamer Tour
A guide of us will meet you at your hotel lobby at 09.00 H to pick you up, and will head toward Old Dhaka. You'll visit key tourist attractions in Old Dhaka the whole day, including Dhakeshwari Temple, Lalbagh Fort, Khan Mohammad Mridha Mosque, Armenian Church, Star Mosque, Ahsan Manjil, and Sadarghat River Station.
Stop for lunch at a descent local restaurant in Old Dhaka, and continue site-seeing.
Enjoy a short boat ride at river Buriganga in the evening on a wooden boat to feel the rithom of the live and vibrant river and enjoy sunset.
Embark Rocket Steamer at Sadarghat River Station at 18.00 H. A memorable overnight journey in Rocket Steamer to Hularhat.
Overnight at Rocket (1st class sleeping cabin)
Enjoy the riverine beauty of Bangladesh from Rocket Steamer in the morning. Disembark from Rocket at Hularhat around 09.00 H.
Drive toward Bagerhat (01 hr) in an air-conditioned car, and visit the 15th century Muslim city once called Khalifabad, which is the present day Bagerhat, and is an UNESCO protected world heritage site.
You'll visit most of the remaining mosques from the 15th century city Khalifabad the whole day, including the 60 Dome Mosque, 09 Dome Mosque, Rono Bijoypur Mosque, and Singair Mosque. Also we'll take you to visit the shrine of Khan Jahan Ali, the saint general from Turkey who came to spread Islam in this country and founded this great city, and Kodla Moth – a very beautiful Hindu temple from 17th century. Drive toward Khulna (01 hr).
Overnight at Khulna.
After breakfast, transfer to Khulna Railway Station. Depart for Dhaka on 08.30 H Chitra Express. Arrive Dhaka around 18.00 H (Classic Package). / Drive toward Jessore at 07.30 H (2 hrs). Fly to Dhaka on 10.55 H flight (01 hr) (Comfort Package). Transfer to hotel from train station / airport at Dhaka.
End of the tour.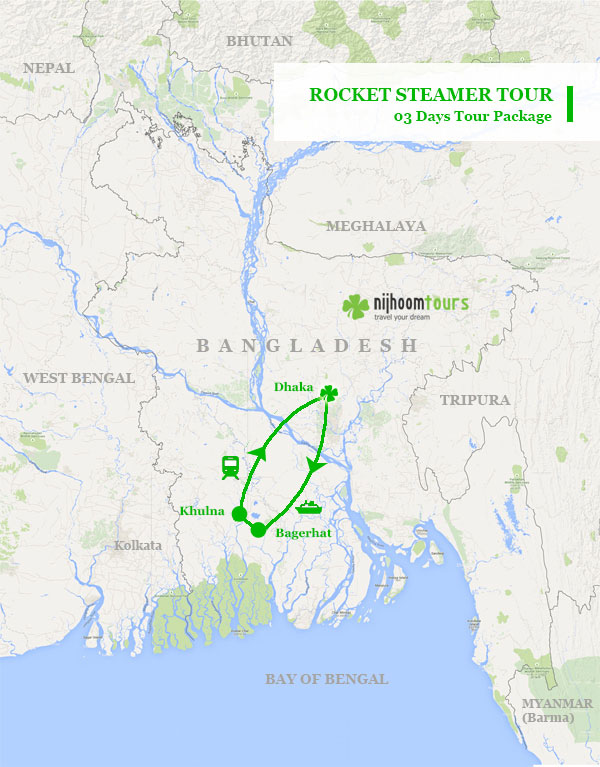 Price of Rocket Steamer Tour
Group Size
Classic Package

Comfort Package
-
BDT
Per Person
USD
Per Person
BDT
Per Person
USD
Per Person
02 Pax
25,000
$325
30,000
$390
03 Pax
23,000
$300
27,000
$350
04 Pax
21,000
$275
25,000
$325
| Facilities | Classic Package | Comfort Package |
| --- | --- | --- |
| Dhaka - Hularhat Transfer | 1st Class cabin on Rocket. | Same as Classic Package |
| Hotel at Khulna | City Inn Hotel | Same as Classic Package |
| Khulna - Dhaka Transfer | 1st Class Chair on Train (Air-Conditioned, 10 hrs) | Khulna - Jessore by air-conditioned car (02 hrs), 10.55 H Flight from Jessore (01 hr) |
Inclusions and exclusions of Rocket Steamer Tour
Tour includes:

Lunch on Day-01 on a decent local restaurant (local food).
1st class cabin ticket of Rocket on twin sharing basis.
All site entrance tickets.
One night accommodation in Khulna on twin sharing basis with complementary breakfast.
Air-conditioned car for transfer to hotel at Khulna from Hularhat and sight seeing at Bagerhat.
1st class train ticket for Khulna to Dhaka (Classic Package).
Khulna – Jessore Airport transfer on air-conditioned car. Jessore – Dhaka economy class flight ticket (Comfort Package).
Airport / Train Station – Hotel transfer on Dhaka by air-conditioned car (For Dhaka North area only – Gulshan, Banani, Baridhara, and Uttara).
All tips except our guide and driver.

Tour does not include any food, drinks, beverage other than mentioned above, or any personal item.

Important notes on Rocket Steamer Tour

Minimum 02 person is required to book this tour.
This tour is not available to start on Friday and Saturday, because Friday is the weekly holiday for Rocket departing from Dhaka, and Monday is holiday for the train from Khulna.
In Monday and Thursdays, a traditional ferry comes in service instead of the paddle boat. If you book for these days, you have to travel on the traditional ferry instead of a paddle steamer.

1st class tickets of Rocket and train depends on availability. You might have to travel on the 2nd class if 1st class is not available. Only difference on 1st and 2nd class on the Rocket is, 2nd class is located in the back side, and have no air-conditioning. Other facilities are same. Passengers of 2nd class can use all the facilities of 1st class, e.g. dining area, sitting area on the front side.
Best Rockets leaves on Saturday, Sunday, Tuesday, and Wednesday. You should plan this tour covering these days to have a better experience of Rocket. Considering the whole itinerary, Tuesday and Wednesday will be the best day to start this tour.
If for some unexpected reason Rocket ticket is not available at all, we'll take you up to Barisal by a traditional ferry (overnight part), and from Barisal to Hularhat on the Rocket (daytime journey part).
In case of traveling on the 2nd class of train, you'll have a reserved seat.

Booking this tour at least 03 weeks in advance is advised.

Also available on

Rocket Steamer Tour is included in most of our holiday packages. You can book one of these packages too to enjoy this tour:




Share with friends

Let the world know about this amazing tour you've found!

Reports from Western travelers after their recent visit to Bangladesh, about the security situation in Bangladesh since the restaurant attack in July, 2016.

Similar Tour Packages: