Bangladesh Holiday Packages
This page lists our arrival to departure holiday packages in Bangladesh, including all accommodations suitable for Western travelers with complimentary breakfast and airport transfers. These Bangladesh holiday packages are available to book anytime outside our schedule on a private basis with a group of just two travelers. We can provide options for hotel upgrades in Dhaka and other available places. If you depart on an evening flight, we will deduct the price for the last night's accommodation from these holiday packages. An off-season discount is available to book these Bangladesh holiday packages from April to September. Also, an early-bird discount is available for the first two travelers to book any scheduled tours six months in advance to make your Bangladesh holidays more affordable. We are offering free cancellation up to 45 days before your tour and Covid-19 protection for these holiday packages in Bangladesh.
Visit two UNESCO World Heritage Sites in Bangladesh – Sundarbans and Bagerhat, experience the hustle and bustle of megacity Dhaka, see its key attractions, and visit the old capital Sonargaon. Sundarbans is the largest mangrove forest on earth, home to Bengal tigers and many birds and wildlife. Bagerhat is a lost Muslim city from the 15th century full of great mosques. Dhaka is one of the highly densely populated cities in the world, full of activities. Sonargaon is one of the medieval capitals of Bengal. A juxtaposed tour to experience the craziness of a megacity, the quietness of two historic cities, and the serene beauty of a mangrove forest. Best tour to experience Bangladesh in the shortest possible time.
✪ Location: DhakaSonargaonBagerhatSundarbans Mangrove Forest
Visit the highlighted sights and attractions you can't miss while traveling to Bangladesh for the first time. Excursion to Sundarbans, the largest mangrove forest on earth and a UNESCO World Heritage Site. Visit world heritage city Bagerhat and mega-city Dhaka. Enjoy walking through the tea plantations in Srimangal, visit tribal villages, taste the famous seven layers tea, and trek inside Lawachhara National Park to spot rare Hulluck gibbons.
✪ Location: DhakaSonargaonBagerhatSundarbans Mangrove ForestSrimangal
Visit Bangladesh's most glorious sights and attractions, including all three UNESCO World Heritage Sites – Sundarbans mangrove forest, the historic 15th-century city of Bagerhat, and the massive 8th-century Buddhist monastery Somapura Mahavihara, with visiting the dilapidating Hindu temples of Puthia, spending three days at Srimangal – the tea capital of Bangladesh, a day tour to Sonargaon – the old capital of Bengal, and much more. You'll get a taste of nature and wildlife at Sundarbans and Srimangal, combined with exploring some great archaeological sites and experiencing life in Bagerhat, Rajshahi, Sonargaon, and Dhaka. The perfect tour to spend your two-week holiday in Bangladesh!
✪ Location: DhakaSonargaonBagerhatSundarbans Mangrove ForestPuthiaPaharpurBograSrimangal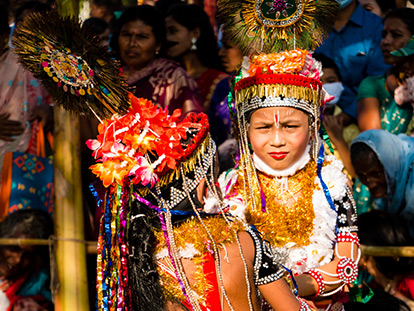 Enjoy the colorful Raas festival of the Manipuri tribe. Visit beautiful tea plantations and authentic villages of 4 different tribes outside the tourist trails. Experience life in the heart of the Ganges Delta, which is entirely based on water. Visit some floating markets, bazaars, villages, brick factories, schools, and interact with the locals. Have an excursion to Sundarbans, the largest mangrove forest on earth. A highly photogenic tour no tour operator in Bangladesh offers – not even us on our regular tours!
✪ Location: DhakaSonargaonBagerhatSundarbans Mangrove ForestSrimangalBarisal
Experience Bangladesh's best sights and attractions as recommended by popular travel guides and beyond. Visit all three UNESCO World Heritage sights – Sundarbans Mangrove Forest, the lost historic city of Bagerhat, and Somapuri Mahabhihara. Spend three days at tea capital Srimangal and visit beautiful hills and indigenous people of Chittagong Hill-Tracts, including visiting the infamous ship-breaking yards. Enjoy the best of what Bangladesh has to offer.
✪ Location: DhakaSonargaonBagerhatSundarbans Mangrove ForestPuthiaPaharpurBograSrimangalRangamatiBandarbanChittagong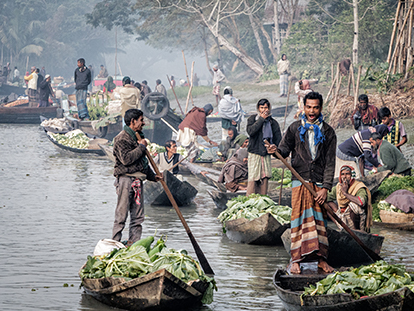 Experience the best sights and attractions of Bangladesh as recommended by popular travel guides and beyond their capabilities. Focusing primarily on Bangladesh's people and culture, this tour will take you to explore more offbeat destinations unknown to regular tourists and end with a couple of days of beach leisure. If you would like to discover Bangladesh's hidden gems beyond regular tourists' reach, this is the perfect tour for you.
✪ Location: DhakaSonargaonBarisalBagerhatSundarbans Mangrove ForestRajshahiBaghaPuthiaNatoreGaurPaharpurBograRangpurDinajpurSrimangalSylhetChittagongRangamatiBandarbanCox's Bazar
FAQs on Holidays to Bangladesh
Why book Bangladesh Holidays with Nijhoom Tours?
Because you'll have a great experience on our Bangladesh Holidays, as we are a multi-award-winning local tour operator in Bangladesh with vast local knowledge and the highest quality. We have the highest number of reviews in Bangladesh on TripAdvisor (350+ reviews) from our clients with an average rating of 5 on 5. We've been featured in International Travel News Magazine multiple times, published in California, USA. By directly booking with us instead of the OTA platforms that sell other companies' tours and charge them a hefty commission, you are also supporting a local small business instead of the big foreign corporations.
How is your Bangladesh Holidays different than the others?
Communication with us will be a breeze. Making payment will be swift for our Bangladesh Holidays. We'll provide a knowledgeable guide on our Bangladesh Holidays, who will be able to tell you in detail about all the sites on the tour. We'll be cautious about hygiene on the tour so that you don't become sick from food poisoning, which is very common in Bangladesh. We'll take you to restaurants that maintain good hygiene. We'll provide a decent, comfortable, clean car with air-conditioning and a safe driver, and be careful about your safety on the tour. We'll not be late to pick you up and give excuses of traffic. Nor will we annoy you by taking a few dozen selfies with you on the tour and posting them directly on social media.