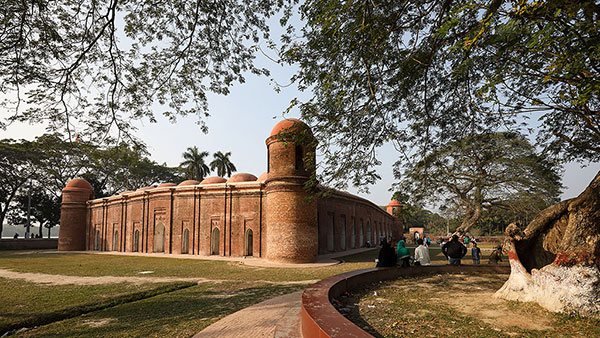 Tour Duration:
Full-day Tour
Location:
Bagerhat
Tour Attractions:
Archaeological sites at Bagerhat
Tour Type:
Archaeology
Next Scheduled Tour:
N/A

The Historic Mosque City of Bagerhat is an important evidence of medieval city in the south-west part of present Bagerhat district. The ancient city, formerly known as Khalifatabad, sprawls over on the southern bank of the old river Bhairab and flourished in the 15th century BC. The magnificent city, which extended for 50 sq. km, contains some of the most significant buildings of the initial period of the development of Muslim architecture of Bengal. They include 360 mosques, public buildings, mausoleums, bridges, roads, water tanks and other public buildings constructed from baked brick.
This great city, created within a few years and covered up by the jungle after the death of its founder Ulugh Khan Jahan Ali in 1459, a saint general from Turkey who came to spread Islam in this part of the world, has been listed by Forbes as one of the 15 lost cities of the world, and listed as UNESCO World Heritage site in 1983 under criteria (iv), "as an outstanding example of an architectural ensemble which illustrates a significant stage in human history", of which the Sixty Pillar Mosque (Shat Gombuj Masjid in Bengali), constructed with 60 pillars and 77 domes, is the most well known.
In this day tour, we will take you to visit the remaining of the most famous mosques from this great city, eg. Sixty Dome Mosque, 09 Dome Mosque, Chulakhola Mosque, Bigi Begoni Mosque, and Ronobijoypur Mosque. Also in Bagerhat tour, we'll show you an impressive Hindu temple from 17th century – Kodla Moth, and the shrine of Khan Jahan Ali. Bagerhat tour can be started from either Khulna or Hularhat. If you have a plan for traveling on Rocket Steamer from Dhaka, you can get off at Hularhat, and we can pick you up from there and take you to the tour and drop you at Khulna after the tour, or even drop at Mongla if you have a plan to visit Sundarbans.
Itinerary of Bagerhat Tour
09.00 – 09.00 AM: A guide and driver of us will meet you at your hotel in Khulna to pick you up, and start driving toward Kodla Moth in a remote village of Bagerhat (38 km, 1 hr 15 mins).
10.15 – 10.30 AM: Visit Kodla Moth – an impressive Hindu temple from 17th century. Drive toward Ronobijoypur Mosque (30 mins).
11.00 – 11.15 AM: Visit Ronobijoypur Mosque – one of the largest single dome mosque in Bangladesh. Drive toward the shrine of Khan Jahan Ali (15 mins).
11.30 – 12.00 PM: Visit the shrine of Khan Jahan Ali. Walk for 5 mins and visit 9 Dome Mosque.
12.15 – 01.00 PM: Lunch on a local restaurant (local food). Drive toward 60 Dome Mosque.
01.15 – 02.15 PM: Visit Singair Mosque, Bagerhat Museum – a small museum showing artifacts related to archaeology, and 60 Dome Mosque.
02.15 – 03.15 PM: Walk for 10 mins and visit Chunakhola Mosque. Another 5 mins walk and visit Bibi Begoni Mosque. Walk back to 60 Dome Mosque (5 mins), and drive toward Khulna.
04.15 – 04.15 PM: Drop at your hotel in Khulna. End of Bagerhat tour.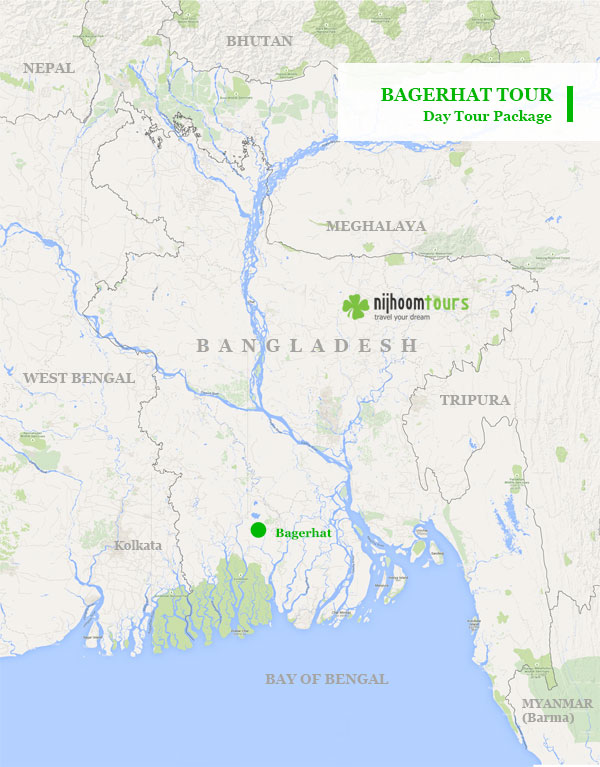 Price of Bagerhat Tour
1 Pax Tour: 10,000 BDT / $130 USD
2 Pax Group: 5,500 BDT / $71 USD Per Person
3 Pax Group: 5,000 BDT / $65 USD Per Person
4 Pax Group: 4,500 BDT / $58 USD Per Person
Inclusions, exclusions, and terms
Tour includes:

Air-conditioned car, driver, English speaking guide.
All site entrance tickets.
Lunch on a local restaurant.
All tips except our guide and driver.

Does not include drinks, beverage, or any personal item.
Notes on Bagerhat Tour
Pick-up of the tour could be arranged from Hularhat Rocket Station. Our guide and driver will be waiting for you at Hularhat, pick you up upon arrival on Rocket, and drive immediately toward Kodla Moth in Bagerhat. 500 BDT per person will be added with the tour price for this option.
It is also possible to drop at Mongla after this tour. Another 500 BDT per person will be added with the tour price for that option.
Caretakers at the shrine of Khan Jahan Ali always press everyone, specially foreigners, to make a big donation in the shrine. Be careful about them. It is advised to pay 100 BDT in the shrine on your own hand to avoid any embarrassing situation, or avoid visiting the shrine completely. Otherwise you could be offended.
For visiting any mosque, you should be properly covered. Do not wear shorts. Wearing a scarf on your head is suggested for ladies.
Leave your shoes outside while entering any mosque.
It is possible and very convenient to include Rocket Steamer Tour, Barisal Backwater Tour, Sundarbans Tour, and Jessore Home-stay Tour with this one. You can include one or all of them with Bagerhat Tour if you like.
Share with friends
Let the world know about this amazing tour you've found!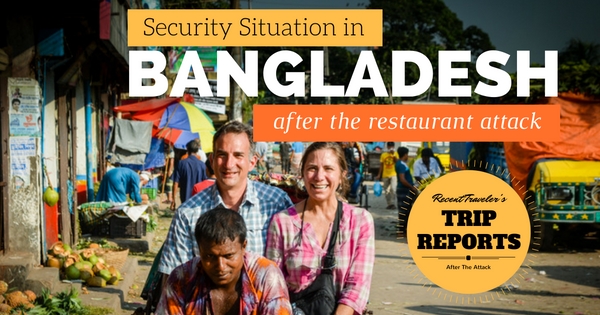 Reports from Western travelers after their recent visit to Bangladesh, about the security situation in Bangladesh since the restaurant attack in July, 2016.
Similar Day Tour Packages: