Holiday Packages in Bangladesh
Our arrival to departure holiday packages in Bangladesh, including decent hotels, complimentary breakfast, and airport transfers, are listed on this page. We will deduct the price for the last night's accommodation if you depart on an evening flight.
Visit two UNESCO World Heritage Sites in Bangladesh – Sundarbans and Bagerhat, including an overnight journey on a traditional ferry to Barisal/Hularhat, and experiencing the life and sights at Old Dhaka. Sundarbans is the largest mangrove forest on earth, home of Bengal tigers and many birds and wildlife. Bagerhat is a lost Muslim city from the 15th century full of astonishing mosques. Best tour to experience Bangladesh in the shortest possible time.
✪ Location: Old DhakaBagerhatSundarbans Mangrove Forest
Visit the highlighted sights and attractions you can't miss while traveling to Bangladesh for the first time. Excursion to Sundarbans, the largest mangrove forest on earth and a UNESCO World Heritage Site. Visit world heritage city Bagerhat and mega-city Dhaka. Enjoy walking through the tea plantations in Srimangal, visit tribal villages, taste the famous seven layers tea, and trek inside Lawachhara National Park to spot rare Hulluck gibbons.
✪ Location: Old DhakaBagerhatSundarbans Mangrove ForestSrimangal
Visit the most glorious sights and attractions of Bangladesh, including all three UNESCO World Heritage sights – the lost city of Bagerhat, Sundarbans Mangrove Forest, and Somapuri Mahabhihara. Spend three days at Srimangal – the tea capital of Bangladesh, and a day in Sonargaon – the old capital of Eastern Bengal. Enjoy the best forests and wildlife of Bangladesh, combining with exploring some significant archaeological sites and experiencing people's lives.
✪ Location: Old DhakaSonargaonBagerhatSundarbans Mangrove ForestPuthiaPaharpurBograSrimangal
Experience Bangladesh's best sights and attractions as recommended by popular travel guides and beyond. Visit all three UNESCO World Heritage sights – Sundarbans Mangrove Forest, the lost historic city of Bagerhat, and Somapuri Mahabhihara. Spend three days at tea capital Srimangal and visit beautiful hills and indigenous people of Chittagong Hill-Tracts, including visiting the infamous ship-breaking yards. Enjoy the best of what Bangladesh has to offer.
✪ Location: Old DhakaSonargaonBagerhatSundarbans Mangrove ForestPuthiaPaharpurBograSrimangalRangamatiBandarbanChittagong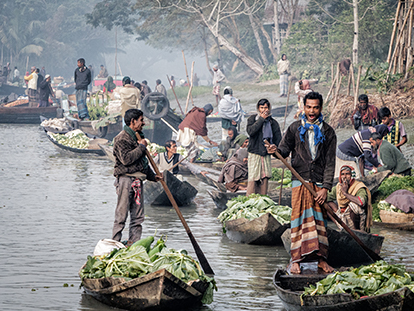 Experience the best sights and attractions of Bangladesh as recommended by popular travel guides and beyond their capabilities. Focusing primarily on Bangladesh's people and culture, this tour will take you to explore more offbeat destinations unknown to regular tourists and end with a couple of days of beach leisure. If you would like to discover Bangladesh's hidden gems beyond regular tourists' reach, this is the perfect tour for you.
✪ Location: Old DhakaSonargaonBarisalBagerhatSundarbans Mangrove ForestRajshahiBaghaPuthiaNatoreGaurPaharpurBograRangpurDinajpurSrimangalSylhetChittagongRangamatiBandarbanCox's Bazar
Bangladesh is a beautiful country for enjoying nature at its best. This country is famous for places of natural beauty and historical monuments of Islamic architecture. As soon as you land at Dhaka Airport, you will see historical indications that go back into the 1600 AD, from the day when the Mughal Emperors conquered the Bengal and ruled the country. Dhaka, the capital city of Bangladesh, has evolved into one of the busiest and densely populated cities in the world.
Nijhoom Tours is a multi-award-winning local tour operator in Bangladesh that aims to provide the best possible tourism solutions to all the honored guests and tourists in Bangladesh. We are dedicated to providing you with the best Bangladesh tour packages at competitive rates. You will easily find all the information and guidance you need for a pleasant visit and get the most pleasant stay in Bangladesh.
It makes the life of any visitor in Bangladesh to be accompanied by an experienced tour guide for a good guide tour in Bangladesh, who knows what the visitors are looking for and how to take care of their needs. We will provide you best tour guides and find the best rates on hotels and accommodations, tourist spots, and the best Bangladesh holiday packages at reasonable prices. Our holiday packages in Bangladesh are designed to provide the best authentic local experience to travelers in Bangladesh.
Holiday tour in Bangladesh with Nijhoom can be a great experience, because you have an experienced tourism company to help you plan your trip, select the places to visit, arrange transportation and accommodation, guide you to the places to eat and see without having to spend a whole lot of money.
Our courteous and friendly staff are trained to offer the maximum hospitality to our guests visiting our country. We dedicate ourselves to providing the best possible experience for our guests, especially those who come to visit us from foreign countries, so that they can have a worry-free stay and have wonderful memories with us.
Listed on this page are all of our holiday packages in Bangladesh which could be modified according to your convenience. Click any one of them for more details of the holiday packages in Bangladesh.