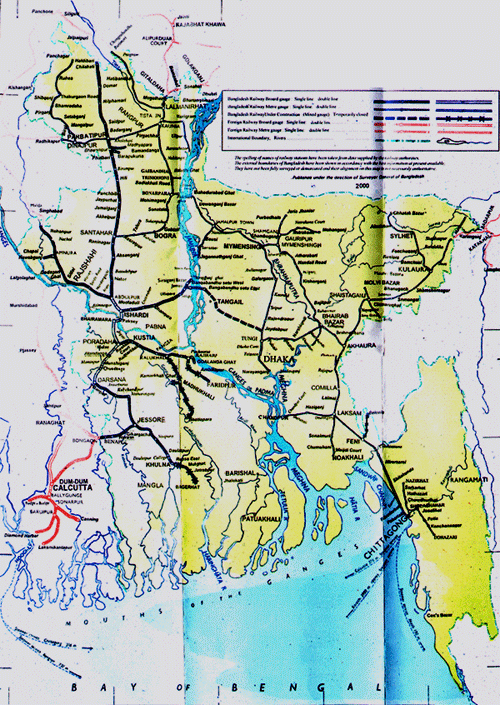 Traveling by train in Bangladesh could be a great experience on your Bangladesh tour. In no way, it will be similar to your experience in Europe or America. You'll be thrilled watching how people fight to board a train as soon as it arrives in a station, the rush in them to get up and down, all the small vendors trying to sell every kind of thing to the passengers through the windows of the train. It will be a completely different experience. That is why you should have at least one traveling by train in your itinerary on the Bangladesh tour.
Bangladesh has a largely British-built rail network linking most major towns and cities, including Dhaka, Chittagong, and Sylhet. The network is divided into two halves, eastern and western, by the great rivers Jamuna which divides the country itself. The western network is largely broad gauge, and the eastern network largely meter gauge. Bangladesh has 2,855 route kilometers of the rail line. Bangladesh Railway is the state-owned rail transport agency of Bangladesh. It operates and maintains the entire railway network of the country.
Traveling by train is the most popular way of travel in Bangladesh. It is much cheaper than buses, as it is providing services to the nation at a subsidized rate in order to help the country's economy and for the ease of people. It is better to make reservation 5-6 days prior to your journey.
Types of trains in Bangladesh
Bangladesh Railway operates 3 types of trains:
Inter-City Trains: The best quality train, including air-conditioned compartments, restaurant car, AC class seats, 1st class and 2nd class seats.
Express Trains: Slower than InterCity trains, including air-conditioned compartments, 1st class and 2nd class seats.
Mail Trains: AC class 2-berth sleepers, 1st class 4-berth sleepers, 1st, 2nd, 3rd class seats.
Inside a train in Bangladesh
Classes at trains in Bangladesh
Bangladesh Railway features mainly three classes of Travel. Air Conditioned Class, First Class, and Second Class. Second Class is divided into Shovon Chair, Shovon, and Shulov sub-classes. In some trains a separate mail compartment is present. In Inter-City and long-distance trains, a pantry car and a power car is included in the center. All Inter-City trains are partially airconditioned, feature padded leather seats and berths, and provide passengers with on-demand sheets, pillows, blankets, as well as meals and refreshments.
Tapanukul / First class AC
This is the most expensive class. This air-conditioned coach is present only on popular Inter-City routes. The coaches are carpeted, have sleeping accommodation, ample legroom and have privacy features like personal coupes.
First class
This class is basically non air-conditioned. Has sleeping berths, ample leg room.
First class Chair
Seater coach with a total of five seats in a row on broad gauge trains and four seats in a row on meter gauge trains. used for day travel between cities.
2nd Class – Shovon Chair
The 2nd Class Shovon Chair is basically a seater coach preferred by most of the middle-class passengers. Has a total of five seats in a row on broad gauge trains and four seats in a row on meter gauge trains.
2nd Class – Shovon
One of the cheapest classes. seats are not very comfortable.
2nd Class – Shulov
The cheapest accommodation, with seats made of pressed wood or steel and are cushioned. Only found in sub-urban and short-distance routes. Although entry into the compartment is guaranteed, a sitting seat is not guaranteed. These coaches are usually very crowded.
Train schedule in Bangladesh
Trains run every day through the major cities in Bangladesh. Some trains have a day off every week. A complete and latest schedule could be found at the Railway website here.
The Maitree Express train traveling between Dhaka & Kolkata
Traveling by train from India to Bangladesh
The "Maitree (Friendship) Express" train was inaugurated on 14 April 2008, the Bengali New Year Day (Pahela Baisakh), between Dhaka and Kolkata taking 13.00 hrs. running time including time taken for customs & immigration formalities. In addition, there is a goods train service from Singhabad and Petrapole in India to Rohanpur and Benapole in Bangladesh, respectively. A new rail link between Agartala, India, and Akhaura was approved by the Government of India on September 2011.
Schedule
Maitree Express runs on a Bi-Weekly basis. BR Rake 3107 will run on Friday from Dhaka to Kolkata, and 3108 Kolkata to Dhaka on Saturday. IR Rake 3109 will run on Tuesday from Kolkata to Dhaka, and 3110 Wednesday from Dhaka to Kolkata.
Fares
AC First/Cabin – USD 20 +15 % Vat
AC Chair Car – USD 12+15 % Vat.
Non-AC Chair Car – USD 8
300 Taka Travel Tax to be paid at the time of purchase of ticket for all classes.
A more details could be found at the Railway website here.
Ever traveled by trains in Bangladesh? Share your experience with us here in comments!
Check out our 1-7 days tour and excursion packages in Bangladesh and 8-28 days holiday packages in Bangladesh to travel Bangladesh with comfort.
Join Our Community!
Join our Facebook group to meet travelers who've visited Bangladesh and know about their Bangladesh experience, ask questions about traveling Bangladesh and get quick answers, and share anything about traveling Bangladesh. Join Let's go to Bangladesh now!
300+ Reviews & 5/5 Ratings on TripAdvisor
Old Dhaka Tour
Day tour to experience the key sites and attractions of New and Old Dhaka the whole day including a rickshaw and a boat ride, and taste some authentic local Bangladeshi food.
$55* US per person including air-conditioned car, entrance tickets, English speaking guide, lunch, and drinking water.
Check Details Now!