Villages and rivers are the backbone of Bangladesh. There are about 68,000 villages in Bangladesh. Most of the people still live in Bangladesh village. Life here is slow, air and food is fresh as opposed to the cities. Food is made from the fresh vegetables directly coming from the field. People make different types of rice-cakes so tasty and authentic.
Profession of most of the people in the villages is farming. But people also have other professions. There are normally different areas in every village based on their profession like potter, fisherman, blacksmith etc. In this photo blog we'll take you to visit life and nature of a remote Bangladesh village locate at southwest part of the country so that you can get an idea about how they are and how people live there.
Lifestyle in Bangladesh Village
People live in the beautiful houses here made of clay. Roofs of them are made of burned clay called "tali" which protect them very well from the rain water.
Cattles are raised by almost every family
They are used for plowing lands, getting fresh milk, and in cow carts which are used to transport goods, specially rice, wheat, potato and other things produced on the fields to bring home.
Chickens, ducks, and pigeons are raised for fresh meat and egg.
Fresh vegetables come directly from the field to be added in the menu
Were you born and raised in a village in Bangladesh? How is your village? What special do you have in your village? Share with us in comments.
Check out our 01-07 days tours and excursions in Bangladesh and 08-27 days holiday packages in Bangladesh to travel Bangladesh with comfort.
Share with friends
Let the world know about this amazing article you've found!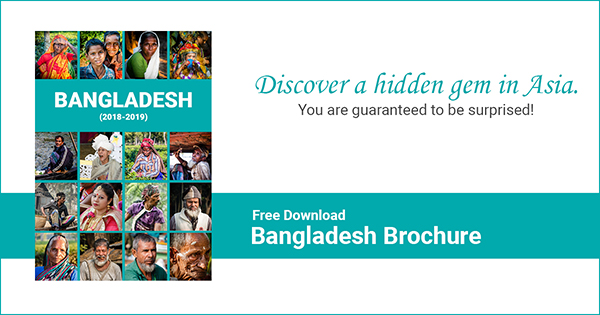 Free download our Bangladesh brochure for 2018-2019, and discover a hidden gem in Asia. You are guaranteed to be surprised! Download now!
Popular Holiday Packages in Bangladesh:
08 DAYS   $785 USD*
---
22-29 Sep, 02-09 Oct, 2017
---
01-08 Dec, 2017
---
15-22 Jan, 03-10 Feb, 2018
---
19-26 Mar, 23-30 Apr, 2018
---
04-11 May, 10-17 Sep, 2018
---
11 DAYS   $1,070 USD*
---
08-18 Sep, 16-26 Oct, 2017
---
01-11 Jan, 09-19 Apr, 2018
---
17-27 Sep, 2018
---
21-31 Jan, 08-18 Apr, 2019
---
16-26 Sep, 2019
---
14 DAYS   $1,495 USD*
---
06-19 Oct, 15-28 Dec, 2017
---
05-18 Mar, 16-29 Oct, 2018
---
18-31 Dec, 2018
---
18-31 Mar, 15-28 Oct, 2019
---
17-30 Dec, 2019
---
18 DAYS   $2,080 USD*
---
10-27 Nov, 2017
---
06-23 Feb, 06-23 Nov, 2018
---
05-22 Feb, 05-22 Nov, 2019
---
23 DAYS   $2,615 USD*
---
08-30 Dec, 2017
---
02-24 Mar, 04-26 Dec, 2018
---
04-26 Mar, 03-25 Dec, 2019
---
27 DAYS   $3,100 USD*
---
03-29 Jan, 03-29 Oct, 2018
---
02-28 Jan, 02-28 Oct, 2019
---
The following two tabs change content below.
Raw Hasan ( র. হাসান )
Founder & CEO
at
Nijhoom Tours
I am the Founder and CEO of Nijhoom Tours, an
award winning tour operator in Bangladesh
specialized in organizing inbound tours for the foreigners, specially the western tourists. While not traveling or busy with the desk work, I love to write about traveling Bangladesh, one of the least traveled destinations in the world about which not much correct information is available anywhere. Connect with me in Facebook, Twitter, or LinkedIn for updates and help about visiting Bangladesh.
Latest posts by Raw Hasan ( র. হাসান ) (see all)