Mahasthangarh is the oldest known city of Bengal located in Bangladesh, dated backed to the 3rd century B.C. The word 'Mahasthan' means a place that has excellent sanctity and 'garh' means fort. The extensive ruins of Mahasthangarh presents a glorious past of about two thousand and five hundred years of Pundranagar, the capital city of ancient Pundra Vardhan Bhukti.
Mahasthangarh, spreading along the western bank of Korotoa river, is situated about 13 km north of Bogra town. This earliest and largest city of entire Bengal is fortified successively by mud and brick wall. It measures 1,525 miter long North-South, 1,370 miter broad East-West, and 5 miter high above the surrounding level. The river in the east and a deep moat on the west, south, and north served as additional defense apart from the citadel wall.
History of Mahasthangarh
From the archaeological evidence, it is proven that Mahasthangarh was provincial capital of the Mauryans, the Guptas, the Palas, and the Feudal Hindu kings of later period. Beyond the citadel, other ancient ruins found within a radius of 7/8 km in a semi-circle in the north, south, and west which testify the existence of extensive suburbs.
It is worth quoted that Yuen Chwang, the famous chinese pilgrim visited the Pundra Vardhana in between 639-645 A.D. Sir Alexandar Cunningham rightly identified the current Mahasthangarh as Pundranagar at 1879 following the description left by Yuen Chwang.
The whole area is rich in Hindu, Buddhist, and Muslim sites. The Buddhists were here until at least the 11th century. Their most glorious period was the 8th to the 11th centuries, when the Buddhist Pala emperors of North-Bengal ruled. It is from this period that most of the visible remains belong. The citadel was probably first constructed under the Mauryan empire in the 3rd century B.C.
Mahasthangarh fell into disuse around the time of Mughal invasions. Most of the visible brickwork dates from the 8th century, apart from that added during restoration. Outside the citadel, there is a remaining of a 6th century Govinda Bhita Hindu Temple, which looks like a broken-down step pyramid.
Have you ever visited Mahasthangarh? How amazing have you found it? Share your thoughts and experience with us in comments.
Take our 03 Days Heritage Tour to visit Mahasthangarh, Tajhat Palace, Kantaji Temple, Nayabad Mosque, and Somapura Mahavihara, which are the most impressive archaeological sights in Bangladesh.
Check out our 01-07 days tours and excursions in Bangladesh and 08-27 days holiday packages in Bangladesh to travel Bangladesh with comfort.
Share with friends
Let the world know about this amazing article you've found!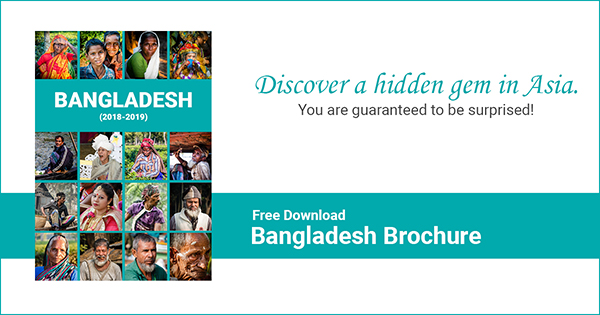 Free download our Bangladesh brochure for 2018-2019, and discover a hidden gem in Asia. You are guaranteed to be surprised! Download now!
Popular Holiday Packages in Bangladesh:
08 DAYS   $785 USD*
---
22-29 Sep, 02-09 Oct, 2017
---
01-08 Dec, 2017
---
15-22 Jan, 03-10 Feb, 2018
---
19-26 Mar, 23-30 Apr, 2018
---
04-11 May, 10-17 Sep, 2018
---
11 DAYS   $1,070 USD*
---
08-18 Sep, 16-26 Oct, 2017
---
01-11 Jan, 09-19 Apr, 2018
---
17-27 Sep, 2018
---
21-31 Jan, 08-18 Apr, 2019
---
16-26 Sep, 2019
---
14 DAYS   $1,495 USD*
---
06-19 Oct, 15-28 Dec, 2017
---
05-18 Mar, 16-29 Oct, 2018
---
18-31 Dec, 2018
---
18-31 Mar, 15-28 Oct, 2019
---
17-30 Dec, 2019
---
18 DAYS   $2,080 USD*
---
10-27 Nov, 2017
---
06-23 Feb, 06-23 Nov, 2018
---
05-22 Feb, 05-22 Nov, 2019
---
23 DAYS   $2,615 USD*
---
08-30 Dec, 2017
---
02-24 Mar, 04-26 Dec, 2018
---
04-26 Mar, 03-25 Dec, 2019
---
27 DAYS   $3,100 USD*
---
03-29 Jan, 03-29 Oct, 2018
---
02-28 Jan, 02-28 Oct, 2019
---
The following two tabs change content below.
Raw Hasan ( র. হাসান )
Founder & CEO
at
Nijhoom Tours
I am the Founder and CEO of Nijhoom Tours, an
award winning tour operator in Bangladesh
specialized in organizing inbound tours for the foreigners, specially the western tourists. While not traveling or busy with the desk work, I love to write about traveling Bangladesh, one of the least traveled destinations in the world about which not much correct information is available anywhere. Connect with me in Facebook, Twitter, or LinkedIn for updates and help about visiting Bangladesh.
Latest posts by Raw Hasan ( র. হাসান ) (see all)