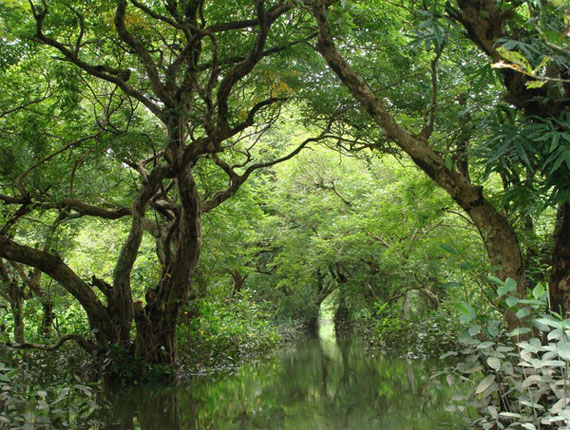 Where is Ratargul Swamp Forest located?
Ratargul Swamp Forest is located at the Goain Ghat area of Sylhet Division in Bangladesh.
How to go to the forest?
To visit Ratargul Swamp Forest, you need to go to Sylhet city first. From Sylhet, take a CNG (mini taxi) to Goain Ghat. It will take 2.5 – 3 hours time and 450-500 BDT fare. From Goain Ghat need to reserve a trawler (local engine boat) to the forest. It will take 800-1,400 BDT for a return trip, and less than 1 hour time.
How to explore the forest?
After getting down at the forest station, go to the forest office, take permission, and request them to arrange a boat for you. They'll arrange a local wooden boat on which you can explore the forest. It is safe for 6-8 people aboard the boat. They'll take 200-500 BDT depending on how long you need to explore the forest.
Do I need to come back on the same way?
No. On your way back, get down at Goain Ghat and take a CNG for Zaflong. It'll take 100 BDT on reserve, or 20 BDT each person. From Zaflong ride on a bus to Sylhet. Fare is 20 BDT.
What is the best time to visit the forest?
Monsoon. In July-August, the forest is flooded in water and is the best time to explore by boat. Other times the forest remains dry and you need to walk in clay to explore it.
Is food available in the forest?
No. You'll find all types of food in Goain Ghat. Have to take from there whatever you need.
Is there any accommodation facilities in the forest?
No. You can stay at Sylhet city and visit Ratargul Swamp Forest as a day trip.
Is there any security issue?
So far, no security issues has been reported in Ratargul Swamp Forest.
Caution:
Do not destroy the nature. Do not throw anything in the forest. Bring back with you everything you've taken – plastic packets, water bottle, everything.
Have any other questions? Ask in the comments. We'd love to answer.
Check out our 1-7 days Bangladesh tour packages and 8-28 days Bangladesh holiday packages to visit Bangladesh with comfort.